A Look Back at an Owensboro Icon
In 1963, Gabe's Tower came to life in Owensboro. Designed by R. Ben Johnson, the thirteen-story high-rise was one of the first round-shaped buildings of its design to be constructed. Behind the iconic landmark was a man with a dream, Gabe Fiorella, Sr.
When he started work as just a young boy, Gabe may have never imagined that one day he would own one of the most successful and innovative restaurants in the city. After a chain of events drew his interest to the food industry, he would experience many successes in just a short period of time.
"The principal told him when he was in the eighth grade that he needed to be taken out of the class and be put to work. His uncle had a fruit stand, and he let him borrow some money to purchase a wagon. My grandfather pulled that wagon up and down Frederica Street selling hamburgers from it," Gabe's grandson Andy Fiorella, Sr. said.
When a bar downtown on Frederica Street went up for sale, Gabe found the perfect opportunity to expand his business.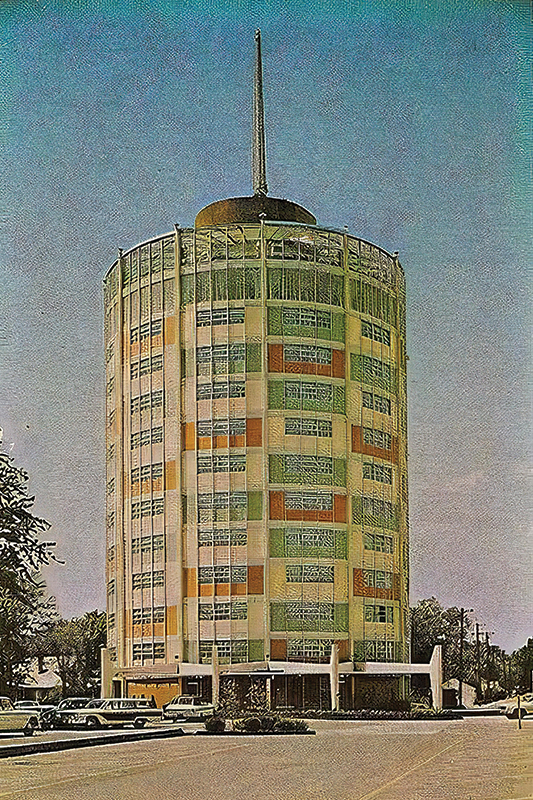 "He saw on the sign that the business was called Abe's. He thought, 'all I need to do is put a G in front of it and it can be called Gabe's.' That's how it got the name," Andy Fiorella, Sr. Said.
In 1959, Gabe purchased the former Miller Field Baseball Stadium to use for his restaurant "The Steakhouse of the South," and also for a shopping center just west of it. Four years later, Gabes Tower Motor Inn was complete, a 1.4 million dollar project boasting 120 rooms, a large restaurant and a rooftop pool.
"My first memory was when I was around ten years old. My siblings and I used to work on Sundays and check the customers' coats and hats. We'd take a little black and white TV with us to watch. People would bring us their coats and hats, we'd take them to hang up, and when they'd come back, they gave us a quarter or fifty cents as a tip. I wasn't officially working, but really I was," Andy Fiorella, Sr. said.
Gabe became known for his famous line: "Hi Neighbor! It's a wonderful world!" He spoke to everyone when they walked in, helping customers to feel right at home. Family members became a part of the business as it expanded and grew.
"I helped out there until it closed, bussing tables and washing dishes. We had a restaurant at the mall for a couple of years, so I worked there after graduating high school. Back when I was younger, there wasn't really any fast food. It was Old Hickory, Moonlite and Gabe's," Fiorella said.
The thirteen-story high rise building would know many different names throughout the years, including Gabe's Motor Inn, Owensboro Business College, and the Town Motor Inn. Through all the new ownership, the business continued to struggle, largely overshadowed by the Executive Inn, which offered 550 rooms at a lower price.
"I remember hearing how much it cost per room to build Gabe's. Then the Executive Inn came along, with rooms built at a fraction of that cost. That's why we had such a hard time making it," Andy Fiorella, Sr. said.
In light of the recent demolition, community members and stakeholders responded to their thoughts on tearing down this iconic building. While some neighbors considered it an eyesore in its most recent condition leading to demolition, others joined a Facebook page titled "Save Gabes" hoping to find an investor that would make plans to save the tower.
According to Assistant City Manager Lelan Hancock, no one came forward with funds or relevant plans to save it, although several people tried. It took ten years working through various processes to get to the point of tearing the building down.
"It's cheaper to build something new than to remodel it. There's a big difference in restoring an older home than a thirteen story building, with electrical updates, and numerous fire codes. Add in the limited area for parking, and it made it extremely difficult," Hancock said.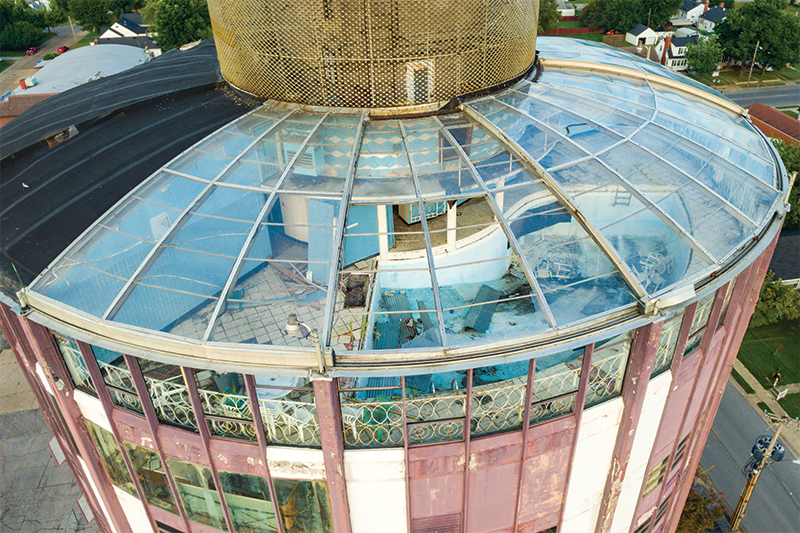 Overall, the neighborhood is happy with the removal. With broken windows and a lack of maintenance, there were several complaints that it was becoming a nuisance. After cleaning the area and the tower gone, Hancock says they have received a lot of positive feedback.
"This is a new day for that area, and a chance for re-beautification. The existing shopping center has had a facelift, and is ready for a fresh start. It reminds us of the Executive Inn when it had fallen to a state of disrepair, as well. Following demolition, a lot of businesses moved into the area, picked up, and revitalized the downtown," Hancock said.
In the years following the Executive Inn demolition, several new doors opened up. The Owensboro Convention Center, two hotels, and the Bluegrass Hall of Fame and Museum moved into the area, something Hancock believes has been a depiction of growth for this city, and something that can happen where the tower once stood.
"We are not dependent on one giant manufacturing plant; we have a unique design of multiple businesses with quite a mixed bag. We are lucky to have that for the individuals out there who have started businesses and struggled through during this Covid battle," Hancock said.
As for future plans for the space once occupied by Gabe's Tower, the city is hopeful that the right buyer will come soon, and see the perfect place for a new business or expanding an existing business. Even with all the glory years of Gabe's Tower, as many came to know it, the family understands the decision to demolish the building.
"We wished they could have fixed it and redone it, but it just wasn't feasible. I hate to see the tower get like it was, but yet I am glad to see it gone; it was terrible in that shape," Andy Fiorella, Sr. said.