Photo by David Grinnell
Ty Stauffer's soccer coaching career was not what he expected nor intended when he graduated from college in 1991. But in 2002, he began what would, in 2004, be incorporated into SportsTutor, a program he designed based on a drafted proposal in his sports ethics class at Kentucky Wesleyan College. It was in that class that Stauffer thought about the ideal sports league—one that would provide transportation to an academy where players would have a snack, complete school work and then practice.
Stauffer noticed through his playing, coaching and refereeing that many competitive players lacked fundamental skills necessary to attain the goals set by not only themselves but also their parents and coaches. For a couple of years, Stauffer's proposal worked at SportsTutor, and the program began building. And while his ideal sports league plan got lost over the years due to the success of the futsal and soccer program and the number of attendees, the idea of a training academy continued to evolve.
Stauffer moved the academy to its current location at 1316 Alsop Lane in 2005 and in 2011, he began working at SportsTutor full time. "If I'd had a business plan, I'd probably have screwed it up," Stauffer said.
Now, with the pandemic's uncertainties for so many businesses, Stauffer is considering going back to the original plan if his players are in a hybrid school setting. This plan includes incorporating academic time, athletic training and focusing on the mental health of players—something that is integral to the SportsTutor mission. Of course, Stauffer said he isn't really sure how the program will look, considering the changing restrictions and guidelines.
Reflecting on his almost two decades in the soccer and futsal world, Stauffer said that his own kids Rainesford (27), Luke (25), Matthew (23), and Annie (20) say he has gotten soft, but he disagrees.
"It's more that my awareness has changed," he said, explaining that when his children played soccer at SportsTutor, he was very competitive, and didn't truly recognize how self-driven many of SportsTutor players were. "I didn't realize how focused the players were. I thought all players that were playing competitive soccer worked that hard especially on their own." He specifically mentioned the players born in 1997-2001 who played in the program.
"They were an exceptionally good group—good family support, good heads on their shoulders," he said. "Of those only two went D1 (NCAA Division 1)."
There is such a drive to get to the next level, only to succumb to the disappointment of limited resources and opportunities for soccer players in the United States. "I know the level of player we have had over the years at SportsTutor. We have had some very, very high level kids who have done everything right only to be overlooked in my opinion due to circumstance." He has seen this with his kids and other players who went through his program, and this sits heavy on Stauffer's shoulders.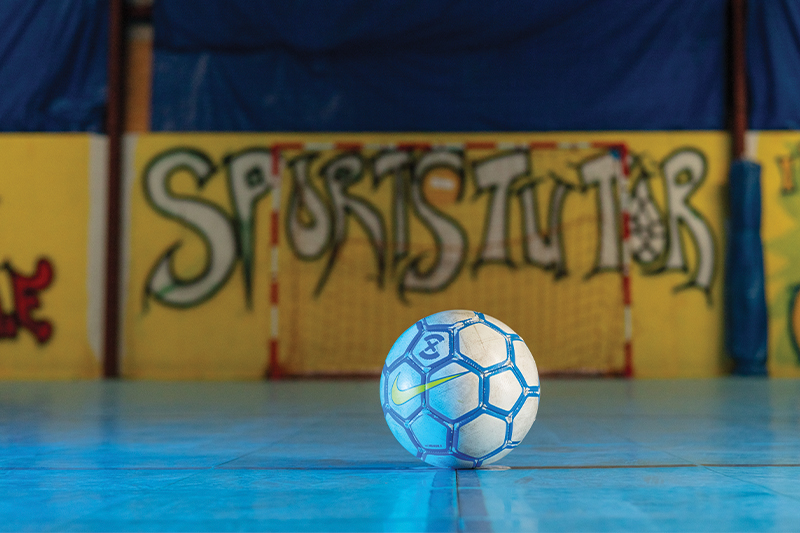 There are stories about Owensboro players who were recognized as Mr. and Mrs. Kentucky Soccer, with many other high school accolades to their names, but still did not receive opportunities to further their careers at the highest level.
So Stauffer's mission at SportsTutor is to focus on the three elements essential to developing a well-rounded athlete: mind, skill, game. The purpose is to find balance—more than what has been done in the past.
"Since we have grown and now offer more teams, it is important for us to try to meet athletes where they are. We try to understand their personal goals," he said.
Citing the recently released HBO documentary, "The Weight of Gold," which explores the mental health challenges that Olympic Athletes often face, Stauffer said that this heartbreak and disappointment happens at all levels, including when those exceptionally-focused athletes have the media and fan focus eliminated, often leaving the athlete lost. Stauffer's wife, Jennifer Stauffer, a former ballet studio owner who has been part of the business since its inception, notes that Kate Fagan's book, What Made Maddy Run, explores similar themes of pressure on young athletes and mental health that she believes all families should be aware of.
"I am definitely more aware of the long-term environment than I was when we started," said Stauffer.
Stauffer continues, "As I develop programs and schedules, I am constantly thinking about the balance—is it too much, not enough, what is the group's level, what is the group mentality, what are we, and they, sacrificing to do it." In an effort to meet the needs of their players and the soccer community as a whole, Sportstutor and Owensboro United Soccer club announced a partnership with Louisville City FC (a professional men's team that competes in the United Soccer League Championship) and Racing Louisville (a professional women's team that competes in the National Women's Soccer League), Kentucky's only professional soccer teams, this summer. "The Loucity and Racing affiliation will give some of our players a direct pathway to a professional environment and take away some of the uncertainty that some of our top players have experienced in the past. Hopefully this arrangement will serve as inspiration and motivation for their development. It will also give our teams the opportunity to train and play at their new state-of-the-art facilities."
According to Stauffer, the affiliation will also afford opportunities for improved coaching education, as well as create enthusiasm for the local soccer community through various game day promotions and events.
Even among soccer colleagues, Stauffer's perspective on youth development is unique: All four Stauffer children have played the sport at some point, at widely varying levels. From recreational, competitive, national and international, college, and professional, Stauffer has experienced it and seen the ups and downs as a parent and a coach.
Enthusiasm and passion, and the ability to create positive outcomes as a result of it, has been at the heart of Sportstutor as a family business. Three of Stauffer's four children have trained at Sportstutor: Luke Stauffer, 25, has played professional soccer for four different clubs, including the New York Red Bulls, and recently signed with a new club in Germany. "He's fighting against all odds, but he is mentally ready," Stauffer said of his son's new club, explaining that soccer in European countries is different. "There's been so much hard work and sacrifice that's gone into this," Jennifer Stauffer adds of Luke's signing.
The professional pathway is starting to change in the United States. Within the past decade, young players are now signing with clubs that have 2nd division teams instead of going to college. The club pays them a modest salary, provides living accommodations and pays for them to attend a local college. It's something critical for the United States, Stauffer points out. Currently, due to NCAA rules, top level US college players are playing a three and a half month season in the fall and a six week season in the spring. Their European counterparts are playing most of the year for 10 or 11 months a year.
Similarly, Stauffer's youngest daughter, Annie, 20, has played for both Centre College and Transylvania University, where she's currently a student. Annie also played for the U.S. Youth Futsal National Team, and taught developmental classes at SportsTutor for younger players. Matthew, 23, is the owner of Crossfit Vox in Owensboro, following living in California, where he completed his level three CrossFit certification. SportsTutor has been a true family business: Jennifer recently took on a programming role within the business, and oldest daughter Rainesford, 27, previously had a ballet barre at SportsTutor, when she was still dancing. Even the family dog, Rory, is known for making appearances on the futsal court between classes.
"My wife and I got so lucky," Stauffer said. Three of four Stauffer children have been staying at the family home since the start of the pandemic (Luke currently resides in Germany).
Stauffer has his U.S. Soccer Coaching Instructors License, and is teaching  adults  how to coach soccer to kids. "I am teaching something that comes naturally to me that, to someone else, it might not," he said. Stauffer enjoys coaching futsal, something he explained is a perfect match with his basketball and soccer backgrounds. He's also on the national soccer coaching staff, and over Christmas break, took a U14 team to Barcelona. The need for this programming is something Owensboro has embraced for almost two decades. Now, as the Stauffers look toward the future of their business, they're eager to bring in new talent, and foster partnerships that help the business grow into the next iteration.