Photos by Jamie Alexander
Ashley Webb may not have a traditional background in the culinary arts, but she did grow up in the kitchen with her mother and grandmother, which has given her the cooking chops to make her new business, Joys of Cooking, a sizzling success.
Now open nine months, Joys of Cooking, formerly known as Cooking 101, caters to clients of all ages, hoping to introduce or perfect cooking skills to any level cook. Ashley and her husband, Mike, along with daughter, Micah, son, Issac, and a new baby on the way, make cooking a fun, family affair during their events.
"We love what we do," Ashley said. "We love to share food with our community all around a table."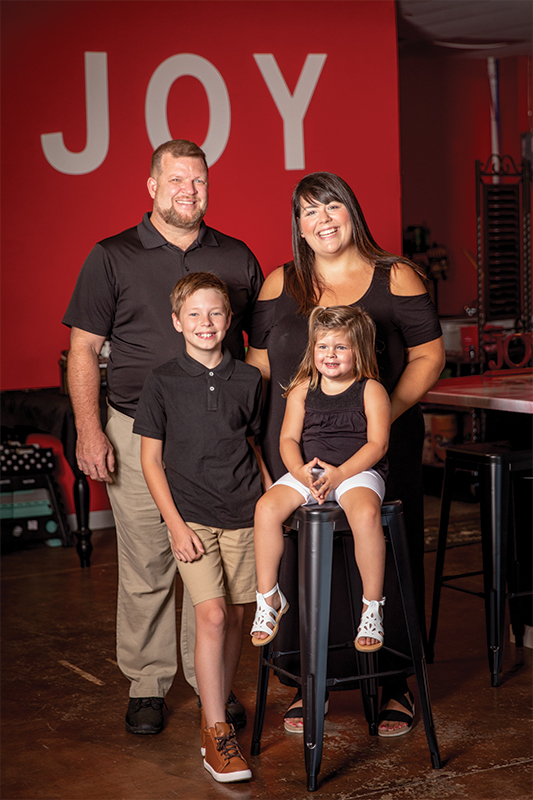 Ashley has a teaching degree from Kentucky Wesleyan College, but says cooking has always been a passion. Using recipes from the matriarchs of both her and her husband's families, Ashley has perfected her menu options for Joys of Cooking.
"I never knew where I wanted to be," Ashley said of her teaching degree. "It was 10 years before I found my calling. But I have learned that I love to share my ability to cook with others, especially the teaching."
According to Ashley, their creamy Italian chicken marsala and alfredo are two of their most popular dishes. But Ashley studies a variety of recipes to offer in her business. Personally, Ashley is a big fan of Indian food, and tries to incorporate new and interesting flavors in her recipes for Joys of Cooking.
Currently, Ashley and Mike offer a variety of classes each week, including a Teen Chefs class for ages 12 to 19 on Tuesdays at 4 p.m., a Little Chefs class for ages 6 to 12 on Thursdays at 4 p.m. and a Friday night adult event at 6:30 p.m., where clients can bring their own drinks.
Other days of the week are available for customers to schedule their own events at Joys of Cooking. Ashley said clients have celebrated baby showers, bachelorette parties and girls nights, couple nights and paint parties.
Although Ashley and Mike love that their business is something that their family can build together, they most enjoy sharing a table with people from the community, which they said brings a sense of unity.
"The value of learning how to cook can be fun and therapeutic," Ashley said. "People leave our store, go home and want to cook. It is bonding for families, and can be romantic for couples."
To schedule an event at Joys of Cooking, you can reach them on Facebook, their website thejoysofcooking.com or by phone at 270-302-8337.