Broadway at RiverPark 2016-2017 Season is here!
We know you have been anxiously awaiting our season announcement and are excited to share it with you! You will notice that our Broadway and Director's Series have something for everyone.
Current subscribers are encouraged to call NOW to renew your seats for the upcoming 2016-2017 season BEFORE June 10th. New subscribers will be able to purchase their seats beginning June 13.
BB&T Broadway Series: (Full Descriptions Here)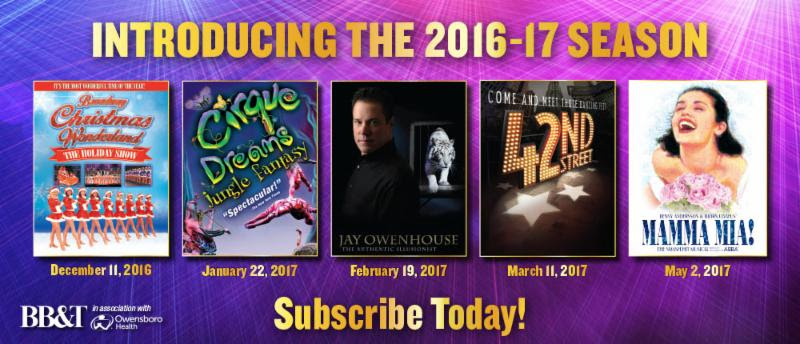 Broadway Chrismas Wonderland – Sunday, December 11, 2016
Cirque Dreams Jungle Fantasy – Sunday, January 22, 2017
Jay Owenhouse: The Authentic Illusionist – Sunday, February 19, 2017
42nd Street – Saturday, March 11, 2017
MAMMA MIA! – Tuesday, May 2, 2017
New in 2016-2017, RiverPark will offer the Director's Series. As a perk, Director's series tickets are available to RiverPark Subscribers with a 10% discount . Add as many as you like from Director's Series to your Broadway at RiverPark subscription.
Director's Series: (Full Descriptions Here)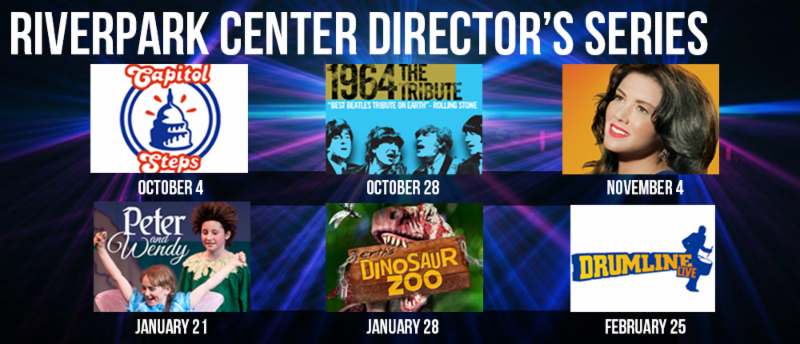 Capitol Steps: "What to Expect When You're Electing" -Tuesday, October 4, 2016, 7 pm
1964 the Tribute – Friday, October 28, 2016, 7:30 pm
Sweet Dreams: Mandy Barnett Sings Patsy Cline Friday, November 4, 2016, 7 pm
Peter and Wendy – Saturday, January 21, 2017, 2 pm
Erth's Dinosaur Zoo Live – Saturday, January 28, 2017, 11 am
Drumline LIVE – Saturday, February 25, 2017, 7 pm
Contact the box office at 270-687-2787 between 9 am and 4 pm, Monday-Friday to inquire about becoming a RiverPark Center Subscriber!