UPDATE (6-3-2016 at 1:00pm): The Hancock County Coroner's Office with the assistance of the Kentucky Medical Examiner's Office can confirm via dental records that the body found at the crash site is that of Robert Dalzell of Owensboro. The family has been properly notified by the Hancock County Coroner's Office.
———————
(Thursday, June 2)
A helicopter flying near the Hancock and Breckenridge County line spotted what appeared to be suspicious debris yesterday during their search for the airplane of Robert Dalzell. Kentucky State Police detectives confirmed the debris spotted from a helicopter is the plane. It was located in thick woods roughly two miles off Hopewell Church Road in the Fordsville community in Hancock County.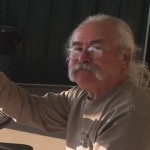 Although troopers confirm it is his plane they found, they are not confirming yet that the body found inside is him. The body was taken to Louisville for an autopsy.
FAA will be on-scene tomorrow to help the Kentucky State Police investigate the wreckage.
Kentucky State troopers say Dr. Dalzell left the Owensboro Regional Airport on May 30 around 9:10am. He successfully landed at Falls of Rough airport at 9:45am. Dalzell then departed Falls of Rough airport at 11:20am and never returned to the Owensboro airport.