The Catholic Church of Western Kentucky is saying goodbye to a friend this week.
Bishop John J. McRaith, who served as Bishop of the Diocese of Owensboro from 1982 until his retirement in 2009, passed away Sunday morning, March 19, 2017, at the age of 82.
Bishop McRaith was the third Bishop of the Diocese of Owensboro since the Diocese was formed in 1937. He served in that role for 27 years and is remembered fondly as a man who loved people and loved his ministry.
A 'Good Shepherd'
Speaking from the chapel in the Diocesan offices at the "McRaith" Pastoral Center Monday afternoon, Bishop William Medley remembered McRaith as a "Good Shepherd. He was one of the kindest men I've ever known. He was certainly kind to me as a new bishop. To claim him as a mentor was very valuable. Of all the people I've met, if any man embodies the image of a gentle and kind shepherd, it is him."
Medley, who succeeded McRaith as is the current Bishop of the Diocese of Owensboro, says he sought McRaith's counsel and advice and visited him often. "Even as his mobility was limited, his mind was always clear. He always had valuable opinions. He was particularly helpful to me in working with the priests in the diocese, whom he had known for all those years."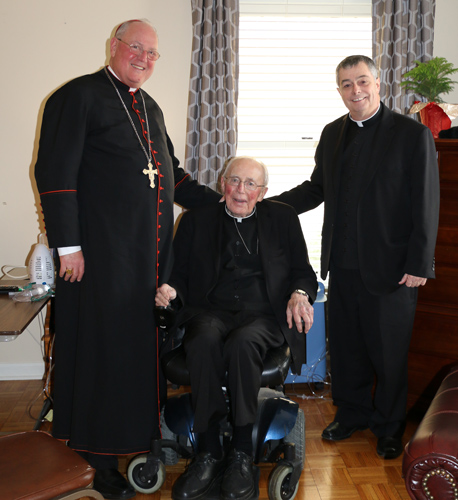 McRaith lived his last few years at the Carmel Home here in Owensboro. On one of Medley's recent visits, he brought along Cardinal Timothy Dolan while Dolan was in town to keynote the Catholic Men's Conference of Western Kentucky. "I took Cardinal Dolan out to visit Bishop John and he was having a great day. His voice was strong and we all had lunch together in the dining hall at the Carmel Home. To be visited by someone like Cardinal Dolan was a real high point for Bishop John and he was very gratified by that."
Because of their compassion for the poor and concern for the earth, there are clear similarities between Bishop John McRaith and Pope Francis. Medley recalled, "I have said many times that Bishop McRaith was a 'Pope Francis' bishop before there was a Pope Francis. Pope Francis's encyclical Laudato Si is about caring for the earth, and if anybody embodied that forty years ago it was John J. McRaith. Part of what brought him to the national scene was that he was director of National Catholic Rural Life Foundation."
McRaith's obituary released by the Diocese states that McRaith's dedication to rural life led him to travel around the country addressing rural issues, social justice, and the importance of having a rural ministry. As director of the National Catholic Rural Life Foundation, he presented at conferences and workshops in many dioceses across America.
He later served as vicar general, chancellor, and Director of the Office of Personnel in the Diocese of New Ulm, Minnesota, before being named Bishop of the Diocese of Owensboro in 1982.
But the parishioners in the pews don't remember those fancy titles. What we do remember is the growth the Diocese of Owensboro experienced during his 27 years at the helm. More importantly, we remember the soft-spoken, often smiling, ordinary, grandfatherly-type guy who could strike a conversation with anyone. His approachability is another similarity he shares with Pope Francis.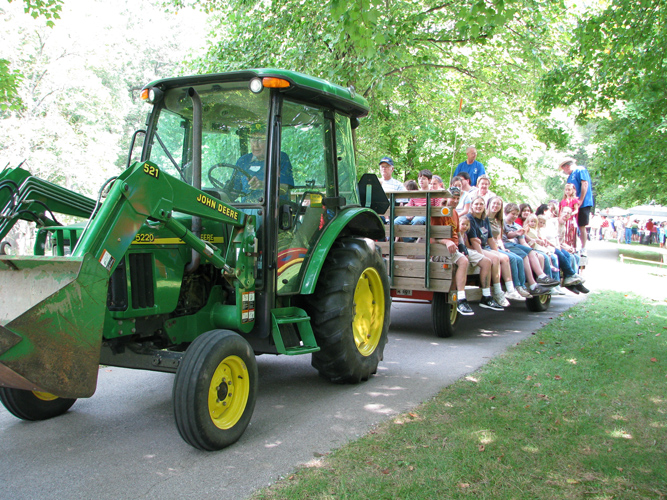 In just one of many examples of his down-to-earth nature, Bishop John was well known for hosting wagon rides for groups of students and adult groups at his farm in western Daviess County. In addition to his apartment in Owensboro, Bishop McRaith continued to work the land on that small farm as a nod to his farming roots in Minnesota. On those hayrides, he would often be the one driving the tractor, which he was also accustomed to doing each year at the Mount. St. Joseph Picnic.
Fittingly, a tractor-pulled wagon will be taking Bishop John's body from Glenn Funeral home to St. Stephen's Cathedral Thursday morning. Along the way, the wagon will pass by the Catholic Schools 4-6 campus and Owensboro Catholic High School so the students can pay their respects during the procession.
Arrangements:
The wagon is scheduled to arrive at St. Stephen's Cathedral in time for 12:05 Mass Thursday, March 23, followed by public visitation until 8 p.m. A wake service is also scheduled for 6 p.m. in the Cathedral.
An additional public visitation will be from 8 a.m. Friday, March 24, until 10:45. The funeral Mass will be held in St. Stephen Cathedral Friday, March 24, at 11 a.m.
Archbishop Joseph Kurtz (Archdiocese of Louisville) will preside at the funeral Mass with Bishop Medley preaching the homily, which McRaith's requested during his pre-arrangements. The majority of the priests of the Diocese are expected to concelebrate, along with other priests and bishops from neighboring dioceses.
Bishop McRaith will be buried at Mount St. Joseph in Maple Mount, Kentucky.
Read McRaith's obituary on the Diocese of Owensboro homepage.
"It's the foundation of our faith that we're brought into this world to love and serve God in this world and be happy with Him in the next. Even though there's a sense of sorrow that a good man has died, in our faith we believe that he has gone on to be with God forever, so that's our reassurance." – Bishop William Francis Medley