The National Weather Service reported that Daviess County had two tornados on Wednesday, April 27th.
The first tornado resulted in dozens of trees or large limbs broken. Partial shingle loss; loss of facia or other minor damage to several homes. One home had front porch blown off. A barn had its doors blown off or bent in. One vehicle badly damaged. A stand alone carport was lofted at least 1/10 of a mile.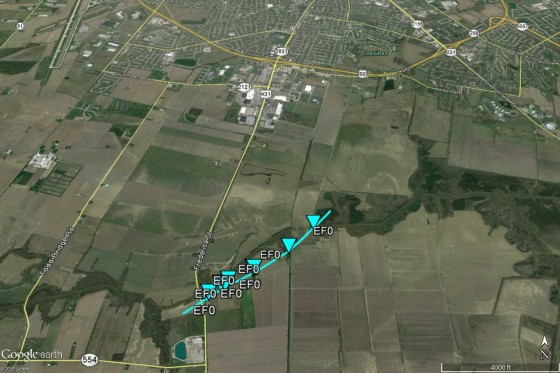 First Tornado
Rating: EF-0
Estimated peak wind: 80 mph
Path length /Statute/: 1.5 miles
Path width /Maximum/: 125 yards
Fatalities: 0
Injuries: 0
Start date: APR 27 2016
Start time: 622 PM CDT
Start location: 5 miles SSW of Owensboro
End date: APR 27 2016
End time: 624 PM CDT
End location: 4 miles S of Owensboro
The second tornado destroyed a mobile home and at least 2 dozen others received minor damage. Dozens of trees or large limbs broken. A carport and several privacy fences were damaged. Several homes had partial loss of shingles.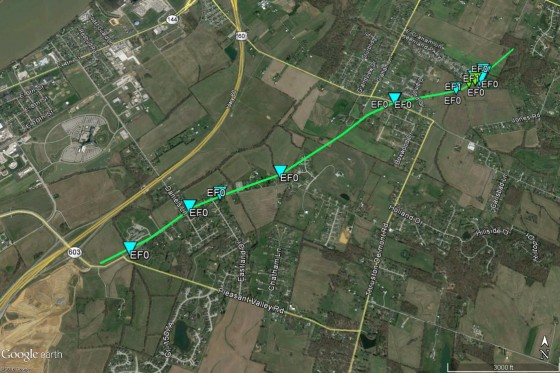 Second Tornado:
Rating: EF-1
Estimated peak wind: 90 mph
Path length /Statute/: 3 miles
Path width /Maximum/: 150 yards
Fatalities: 0
Injuries: 0
Start date: APR 27 2016
Start time: 636 PM CDT
Start location: 3 miles E of Owensboro
End date: APR 27 2016
End time: 642 PM CDT
End location: 6 miles ENE of Owensboro