Katie Keller set Owensboro Living up with these artist interviews to give our readers a preview of some of the acts in the 2017 lineup.
Arthur Hancock – banjo
The Wooks: Real Kentucky Rhythm and Bluegrass
The Wooks are bringing their brand of "Real Kentucky Rhythm and Bluegrass" to ROMP on Thursday and Friday. What does that mean exactly? "It's our expression of our lived experiences right here in Kentucky," answered Arthur Hancock, the band's banjo player.
What he means by that is The Wooks trace their beginnings back to a jam session at a Bourbon party at Keeneland (horse racing track in Lexington); then started playing private events at distilleries, horse farms, and other events in the Louisville and Lexington area; then progressed to club gigs; and eventually all that exposure earned the band stage time at festivals like Rudy Fest and Festival of Bluegrass. So when The Wook's bio says the band translates "the sights and sounds of the people, hills, bars, roads, creeks and hollers around them into songs and shows that captivate," they mean it.
The guys are Kentucky through and through. Hancock, for example, is a 5th-generation Kentuckian and has worked on a farm his whole life. His grandfather was friends with (mandolin player) Galen Green's grandfather. And Jesse Wells (fiddle) is a music professor at Morehead State by day. "We use the 'real Kentucky' tag because we're proud to be from Kentucky. There aren't many young bluegrass bands from Kentucky," Hancock says. "It's also our way to honor the people (the founders of bluegrass) who shaped this music. We pay homage to tradition but we do our own thing too."
Last year, The Wooks played the IBMA (International Bluegrass Music Association) showcase in the fall and signed with an agent in November. After meeting International Bluegrass Museum director, Chris Joslin, The Wooks performed at the museum and are now looking forward to their performances at ROMP. "I've been to ROMP several years, so now to be playing at ROMP is a huge honor," Hancock said.
Hancock traces his love for bluegrass music to his father, who recorded an album when Arthur was 12. "I got to see my dad record that record with some of my heroes – like J.D. Crowe – who played on the album. So that was my epiphany moment." After that, Arthur picked up the guitar and later switched to banjo. "Everybody thinks the banjo is a happy instrument, and I agree with that. But I also like the rhythmic and melodic dynamics of the banjo."
Arthur says he was greatly influenced by an Avett Brothers article about using the banjo for good. "After that, I decided I wanted to be a representative of my state and play bluegrass music and try to spread a little of that good vibe with people." Now, The Wooks will be bringing that good vibe to ROMP.
"ROMP is our crowd. It's our kind of people so we're going to enjoy that! It's a great festival for our state, and to be from Kentucky, playing ROMP, we're excited and we're ready!"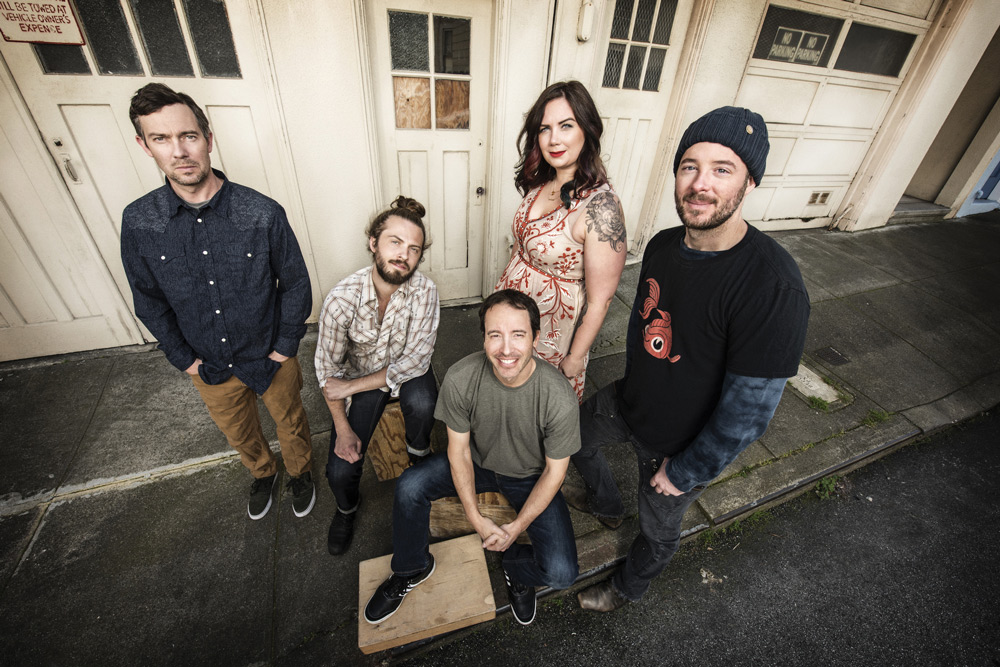 Allie Kral – fiddle
Yonder Mountain String Band
Long time ROMP attendees will remember Yonder Mountain String Band from their 2015 performance at the fest. But fiddle player Allie Kral says returning ROMP fans are in for a new set, and if things go her way, the band may even debut a song Allie wrote.
"If I can get it together in time for ROMP, we hope to play a new song I'm working on that I sing, so that will be fun because I've played Kentucky so often it will be nice to play that new tune for my friends and family."
Even if that one doesn't make the cut, there will be plenty of songs that are new to ROMP. Yonder tries not to repeat a show by constantly mixing up their set list to keep things consistently unpredictable, which goes right along with their improvisational style. "It makes it fun for the fans because they follow us and try to guess what the set list at the next show might be. Or if they'll hear their favorite song," Kral explained.
That approach adds to the fun for the band members as well. "Always playing a new show is cool and not many bands do it. We're always on our toes. It never gets boring. I find that kind of experience very fulfilling," Kral said.
That comment also summarizes her love for bluegrass in general. A classically trained violinist from a young age, Allie says before she discovered bluegrass there was "nothing better than performing Beethoven on stage with a full orchestra. But now it's all about the jam."
Instead, the violinist who could be playing concert halls and posh theaters is grinding it out night after night playing fiddle on the road with a bluegrass band. "Once I discovered (bluegrass), I needed to play more of it. With Yonder, we can go into an area of music we've never practiced or planned and just jam it out. It's like we're creating it right there by listening to each other. The mandolin will do something and I'll adjust, then the guitar will take a solo and I'll switch up what I'm playing. The surprise of it is what's fun for me."
When asked what she remembered about ROMP, Kral recalled "the caliber of musicianship and the cool, family-friendly vibe. I always love a festival where people can bring their RVs and glam up their campsites."
Yonder Mountain String Band is scheduled to perform Friday night at ROMP. In true Yonder style, Allie says Adam (guitar, vocals) will look back over the setlist from 2015 and adjust this year's performance accordingly.
*This article appeared in June/July '17 issue of Owensboro Living Magazine.