*This article originally appeared in the June / July 2017 issue of Owensboro Living Magazine. We printed 2,000 commemorative covers featuring Nicky Hayden, which we are selling for $5 with proceeds going to Nicky Hayden's memorial fund. To purchase your commemorative 
special edition cover of the issue,

click here.
Like all of Owensboro, our entire staff at Owensboro Living was devastated to hear the news of Nicky Hayden's recent cycling accident on May 17, 2017. We had been praying nonstop and checking daily for updates from Maurizio Bufalini Hospital in Cesena, Italy, or the next official statement by Nicky's Red Bull Honda World Superbike Team.
Then, the unthinkable.
Just hours before this magazine was due to go to print we received word that the end was imminent.
Speaking personally, I am writing this piece with an enormously heavy heart because there's no way 2,000 words could ever touch the impact of the man I've come to know in Nicky Hayden.
Owensboro Living has followed Nicky Hayden's storied career since the magazine (and website) began in 2013. We put Nicky on the cover of our April 2014 issue. Despite his busy racing and travel schedule, Nicky was always very gracious with his time and went out of his way to accommodate Owensboro Living for interviews and updates every time we asked.
Of all the people I've interviewed in five years of writing for Tanner Publishing, Nicky Hayden carried himself as the most professional. On the record, he was all business and had a star quality about him that is unparalleled in my experience. But off the record, he always greeted me with a fist-bump and a "What's up?" like we were best friends.
He had a magnetism that rightly explains why he is and will remain one of the most beloved people in motorsports. It explains why he has over 500K Twitter followers and long lines at every appearance at races.
It also explains why the whole world has shown such an outpouring of love and support since the news broke of his cycling accident. Social media lit up with well-wishes, prayer chains, stories of favorite "Kentucky Kid" moments, highlight videos, and photos of the 2006 MotoGP World Champ from throughout his career.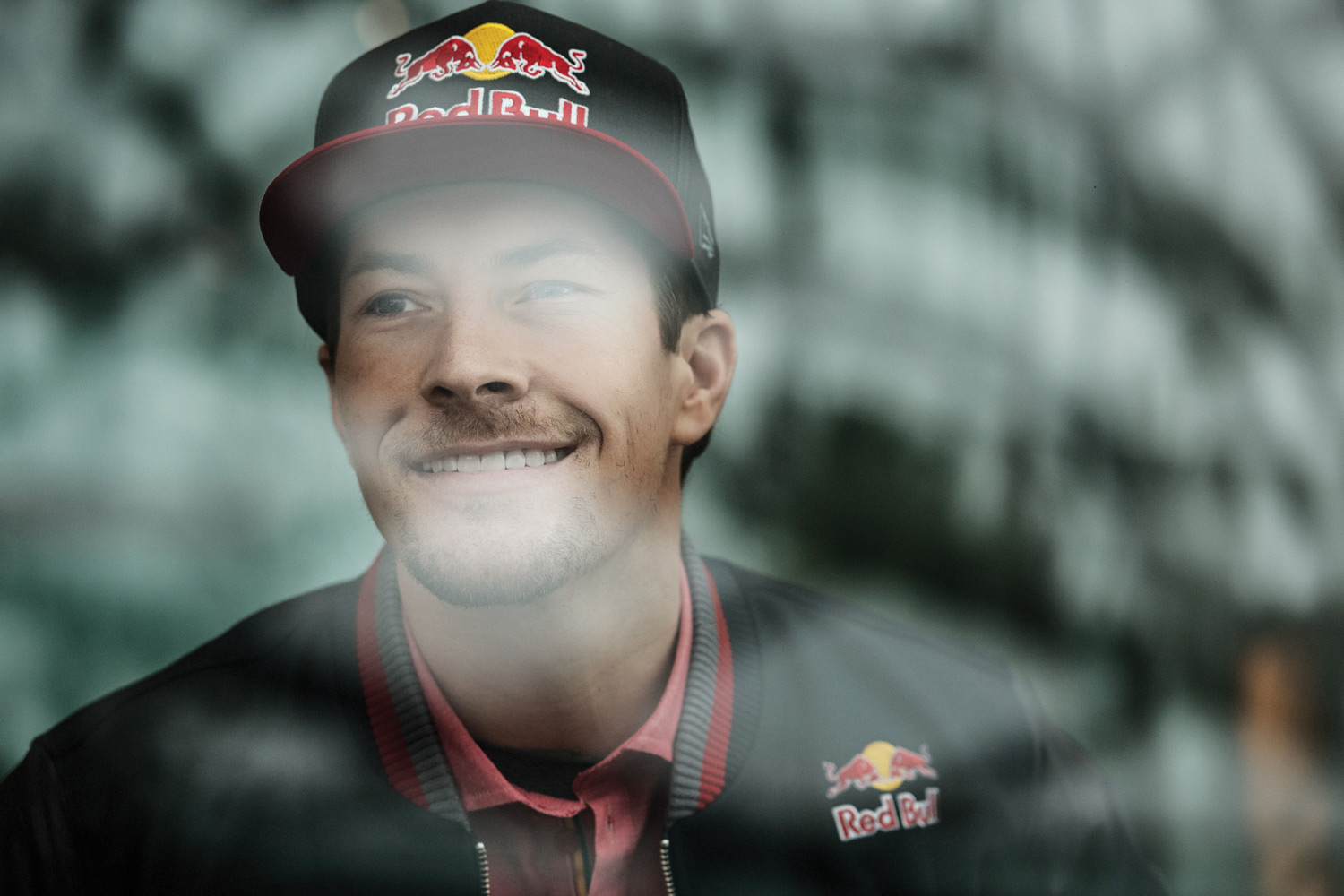 His rise from humble beginnings partially explains why people gravitated to him so much and pulled for him the way they did. Not humble in the sense of "dirt poor" but humble in the sense that he grew up riding with his brothers and sisters on a dirt track in their backyard and ended up a world champion in the highest level of motorcycle racing.
But here's one thing that's still a little hard to explain to people from Owensboro, where MotoGP racing is not as popular as it is in Europe. I didn't realize it myself at first, but Nicky is a bona fide superstar in the world of motorsports.
Growing up in Owensboro, I had always heard of the Hayden brothers, but I didn't have any clue how big the careers of Nicky, Tommy, and Roger Hayden had become. All three are AMA (American Motorcyclist Association) champions, which is the highest level of motorcycle racing in America. Nicky then went on to win the MotoGP World Championship in 2006. (Editor's note: Think of it like this: AMA is like the NASCAR of motorcycle road racing. MotoGP is like Formula One).
Between the three of them, the Hayden brothers have captured just about every title a motorcycle racer can win. In fact, the brothers famously finished 1-2-3 and swept the podium at a TT race in Springfield Illinois, which sports analysts claim is the only time in AMA history three brothers have swept the podium.
And they got their start at Windy Hollow Raceway before moving on to race at other dirt tracks and road races in the region, across the country, and eventually around the world.
But once Nicky made it to the world stage his popularity soared with the fans. The die-hards had been following the Hayden brothers and knew who he was. MotoGP fans who were discovering Nicky for the first time embraced "The Kentucky Kid" who brought along his southern charm, his competitive nature, and his little-kid-living-out-his dream smile to paddocks around the world, many times with a family member at his side. Soon, Earl (Nicky's Dad) was a hit with fans too because of his love for racing, unique personality, and trademark 3rd Chance Auto trucker cap.
In America, MotoGP is not a primetime sport, and it's not covered by most sports news radio and TV channels. Unless you live in Indianapolis or Laguna, California, MotoGP is not part of everyday, household conversation like it is overseas. As a result, Nicky quietly became one of the most popular global figures in sports while few people in Owensboro beyond friends and family really grasped Nicky's stardom, which Nicky always appeared completely content with.
He was happy being "just a guy from Owensboro" who raced motorcycles. But he always represented Owensboro and Kentucky. In the MTV2 movie "The Kentucky Kid," which documented his championship season, you can prominently see Owensboro landmarks. He still cheered on the Owensboro Catholic Aces, his alma mater, and still hung out with his same group of high school friends.
OWB
Nicky's love for Owensboro is also reflected in the title of the book The Haydens: Nicky, Tommy, and Roger, from OWB to MotoGP written by Chris Jonnum, who told me he spent time in Owensboro with the Haydens while writing the book. "Obviously it was enlightening for me to spend a few days with them to see where the brothers grew up. But the bigger impression it made to me was that no matter where Nicky has traveled, he always had one foot back in Owensboro," Jonnum said. "Nicky is at home wherever he goes, but it's always temporary. And he is always ready to get back home to Owensboro."
"I can't imagine living anywhere else," Nicky told me when we spoke for his April 2014 Owensboro Living cover story. "I have a house in California so I can train in the winter and a motorhome in Europe for when I'm racing. But Owensboro is my home. I come from a big family. It's always nice after three and a half months on the road to have a home and family to come back to. I like it out here on the west end. It's where I grew up."
But what does Nicky mean to Owensboro from the City's perspective?
Well, the Hayden brothers were among the first class to receive a Walk of Fame Plaque from the City of Owensboro in 2013. "Nicky was the Kentucky Kid, but he was so much more to the people of Owensboro. He was ours. He was everything right about the American Dream. He wanted to be a World Champion motorcycle racer at age four and realized that dream at 24," said Jared Bratcher, Sports Marketing Director for Owensboro-Daviess County Convention and Visitors Bureau. "Nicky was humble and liked it that way. Nicky made others' dreams come true also; he donated his time and money to countless charities including the Make-A-Wish Foundation. He donated hundreds of bicycles to less fortunate kids. And just as Nicky wanted it, most of those things were done without the camera rolling."
For example, Nicky has been known to donate some #69 balance bikes to children at the Daniel Pitino Shelter. In June of 2014, he joined the Hayden family as "celebrity guests" at the TREK, a bike/walk/run fundraiser for St. Joseph's Peace Mission for Children.
In another out-of-the-spotlight example, following Nicky's accident, Jason Koger publicly thanked Nicky and the Hayden family in a Facebook post for the support the Haydens showed Jason during Koger's recovery following his amputation. "I was always impressed with Nicky Hayden because with all his success he came home humble. I will never forget the benefit held for me and the Hayden family donating."
Those are just a few of many more examples we'll probably never know about. Because, like Bratcher said, Nicky wasn't one to seek those types of headlines.
Inner Drive
But with all that going on, Nicky still took time for this fledgling reporter. During my most recent interview with the Champ, he told me, "I'm going to race as long as I can. My goal is to win the World Superbike Championship and be the first person in history to ever win both MotoGP and World Superbike. That's never been done."
That comment was a true reflection of his competitive spirit, and I am 100% confident he would have worked with his team and kept on trying until he accomplished that feat. MotoGP World Champ was just not enough. Always the competitor, Nicky had to have something else to shoot for. That's his personality. At 34, when Nicky started racing in the World Superbike series, he still believed he wasn't done yet, which he proved by winning a race in his rookie season.
Part of that drive is because he never had a "plan B." He told me so in a 2013 interview for Earl Hayden's book The First Family of Racing. "From the time I can remember until now, this (racing) is all I ever wanted to do. Even now after 12 years of racing MotoGP, I still want to do it. I still have a passion for it."
A year later, when we talked for his Owensboro Living cover story, he stayed consistent with that I'm-nowhere-near-the-end-of-my-career attitude. "I really don't think much about life after racing," Nicky admitted. "I know it's winding down, but I've still got a couple more years left. I still love the sport. I've still got a passion for it. And I'd like to stay involved in the sport after my racing career."
At the time, Nicky had just switched to team Aspar, a Honda satellite team, which he said felt "like coming back home" to Honda, the team he won the MotoGP World title with.
In November of 2015, Nicky was crowned a MotoGP "Legend," MotoGP's version of the Hall of Fame, distinguishing him as the 22nd person to ever be named a Legend, and only the sixth American. That achievement coincided with Nicky's announcement that he would be stepping away from MotoGP at the conclusion of the 2015 season, and riding for the Ten Kate Honda Team in the World Superbike division in 2016.
At that announcement, the press corps gave Nicky a standing ovation; more evidence of the love and respect people have for him.
When we spoke just before the Legend induction, Nicky sounded very optimistic about competing in World Superbike. "I've always been a fan of Superbike. Those are the bikes I grew up riding." (Editor's note: Before switching to MotoGP, Nicky won the AMA Superbike Championship in 2002.)
It didn't take him too long to win his first race in his World Superbike rookie season last year, which came Sunday, May 15 in Sepang, Malaysia, when he pulled out front early and held on for the win.
Nicky ended his 2016 season 5th in points and was 13th this season at the time of his accident.
Family First
If there's any consolation to Nicky's passing, it's that during his final days, Nicky was joined at his bedside in Italy by his brother, Tommy; his mother, Rose; his fiancé, Jackie; and team members, which was only fitting since Nicky was used to having family by his side.
Anyone who knows the Haydens can tell you what a close-knit family they are. Nicky is a proud uncle to his nieces and nephew and loves spending time with them whenever he is home.
Youngest sister, Kathleen, posted on Instagram the handwritten note Nicky sent her with the photo that accompanies one of my favorite stories in The First Family of Racing. It also perfectly describes the Hayden family dynamic. The backstory is that Kathleen had classes at UK and couldn't fly over for the race the day Nicky won the MotoGP World Championship. Kathleen was the only Hayden not there to witness it, so when a phone call woke her up in the early morning, it was her big brother calling to share the moment with her.
The handwritten note says this: "Kath, This pic may not look too clear or special, but to me it's pretty special. It was the call to my lil sis telling her I was a World Champ. And to me, so are you!" – Nicky
Nicky's second family, his Honda racing team, said this in an official statement May 22:
"Nothing says more about Nicky's character than the overwhelming response expressed by fellow racers and his legions of fans over the past few days. Jackie and his family are truly grateful for the countless prayers and well wishes for Nicky.
The 'Kentucky Kid' will be sorely missed by all that ever had the pleasure of meeting him or the privilege to see him race a motorcycle around a track, be it dirt or asphalt.
The racing world says goodbye to one of its dearest sons. Rest in peace Nicholas 'Nicky' Patrick Hayden."
The Team Red Bull Release also included this from Tommy Hayden:
"On behalf of the whole Hayden family and Nicky's fiancé Jackie I would like to thank everyone for their messages of support – it has been a great comfort to us all knowing that Nicky has touched so many people's lives in such a positive way.
"Although this is obviously a sad time, we would like everyone to remember Nicky at his happiest – riding a motorcycle. He dreamed as a kid of being a pro rider and not only achieved that but also managed to reach the pinnacle of his chosen sport in becoming World Champion. We are all so proud of that.
"Apart from these 'public' memories, we will also have many great and happy memories of Nicky at home in Kentucky, in the heart of the family. We will all miss him terribly.
"It is also important for us to thank all the hospital staff for their incredible support – they have been very kind. With the further support of the authorities in the coming days we hope to have Nicky home soon."
By the time you read this, Nicky will have been brought home and Owensboro – and the whole world – will have had a chance to say a proper goodbye. This was Owensboro Living's "last lap" attempt to pay our respects to Nicky and thank him and his family for being such a great representation of our town and state.
We leave you with these words by Jared Bratcher:
"The world lost a Champion, Kentucky lost 'The Kid,' but Owensboro lost a son, brother, uncle, cousin, friend, hero or just a fellow Owensboroan. We all lost something special when we lost Nicky."
*This article originally appeared in the June / July 2017 issue of Owensboro Living Magazine. We printed 2,000 commemorative covers featuring Nicky Hayden, which we are selling for $5 with proceeds going to Nicky Hayden's memorial fund. To purchase your commemorative special edition cover of the issue, click here.