*This article originally appeared in the June/July '17 issue of Owensboro Living Magazine.
Owensboro pitmaster John Foreman has received his share of interesting phone calls over the years. Back in 2012, he got a phone call from a producer of the Destination America channel TV show BBQ Pitmasters who said they were filming an episode featuring Kentucky pitmasters. Long story short, Foreman agreed to audition and went on to win the competition.
Then last year, he got another phone call, this time from the Kraft Heinz Company, inviting the BBQ Pitmasters winner to be involved with a product they were launching: a Kentucky Bourbon Style Rich and Savory barbecue sauce.
"They called and asked if I was interested," Foreman said. "I had seen the commercials and thought that would be really cool. I said 'of course.' "
Next, Heinz sent a team to Owensboro to eat at Foreman's restaurant, Old Hickory, and discuss the idea for the sauce a little further. The concept for this line of sauces is to use local ingredients to match a barbecue style or flavor that is representative of a certain region. For example Kansas City, Texas, Carolina, Memphis, Hawaii and the most recent, Kentucky Bourbon.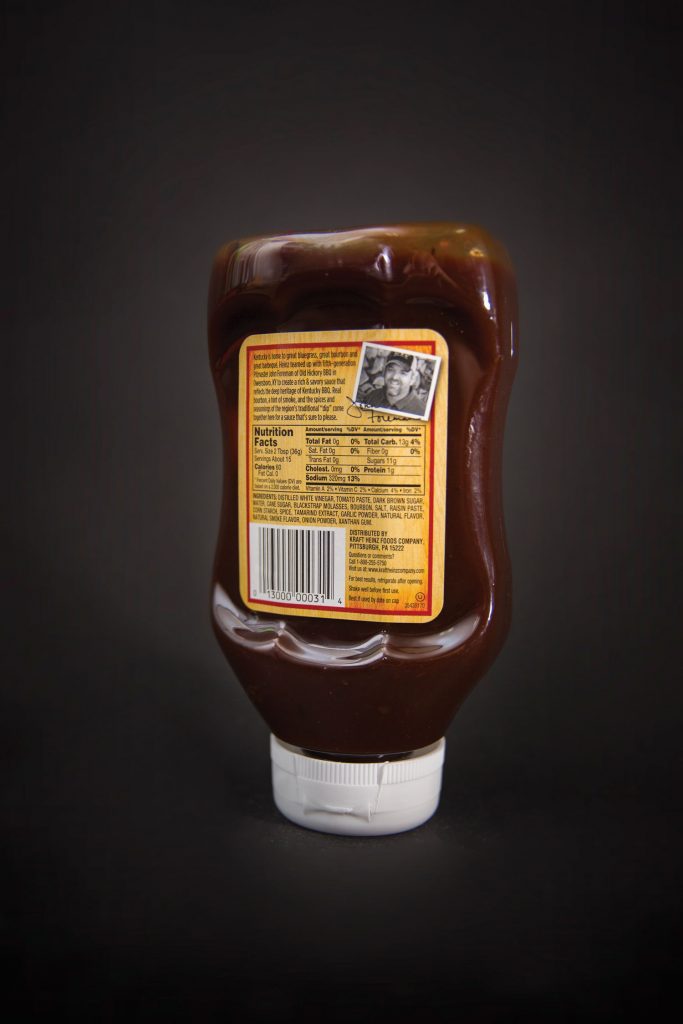 Foreman explains that Heinz wanted to partner with real barbecue pitmasters for this line of sauces, rather than hiring paid spokespeople. All eight of the names on the sauces so far were on the BBQ Pitmasters TV show. Five sauces were introduced last year and three this year.
A few months after the restaurant visit, the team called back to tell Foreman he had been selected to be featured on the Kentucky Bourbon sauce bottle.
This time, it was John's turn to visit. Heinz invited him up to Pittsburgh to collaborate on the sauce. Foreman recalled the process in Pittsburgh, "They had all the ingredients laid out and we made the sauce. It's all good stuff. There's no junk in this. I was really impressed with what they did. They tested everything."
To be clear, this is not Old Hickory sauce. John's name and face on the bottle indicate he gave the sauce his stamp of approval. "I like that they stuck to the authenticity of a Kentucky black dip.The thought behind this Kentucky Bourbon sauce is that it's Kentucky barbecue, so it's their version of combining what we'd call a dip and a finishing sauce. It's their version of those two in one sauce."
"John is one of the most humble people you'll ever meet, and his dedication to continuing the same hometown feel and award-winning taste that's five generations strong made me realize that this wasn't just about BBQ sauce, it's about a legacy here in Owensboro, KY!" -Nicole Gray, Gray Photography, who took the photo of John that is featured on the bottle
Heinz Kentucky Bourbon Rich and Savory sauce is now being distributed nationally, so any store that sells Heinz ketchup and sauces is now carrying it. John has already had people from Alabama, Florida, Illinois, Las Vegas, and California tell him they've seen it. Foreman expects it to be on shelves for at least three years. It comes in standard 18-oz. bottles and a collector's sampler pack.
So far, people seem to like the taste and the look of the sauce. The label is catchy; it has a texture that resembles a bourbon barrel.
Personally, John says the sauce is "good on chicken and pork chops, but it's an all-purpose sauce, so it would be good on anything. Even hamburgers. Anything you want to grill – it will work."
Sales copy for Heinz Kentucky Bourbon sauce:
Kentucky is home to great bluegrass, great Bourbon and great barbecue. Heinz teamed up with fifth-generation Pitmaster John Foreman of Old Hickory BBQ in Owensboro, KY to create a rich & savory sauce that reflects the deep heritage of Kentucky BBQ. Real bourbon, a hint of smoke, and the spices and seasonings of the region's traditional "dip" come together here for a sauce that's sure to please.