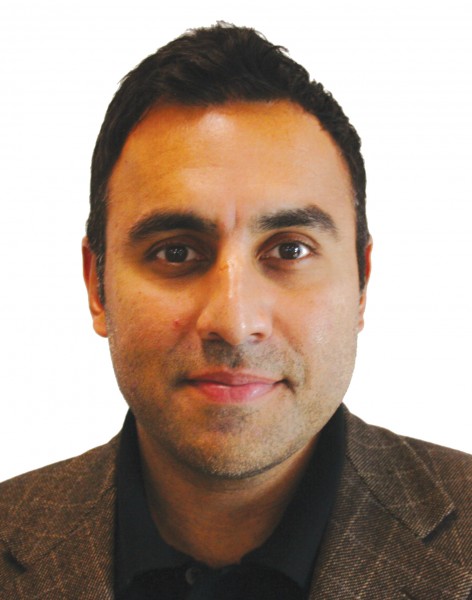 Ask around about the kind of company Louisville-based Interapt is and you might hear any of the following:
A Silicon Valley-type tech business that focuses on mobile technology.
The newest Google Glass partner, one of just 10 companies nationwide to emerge from a rigorous selection process approved to develop enterprise applications for the wearable computer.
A mobile app developer.
What's an Interapt?
While all of the above are true, Interapt CEO Ankur Gopal has a different answer about Interapt's focus: they solve problems. They just happen to use mobile technology as their solution of choice.
Born and raised in Owensboro, Gopal sees Interapt as much more than just another tech startup. "I like doing something that I know benefits the community," he said, "and furthers the mission of economic development in Kentucky in terms of creating jobs. The companies of the future will keep the best and brightest in Kentucky – not bolting for the coast because there's no opportunity here."
Interapt (interactive + application + aptitude) is certainly creating that opportunity by raising eyebrows around the country with their success, most recently with Google's October 21 announcement of its latest partners. The deal gives Interapt instant credibility, especially with companies leery of doing business with firms outside the traditional Silicon Valley/New York pipeline. "The announcement cleared up that problem nicely," Gopal said.
Gopal has seen a surge of interest in his company in the last few weeks. Kentucky Governor Steve Beshear and Louisville Mayor Greg Fischer both publicly praised Interapt, and CNN and USA Today interviewed Gopal about Interapt's work. The publicity generated 470 LinkedIn requests for Gopal, which resulted in more than 50 clear leads, including top-level decision makers from Fortune 1000 companies who want to discuss using Google Glass in their operations.
"We're hearing that people are surprised we came out of Kentucky," Gopal said. "My response is 'Why not Kentucky?' The beautiful thing about technology is that you can do anything from anywhere."
Interapt applied for the Google partnership based on their work with Yum! Brands in Louisville. Interapt's Glass application condensed an 80-page training manual for KFC employees to a series of on-screen prompts employees could quickly and easily follow while keeping their hands free to work. That project led to a pilot employee training program with Taco Bell, which is expected to save tens of millions of dollars in operations costs.
Gopal sees endless applications for Glass. Doctors on rounds could take video or audio with Glass and automatically add the files to the patient's chart so the next nurse in the room is working with up-to-date information, leading to better care and quicker patient improvement. Reporters in the field could broadcast video straight to the newsroom. Several other projects have transformational potential particularly for healthcare and employee training.
Interapt doesn't develop cool applications just to be cool. "If it doesn't make the patient better, what's the point?" Gopal said of the healthcare solution. When a company approaches Interapt with a problem, Gopal and his team conduct a strong discovery process to reveal the critical needs that keep company leaders awake at night. Interapt then assesses the right technical solution, whether it's Glass, a smart watch, a mobile app, or more.
Gopal has come a long way. After graduating from the University of Illinois at Urbana Champaign and studying entrepreneurship at the University of Chicago's Polsky Center for Entrepreneurship, he came back to Owensboro in 2009 to chase his vision of mobile technology as the next frontier. He started a text messaging service called Agent 511; once smartphones hit the scene, he realized the tremendous opportunity in the mobile app market and charted a new course, even though he knew nothing about app development at the time. (The same strategy served him well when he first heard of "wearables" such as Google Glass.)
In 2011, Gopal moved the growing company to Louisville to take advantage of the larger companies there; the team is now at about 80 employees and is in "an aggressive growth phase." Greater Louisville, Inc. named Interapt a "Hot Dozen" company in September 2014 as one of the most innovative up-and-coming companies in the area, and Gopal was named a 2014 Emerging Entrepreneur by the Kentucky Entrepreneur Hall of Fame.
He's appreciative of his time in Owensboro. While here, the Greater Owensboro Economic Development Corporation invested in his company with a $30,000 seed loan, which he has since repaid with interest so the money can be used to help other emerging companies. Sound advice from Malcolm Bryant, Madison Silvert, Nick Brake and Terry Woodward still guides him today, Gopal said.
In his Louisville office – Interapt is located in The Nucleus building downtown – Gopal still keeps a copy of a feature story from the Messenger-Inquirer about his company. The story included a photo of him working at the Owensboro Panera with no office, no overhead, no payroll – just a man trying to build a plan, formulate a business and figure out how to survive.
"I'm proud that even when we were struggling, trying to figure out our niche, that we never lost sight of the bigger picture – how does this impact the community? We didn't focus on money, but on impact, and the money came," he said.
Gopal volunteers with Junior Achievement and his team works in the community as well, including teaching regularly at the Kentucky Science Center. He loves to aid entrepreneurs when they ask for help. Some of his best advice includes reading constantly, watching how similar companies grow, obtaining advice from other entrepreneurs and staying open and honest about where your company is and where you want it to be. "You need a vision and a plan," he said. "Make sure you have support. Know your resources and know where to get help."
Solving problems, coding apps, hanging with Google, giving back – all in a day's work for Ankur Gopal, who honed his inherent entrepreneurial skills with hard work and a hunger to succeed.  "I hope this encourages other people to think of Kentucky not as a limitation but as an opportunity," he said. "There are a lot of successful companies already. There's no reason there can't be 20 more."