Christmas arrived early at Holiday World theme park today, as the 77th piece of bright orange steel track was lifted into place, completing the full circuit for Thunderbird, the park's first major steel roller coaster.
Holiday World's Vice President of Development & Maintenance, James Olliver, credits a team of more than three-dozen area construction workers for not only staying on schedule, but working through summer heat and recent snowy weather to complete Thunderbird's more than 3,000 feet of steel track weeks ahead of schedule.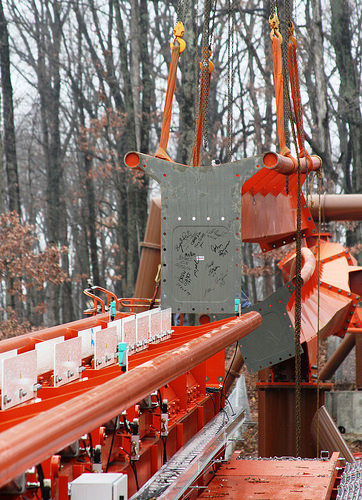 Before track piece number 77 was lifted into place, Thunderbird's construction team celebrated by signing it.
Thunderbird, the nation's first launched wing coaster, will start with a zero-to-60 miles per hour launch in 3.5 seconds, followed by multiple inversions – including a 14-story Immelmann loop, Zero-g roll, barrel roll, and loop. Continuing Holiday World's tradition of sending roller coasters through thickly wooded and hilly terrain, Thunderbird at first soars and loops high in the air and then hugs the ground, surprising riders with rapid-fire "near misses" such as keyholes, themed elements, other rides, trees, and even the ground. Two additional ride enhancements will be announced in the coming weeks.
Construction of Thunderbird's themed support buildings will continue throughout the winter.
Holiday World will open for the 2015 season on April 25. For more information about Holiday World and Thunderbird, visit HolidayWorld.com or call 1-800-467-2682.