I'll admit it. I've got certain "Clark Griswold" tendencies that surface at Christmas time. And this year, my adventurous spirit is heightened because our boys are 8 and 9, which is the perfect age to trek through the forest and saw down our own Christmas tree.
That's about how old I was when my dad started taking me and my brother on trips to the woods to pick out our live Christmas trees, which he would then saw down and bring back home. Which is the same way my dad and his brothers would get their Christmas trees when they were growing up.
But after a moldy-smelling, needle-dropping, horrible, sap-on-the-carpet experience with a live Christmas tree I bought from a parking lot about 10 years ago, my wife swore off live trees altogether and we bought an artificial tree.
The problem – as I learned from my new friend Dennis Duke – was likely because that parking lot Christmas tree was far beyond its prime before I ever bought it.
From his front porch overlooking the lane into his 100-acre Hilltop Tree Farm near Philpot, Dennis wound through story after story from nearly 35 years in the tree business and explained that most of the big box stores and pop-up Christmas tree lots buy their trees wholesale from major Christmas tree farms in North Carolina that are so big they cut hundreds of thousands of trees each year. That means they start cutting those trees in October in order to ship them to the box stores and tree lots in time for prime sales weekends in late November. That also means the trees won't last until Christmas, and you usually get a mess like I did in my living room.
The answer to that mess is a fresh-cut tree, and Hilltop only sells fresh-cut trees. The two most popular options are pre-cut North Carolina Fraser Firs cut the week before Thanksgiving and brought directly to Hilltop Tree Farm or cut-your-own from the farm.
In Dennis's experience, most customers prefer pre-cut. Those trees are conveniently displayed in two large tents next to the building right off the parking lot so customers don't have to stand in the rain or snow when choosing their Christmas tree.
But for those adventurous enough to find and cut down their own Christmas tree, Dennis will hand you a saw and point you toward a field of White Pines or Norway Spruces in the front of the property or up a hillside behind the building.
Full-Service Tree Experience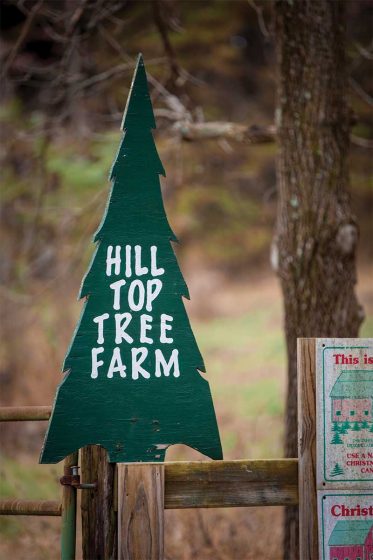 Once you've chosen your pre-cut tree or cut down your own, workers prepare your tree for the short ride home. All trees are shaken to get rid of any loose leaves and pine needles, and pre-drilled for a stand if you don't have your own. Large trees are baled with netting to shrink the tree for easier transport.
While all this is going on, there's a wood-burning stove in the building to keep you warm, popcorn to munch on, and cold drinks for sale. They'll also send you home with a tree bag to make the removal process much less messy after Christmas.
Driving to a tree farm might be a little old fashioned, but it's still a very popular thing to do. If you're thinking about going, you'd better get there early, though; Hilltop sold out of fresh Christmas trees by the second weekend in December two out of the past three years.
Christmas tree sales start the day after Thanksgiving until the trees are gone. Cut-your-own hours are Saturday, 8am – dark and Sunday, noon – dark. Pre-cuts sell until after dark because there are lights in the tents.
From Tobacco to Trees
Duke jokingly says he got into the tree farm business because raising trees is easier than cattle or tobacco. The opportunity arose when a friend asked to borrow one of Dennis's farm trucks in the early '80s, just a few years after Dennis purchased the property in east Daviess County and started planting soybeans and tobacco. His friend was cutting Christmas trees in Indiana, then bringing them to town in his pickup truck and selling them at a roadside stand. A bigger truck meant more trees, so the two friends struck up an informal partnership.
"We took the only grain truck I had over there (to Indiana), loaded it up with Scotch Pines, and still sold all of them that weekend," Dennis remembered. The next stroke of luck came from a chance encounter with a Kentucky Forestry agent who stopped by the stand and asked where they were getting their trees. "When we told him we were getting them from Indiana, he said 'if you order them from the state I'll deliver the seedlings to you.' So that's how this all got started."
Three of those original evergreens still tower in the sky at Hilltop, overlooking the new rows of Christmas trees and other rows of dogwoods, Japanese maples, birch, and other species grown for nurseries and landscapers.
Although Dennis stays busy with other regular work in Owensboro, trees, and especially Christmas trees, are his obvious passion. "I've always liked trees. Planting them and watching them grow," he admits.
Along the way, Dennis has picked up a few tricks of the trade. After seeing a wreath machine at a trade show, he came back to his shop and built one of his own. He also got involved in another side business selling Christmas tree stands, became the Vice President of the Mid America Christmas Tree Association, and helped start the Kentucky Christmas Tree Association.
Today
After spending some front porch time with Dennis and walking through fields of Christmas trees, my tour ended in the large building that stages the Christmas tree operation. The back half of the building houses a paint booth for flocking, or spraying white "snow" on trees. The front of the building is where the trees are baled and pre-drilled. Along the back wall stand several wreath machines and a garland machine for making live greenery, which Hilltop also sells.
And I'm sure I missed some other details, because all I could think about was coming back the day after Thanksgiving to cut a fresh tree this year. Whether it becomes a new family tradition or ends up another "remember that one year" story is yet to be seen.
Judging from Dennis' enthusiasm, he's looking to take Hilltop Tree Farm to the next level. As I got back in my truck after the interview, he left me with these words: "I'm 72 now. Maybe next year I'll slow down and spend more time here on the farm instead of doing all these other jobs. I enjoy this more."
Getting There
The first step to choosing your fresh Christmas tree at Hilltop is finding the place. The address is 8023 Mt. Zion Church Road. Take Highway 144 past Yellow Creek Park and turn left on Mt. Zion Church Road. The entrance to Hilltop Tree Farm is off the back parking lot of Mt. Zion Cumberland Presbyterian Church.