Filmed at the Bluegrass Hall of Fame and Museum, My Bluegrass Story will air nationally on RFD-TV starting this fall
What began as a brainstorming session between Chris Joslin, Bluegrass Music Hall of Fame and Museum Director, and Jason Tanner, owner of Tanner+West advertising agency, has developed into a TV show called My Bluegrass Story that was completely filmed here in Owensboro. 
The series tells the bigger story of Bluegrass music, but each thirty-minute episode focuses on an individual artist's story about how Bluegrass music has impacted them personally. Beautifully filmed inside the Bluegrass Music Hall of Fame and Museum, the show also features b-roll footage from past performances at ROMP, interspersed with about ten minutes of storytelling by each artist.
According to Tanner, the artists appreciated getting to the heart of their story through the interview process for each episode. It was the director's role to dig deeper into the artist's background stories, childhood memories and influences, the meaning behind certain songs, and other insights that most people have never heard before.
But the real highlight of each episode is a live, solo performance filmed inside the Hall of Fame room surrounded by the plaques of past Hall of Fame inductees.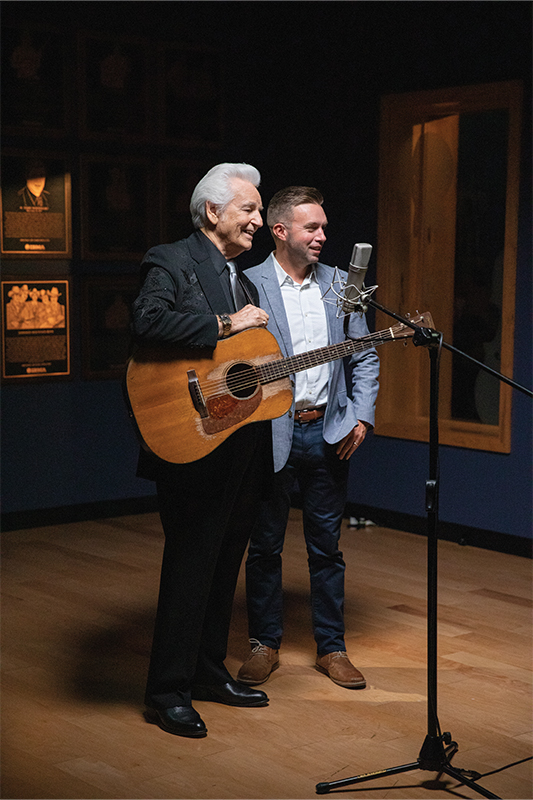 "These are blow-your-mind performances," Tanner said. "We filmed them just a few feet away, so it's like a private concert. Just to see the level of dedication, talent, and passion these people have is amazing and inspiring."
Each featured artist also brought along an artifact or memento that is especially meaningful to them, which adds a nice secondary story to each episode. Those artifacts were then left at the museum to be staged together as an exhibit at the conclusion of season one.
"This is not just a TV show you watch, it's something viewers can engage with right here (at the museum)," Joslin said. "So now we're thinking about how to best display these artifacts in a new My Bluegrass Story exhibit – whether it's instruments, awards, images, song lyrics, etc. – with a multimedia presentation that will bring these artifacts and the stories behind them to life for our visitors."
The creators say My Bluegrass Story is also a way to shine a spotlight on the rich culture of greater Owensboro and drive tourism to Owensboro. Indirectly, it's another piece of the puzzle that helps establish and define Owensboro as the true home of Bluegrass music.
As such, Joslin says the TV show serves both missions of the Bluegrass Music Hall of Fame and Museum. "Our internal mission is to tell the story of Bluegrass music and preserve the genre through storytelling and exhibits. But our broader, external mission is a larger economic strategy around cultural tourism that is Owensboro-centric. So that's what we're really trying to do with this TV show is spotlight the Bluegrass Music Hall of Fame and Museum as the epicenter of Bluegrass music.
"Certainly, Bluegrass lives and thrives in many places around the world. But there is not another cultural institution dedicated solely to Bluegrass Music like we have here at the Hall of Fame and Museum. This $15 million building is a destination that houses the Hall of Fame. We're trying to be for Owensboro what the Country Music Hall of Fame is for Nashville, or the Rock and Roll Hall of Fame is for Cleveland. But it's not enough to make a claim. You've got to live out that claim in really tangible ways. So things like this building, ROMP, Bluegrass Unlimited magazine, and now this TV show are all evidence of living out that claim."
The entire first season (thirteen episodes) has already been filmed and is now being edited. Tanner says the first six episodes will be delivered to RFD-TV [see sidebar] in October to start being aired in November. Each show will air twice a week on RFD-TV. After it's TV run, the Bluegrass Hall of Fame and Museum retains digital rights as well. At the time of this printing, it was still being decided which streaming service would pick up My Bluegrass Story. Plans for season two are already in the works. "Being able to produce a high-quality TV show like this is a dream come true for Tanner+West," said Tanner. "We're storytellers at heart, so to be able to help someone else tell their story is what we really love to do. All of these artists have the same passion for their craft as we do for our craft, so to be a part of this is huge for us. You put those two things together, and you get a fantastic product."People are going to be blown away when they see it," Tanner continued. "Even if you're not a fan of bluegrass music, if you're a fan of a good story, you're going to love this show. And I can almost guarantee there will be people who have never heard of these artists before that will become a fan after watching the episode. We've already seen that happen from a few people who watched the pilot. That was a result we did not expect."