Break out the sparklers–it's summertime! Not only is summer my favorite season, it's also my favorite season to dress for. If I could get away with wearing rompers, skirts and wedges all year long, I certainly would. You guys may have read my intro in Owensboro Parent Magazine, and if so that's great news! I've been talking about the latest trends, and this time I've partnered with some of Owensboro's best boutiques to show you what I'm talking about.
A wonderful thing about summer fashion is how versatile it can be. You can easily dress a look up or down with the decision of sandals or wedges, or in some cases, barefoot is best! The great thing about the three outfits I've featured here is that they're perfect for any summer party or backyard get-together, and ideal for a night out at Friday After 9 or Gambrinus for cocktails!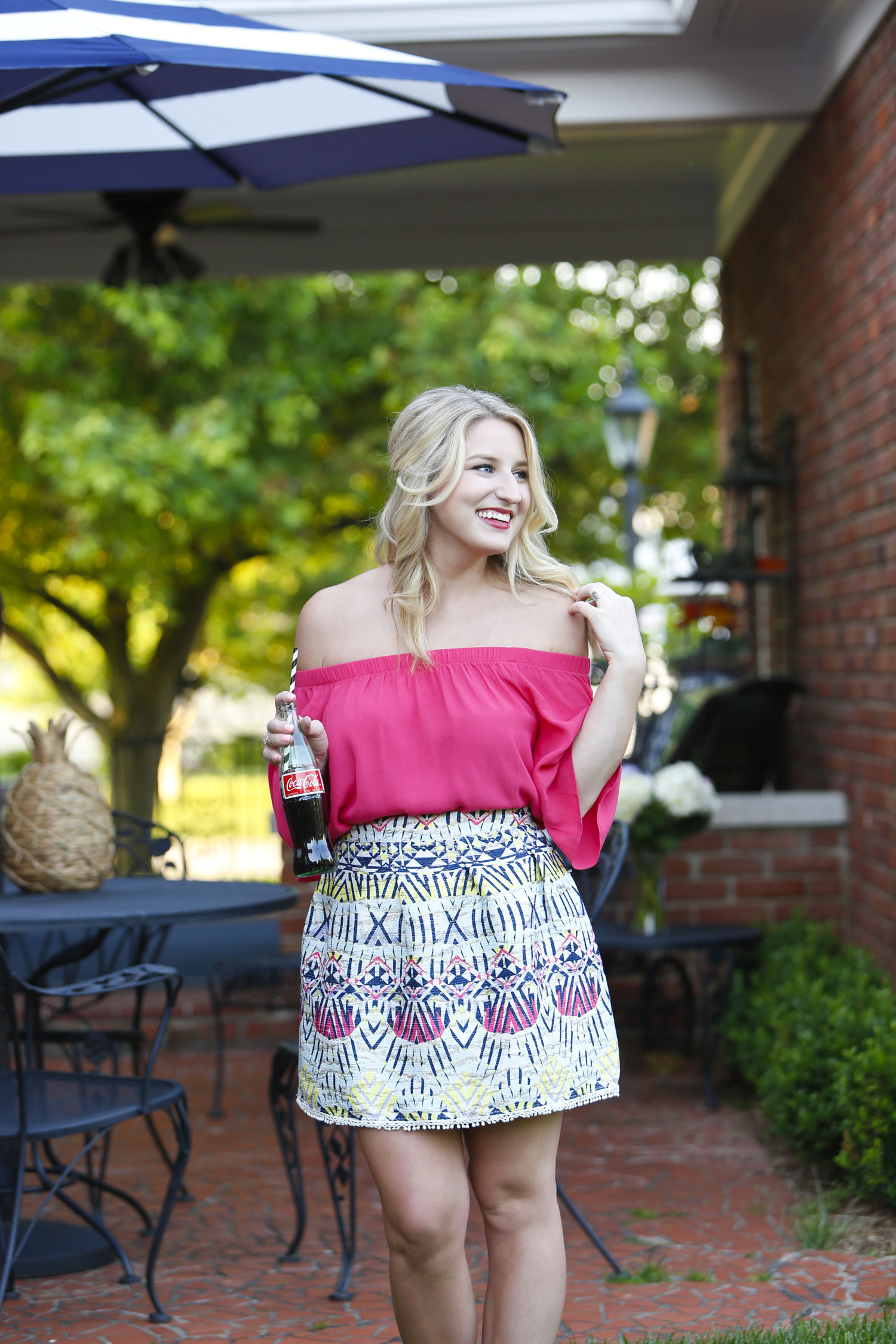 Skirt: $44  |  Top: $66
Bella Ragazza Boutique  |  120 W 2nd St  |  270.926.9546
I fell in love with this first look as soon as I put it on. Bella Ragazza has endless options for that flirty summer outfit, day or night. I paired this off the shoulder top (remember, not going out of style any time soon), with this printed skirt, and it's like they were made for each other. Add some heels, and this would be a great option for a wedding party or night out with the girls. This look is ideal for people who like to get a lot of use out of an outfit. This top would also go with white jeans and wedges or white shorts and flip-flops. This skirt could go with a simple tucked-in tank or white button down tied in the front. Now there are three outfits in one! (Just trying to give you guys an explanation for your husbands/boyfriends/dads when they complain about your growing closet.)

Skirt: $198  |  Top: $158  |  Purse: $160  |  Necklace: $76  |  Earrings: $84  |  Bracelet: $59
Excursions  |  2738 Frederica St  |   270.926.8388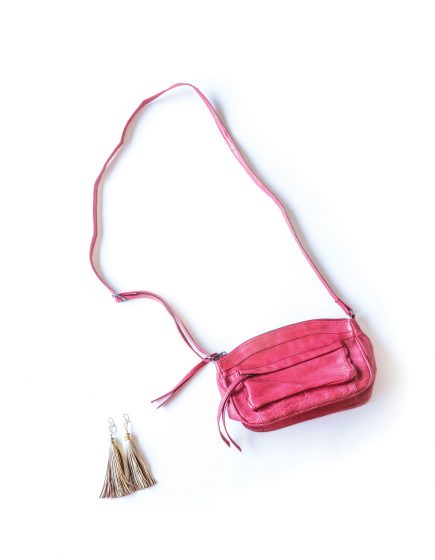 The next outfit just screams summertime. I love the flowy lace white skirt, and surprise, it has a shorter skirt underneath! Looking for an outfit for ROMP? Here it is! This white skirt is the perfect match with this airy lightweight top. You could even pair this with a pastel top for a bridal shower if you're about to tie the knot. I love how easy and breezy this entire outfit is. It's exactly what you want for that summer heat in the day and those cool summer nights. Both pieces are extremely breathable and comfortable, and equally as adorable! No matter your style, this outfit can work for you.
When I walked into Excursions I fell in love with this skirt, but didn't think it would work for me because I'm so short. But listen up short girls! This skirt is the perfect length with wedges. As for the tall girls, it would be just as amazing with strappy sandals. Excursions is the go-to shop for one-of-a-kind pieces like these. Choose accessories according to your personal style, like this bright crossbody bag and gold tassel statement earrings.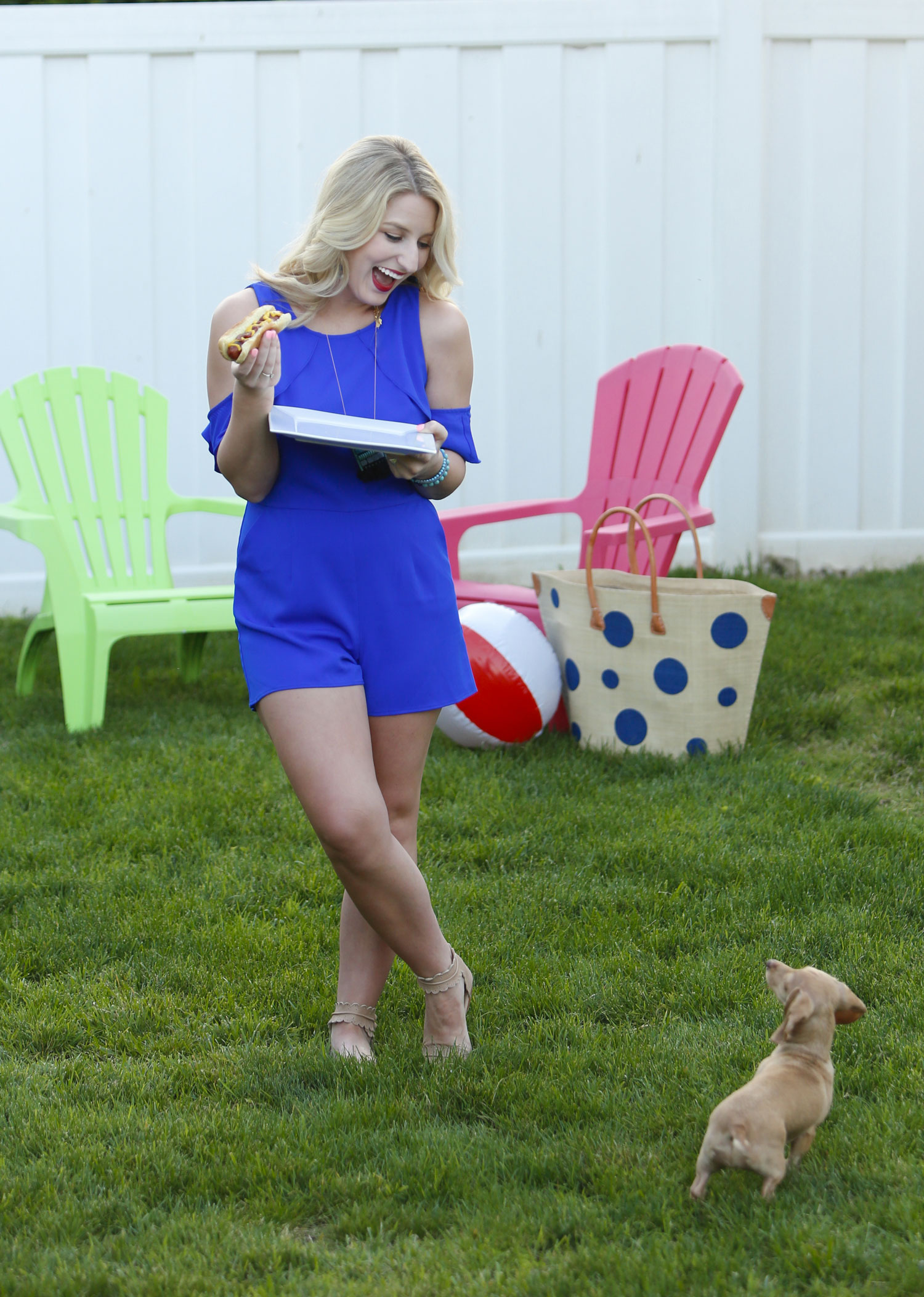 Romper: $47 Shoes: $108  |  Earrings: $36  |  Necklace: $79  |  Bracelet: $74  |  Bag: $81
Peacocks & Pearls Boutique  |  4431 Springhill Dr  |  270.926.SHOP (7467)
Three cheers for the red, white and blue (and blonde, of course)! This bright royal blue romper is so stunning. Imagine this for a stock the bar party or a night in your backyard with your favorite wiener dog. Dress it down with fun sandals like I did, or dress it up with heels and a pretty clutch. This is the outfit for you if you love comfort, and love something simple that doesn't sacrifice style. Rompers are so great for that reason. Just throw it on and go! Peacocks and Pearls has it all, from casual wear at lower price points to dressier options for that special event.
I hope you guys have enjoyed learning about these great summer styles from a few of our local boutiques. We're so lucky to live in a town with so many amazing options. Now, get out there and shop!