Owensboro artist Katie Lowing has won third place in the 1st Annual 'Handy Blues Art Show,' hosted by the Henderson Society of Art and Field & Main Bank.
The juried art competition asked artists to enter pieces inspired by the annual W.C. Handy Blues & Barbecue Festival held in Henderson each June. Lowing entered an oil painting titled "Fiddling in Red." Her subjects included Owensboro resident Emily Wills, the daughter of Dr. Steve Wills and Dr. Teresa Wills. The setting for the piece was the Ohio County cabin of John and Marianne Edge, also of Owensboro. The painting is for sale for $600.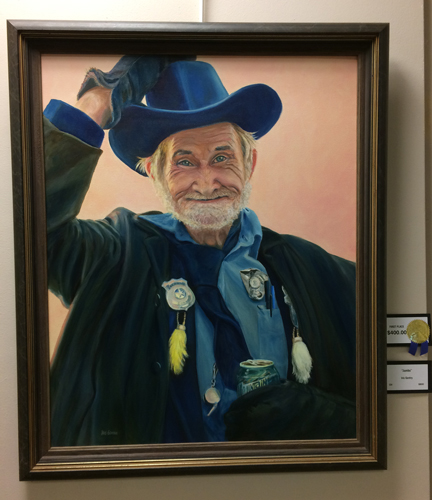 First place in the competition went to former Owensboro resident Iris Gentry for her oil
painting "Jumbo" – painted in memory of a long-time Handy Festival fan and local character. Gentry now lives in Henderson. The painting is for sale for $800.
All submissions in the competition are displayed in the lobby of Field & Main Bank at 140 N. Main Street in Henderson (Use the lobby entrance on 2nd Street). It is open for viewing from 8 a.m. to 5 p.m. each weekday through June 16.
The top five pieces were awarded cash prizes.
All pieces are for sale with a portion of the proceeds benefiting the Handy festival!
Photos of all entries are available on the Handy Festival Facebook page.
W.C. Handy Blues & Barbecue Fest
The 2017 W.C. Handy Blues & Barbecue Festival will take place next week – June 14-17 – in Audubon Mill Park along the Henderson riverfront. The four-day free music festival offers blues and Zydeco bands from across the United States, a "street strut" showcasing attendees' best Dixieland Jazz attire, lots of kids' activities, and a number of related events hosted by local businesses and organizations.
A full schedule of events is on the Handy Festival website
Follow festival news on Facebook @handyblues, on Twitter at @HandyBluesCrew and on Instagram @handyblues.
Why Henderson?
W.C. Handy lived in Henderson as a young man and met his wife while playing music there. They married in Henderson and he worked as a gardener for a local professor. Though he did not write any songs in Henderson, he says in his autobiography that it was in Henderson that he learned to "appreciate the music of my people" and "started thinking about" expressing his experiences through a new musical format – giving birth to the blues.