The wait is almost over!
OwensboroLiving spoke with Seth Woodward, the new owner/operator of Wonder Whip this afternoon, who says he plans to reopen the Whip in 2-4 weeks.
"They're not making 1955 drive-ins anymore," Woodward said, explaining his interest in reopening the Whip. "It would be a shame to see it die and be bulldozed.  This place has been here 61 years. It has history and a heritage.  It needed a new lease on life and I felt like I was the right guy."
Woodward has several years of experience in the food service business, operating restaurants in Bowling Green (5 years) and here in Owensboro (7 years).
Former owner, Billy Mulligan, sounds confident in Woodward.  "I think he'll do great.  He's really into history and seems to like old fashioned businesses."
Seth's also a local guy.  He went to Maceo Elementary, graduated from Daviess County High School and still lives on the east side. "This is my side of the county, I used to drive this highway every day," he said.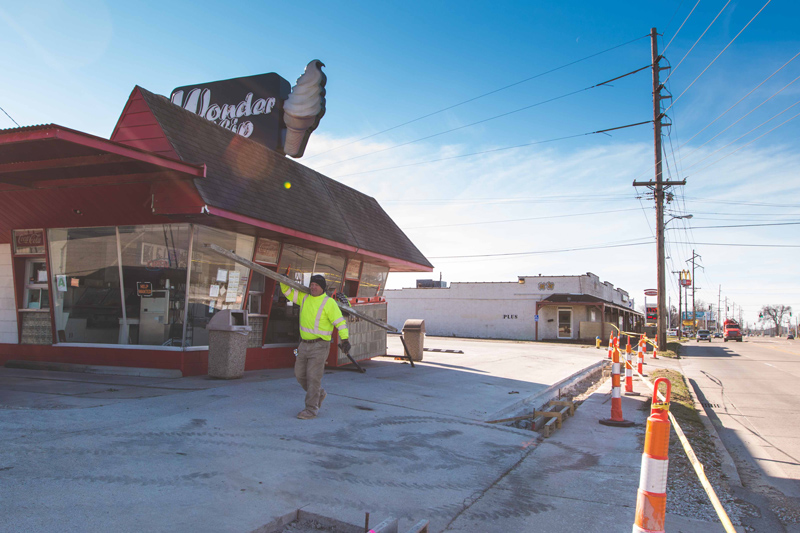 Work will be fast and furious the next several weeks; crews are making several improvements to the lot, adding new green spaces and demolishing the old flea market behind the building.  Seth is busy hiring employees, ordering food and making other preparations.  "All the original equipment is still here, so we're going to keep things exactly the same as they were when it closed in August," Woodward said. "Our goal is to have the best service and the best product."
The long term plan is to slowly make tasteful changes to the physical property and menu offerings. "There are many exciting things happening in the good food movement and there is no reason why they cannot be found at Wonder Whip," Woodward said.
Several former employees are expected to continue working at the Whip, along with approximately 10 new employees that will be hired. Those that wish to apply for employment or follow the restaurant's reopening schedule may do so by liking the restaurant's Facebook page or watching for signage in front of the restaurant.
OwensboroLiving will keep you informed as an opening date is announced.