They are the first ones we call when we are injured, in pain, or in need of rescue. We look on in awe and hopeful anticipation as they care for our loved ones, mend our broken bones, diminish the flames devouring our homes and businesses, or pry someone free from a vehicle. We expect them to do so in record amounts of time, while demonstrating super human patience and strength. There are so many times that we rely on our community heroes to save us, yet so often they do not receive the recognition that they deserve.
Station One Firefighters
When speaking to Joey Wright, Owensboro firefighter and union president of the Local 870, or speaking to others about him, it comes as no surprise that he was named 2015 firefighter of the year. However, you won't hear him bragging about himself, Joey is more concerned about bragging on his brothers in uniform and making sure that the community has a clear understanding of what firefighters really do. He says, "There are a lot of things people don't know about the fire department." Our firefighters make approximately 8,000 runs a year, respond to all accidents, teach classes throughout the week, conduct inspections on buildings, businesses, and schools, and test fire hydrants for the city. Because the firehouse is their home away from home for twenty-four hours, there are also chores that need to be completed such as cleaning floors, bathrooms, cleaning and maintaining trucks, and mowing the grounds. Several guys are going back to school to further their education, and many hold second jobs on their off days. A lot of them also come in on their days off to help provide EMS coverage for city events at the Convention Center, BBQ Festival, and Air Show.
Although it's easy to notice the large red ladder truck in public, what a lot of people don't see are the hearts of these men behind the scenes. For the last seven years, a friend of the fire department named Kenny has been coming by Station 1 to visit the guys, hang out, and play basketball. Kenny has become "one of the guys," and has inspired several of them to volunteer with Special Olympics each year at Apollo High School. Joey, along with Eric Cart, Andy Johnson, and David Spalding, can be found, usually off duty, volunteering to help with the softball toss, bowling, and other activities. Beyond Special Olympics, the guys help out with The Goodfellows Club, Habitat for Humanity, Toys for Tots, and are looking forward to starting Coats for Kids in the coming year. Because Station 1 is located so close to downtown, they receive a lot of visitor foot traffic. Joey says that "a lot of kids and visitors come by in the evening around suppertime," but the guys never hesitate to stop and take the time to greet people, pass out hats, and show them around the station. It's just become a part of who they are and what they do, and "everybody loves having the kids come around." Joey sums up the feeling for the guys at Station 1 by saying, "I enjoy wearing my uniform and going to work. Even on my days off I'm at the fire station." On and off duty, these guys are definitely heroes.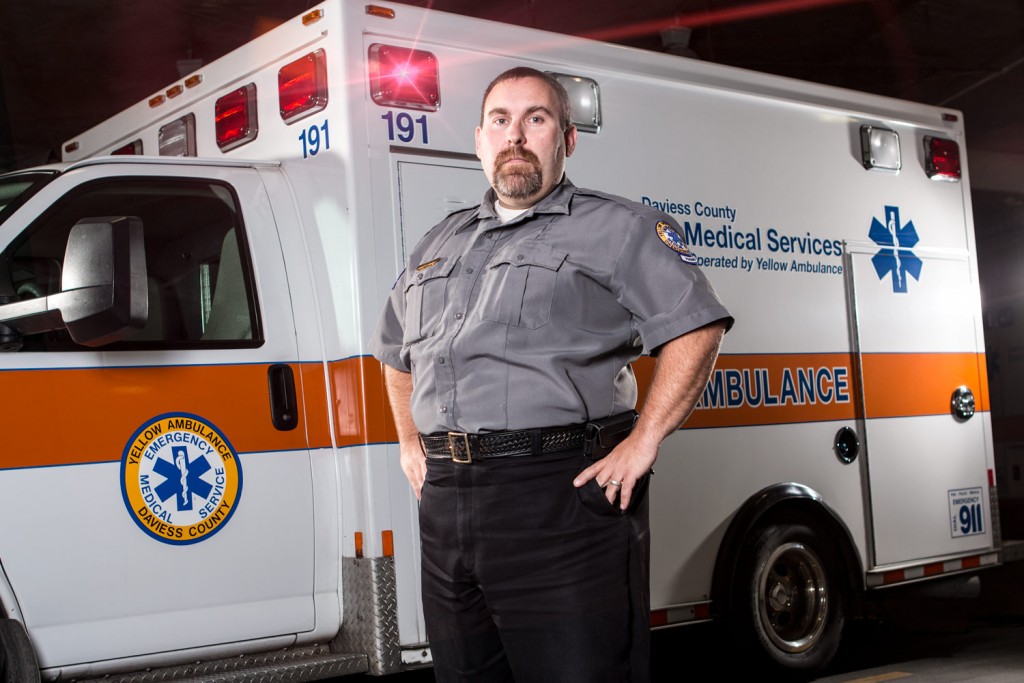 Ambulance Service EMT/Paramedic – Billy Bratcher
Billy Bratcher has been an EMT (Emergency Medical Technician) for the last nineteen years, a paramedic for the last fourteen, and the Assistant Director of the ambulance service for the last five. If you were to meet Billy, you would meet a kind, jovial man that simply appears to love what he does. What you would not see is the five year old little boy who witnessed his father killing his mother and two year old little sister some thirty-six years ago. You would not see the little boy who rode along as his father ran from the law for two days and then took his own life with a shotgun as Billy sat on the car seat beside him watching. Billy believes that, even then, at five years old, as he took his father's Air Force jacket and placed it on top of his head to stop the bleeding, he was put on this earth for a purpose. Billy has never considered expressing feelings of pity for himself and his situation, instead he feels that, due to his experiences, when he sees trauma he is able to "handle it better than most people." Bratcher also believes that he is where he is today because of the circumstances he overcame, and the incredible grandparents who raised him.
Recently he has been inspired by the theory of "The Butterfly Effect," that suggests that the actions of "one person can affect the whole world." After researching the numbers, Billy found that since he became an EMT in 1996, he has come into contact with approximately 11,000 patients. He wonders, out of those 11, 000 grown-ups and children, how many he has impacted in such a way that they may have decided to take a similar path in life. His mission now is to train other providers, especially those who are tired and may feel "burned-out" at times, to realize that they have the power to impact thousands of others in a very positive way. From a very young age, Billy Bratcher has been a hero that we can all be proud of.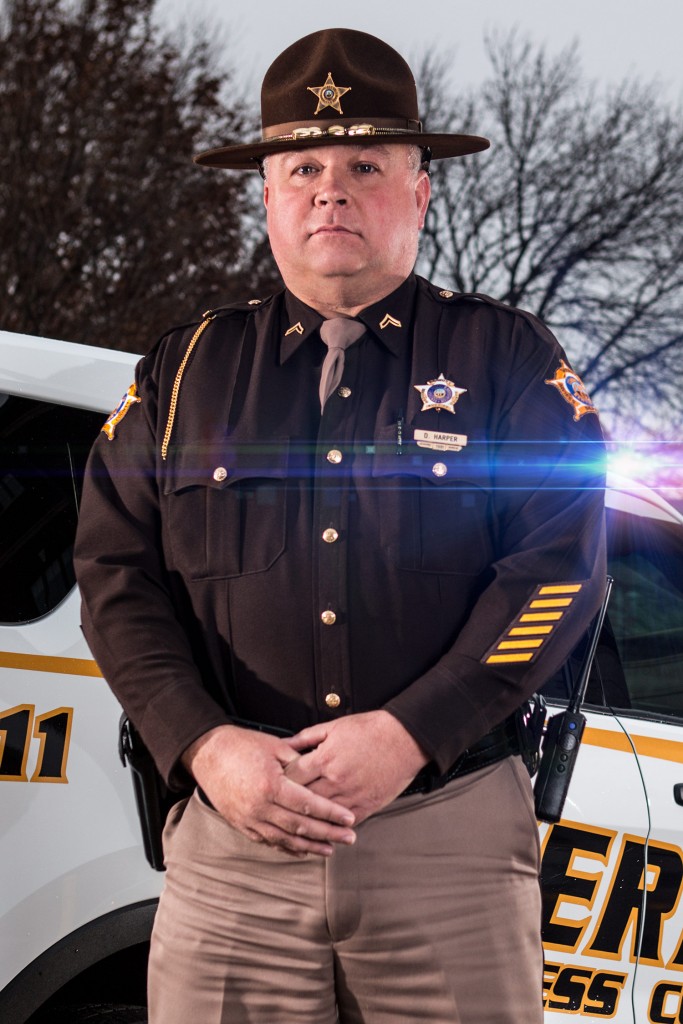 Sheriff's Department – Corporal Duane Harper
Corporal Duane Harper is the epitome of a man who takes great pride in his dedication to wearing the uniform. Corporal Harper valiantly served the Owensboro Police Department for twenty years where he worked on accident reconstruction, evidence collection, and patrol, and was named Officer of the Year on two occasions. Harper retired from the police department in 2011 as a patrolman and, after waiting the customary ninety day period, proudly joined the Daviess County Sheriff's Department. Working in the areas in which he was familiar, he has now been with the sheriff's department for the last four years working accident reconstruction, crime scene investigation, and collecting physical evidence. Although Harper has become well-acquainted with working crime scenes that involve assault and even murder, he admits that "there is nothing worse than working an accident," and says that "notification is probably one of the worst things to do."
Over the last almost twenty-five years, Harper has found that his purpose has shifted from "filling the jail up" to truly investing in and helping people. Now, Corporal Harper says, "I want to help people work through and overcome their problems. A lot of these people are down on their luck and they don't know what else to do, so they call 911. That's what we're here for." When asked how he continues to maintain such a positive attitude with all of the negativity he sees, he says that his training in crisis intervention has taught him how to listen to and treat people. Corporal Harper says, "I treat everyone the same. I believe that you should treat everyone the way you would want people to treat your mother." Regardless of what uniform he is wearing, Harper says, "I love my job. I just want to be out there and assist my community in any way that I can."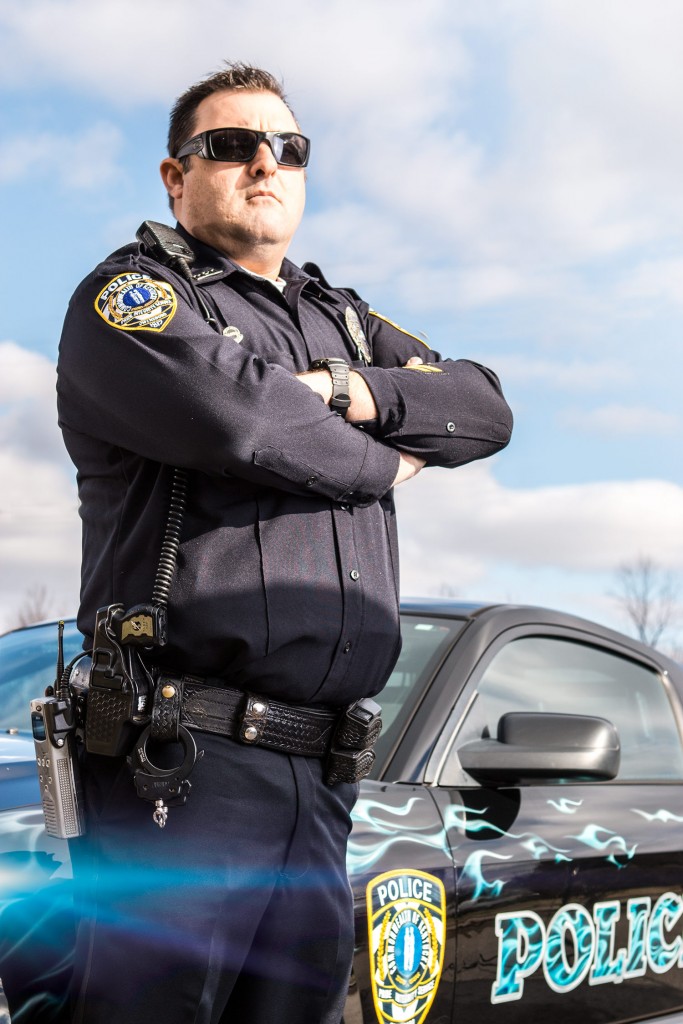 Owensboro Police Department – D.A.R.E. Officer Jeremy Henry
When driving through town or attending a community event, it's hard to miss Officer Jeremy Henry and his 2005 custom-painted Ford Mustang. This drug-seized vehicle that was once used for negativity is now a positive teaching tool and conversation starter with the youth in and around Owensboro. From the looks of this embellished vehicle, one might assume that the D.A.R.E. (Drug Abuse Resistance Education) program is geared toward teenagers and older youth, but that is far from the truth. The program focuses on public relations and public education for all citizens from preschool age to senior citizens. Officer Henry is responsible for teaching little ones the importance of "stranger danger" and calling 911, as well as teaching workplace safety, teaching the disabled how to be safe, independent citizens in public, and presenting to Scout groups and church youth groups.
However, Officer Henry's main educational focus is on fifth through sixth grade students. He currently teaches eight different classes in ten different classrooms each week between the Owensboro Middle School South campus and Owensboro Catholic 4/6 Center. He believes that it is his duty to give children "the tools to put in their toolbox," so that they know how to handle situations such as bullying and exposure to drugs when their parents are not present to offer advice. It is his mission to teach our children as they get older to be responsible citizens in our community. Officer Henry is also responsible for making sure that he and the D.A.R.E. car are present at community events on the evenings and weekends. While he enjoys greeting young people when he is on duty, he really enjoys seeing them out and about in the community. "I want them to see that I am a real guy, that I'm a dad with two kids, and that I coach youth football. What I do in the community overlaps into the community…and helps me make connections with kids." While another officer completes the necessary training, Officer Henry is currently the primary D.A.R.E. officer for Owensboro and is a hero to citizens of all ages.
This article was published in the January/February 2016 issue of Owensboro Parent Magazine.