Allegiant Air has announced a new direct flight from Evansville to Orlando beginning June 2, 2016.
That's good news for Evansville, but how will that flight from Evansville affect Owensboro's numbers?
Owensboro-Daviess County Regional Airport (OWB) Manager, Bob Whitmer, told Owensboro Living this morning that Allegiant expects the Evansville and Owensboro flights to complement each other because they will be offered on different days.
"Allegiant's strategy is to offer more flights with more seats and more options," Whitmer said. For example, if someone can't catch a flight in Owensboro, they may catch it the next day in Evansville or vise versa. "Allegiant tells me our numbers may drop initially, but they should come back strong. I trust their judgment."
The two airports will strategically work together, Whitmer said.  Evansville will market their flight north while OWB will market our flights south toward Bowling Green and Paducah. By doing so, both airports hope to benefit. "In the long run, it's a good thing because more activity for this region will attract even more flights," Whitmer said.
In December, two more Allegiant flights from Owensboro Daviess County Regional Airport (OWB) to Orlando were added over the holiday season and summer 2016, making this summer the first time OWB will offer four flights a week during the summer months. Those flights will still be available.
Whitmer sees that as a positive sign for things to come. Allegiant sets the flight schedule according to flight loads. "Our numbers have been good, so they feel the demand is there," Whitmer told Owensboro Living back in December. If Owensboro continues to consistently have full flights, Allegiant may consider adding more flights.  (Allegiant also flies to Ft. Lauderdale, Jacksonville, Punta Gorda and several other destinations.)
At one time, OWB had direct flights to Las Vegas and Orlando; the two most popular vacation destinations in the United States. But when fuel prices escalated in 2012, Allegiant canceled the OWB flights to Vegas.
OWB receives federal funding based on how many passengers fly from Owensboro. "We get a million dollars a year because we surpassed 10,000 enplanements. We're pretty steady around 25,000 now, but if we can get to 50,000 we'll get $2 million. So that's our next threshold," Whitmer explained. "Before Allegiant started flying from Owensboro, OWB got $150,000 because we were under 10,000 passengers."
Other Recent News
In September, Owensboro Community and Technical College announced a 2+2 agreement with Eastern Kentucky University's aviation program. The partnership allows students in the Owensboro region to take their first two years of classes at OCTC while receiving hands-on training at the Owensboro-Daviess County Regional Airport, then completing their bachelor's degree online through EKU.
More good news: Owensboro High School and Hancock County now have aviation courses. "What we're trying to do is build a groundswell of young, local talent. Those courses help us find local pilots that have a passion for aviation," said Whitmer.
Terminal Expansion and Improvements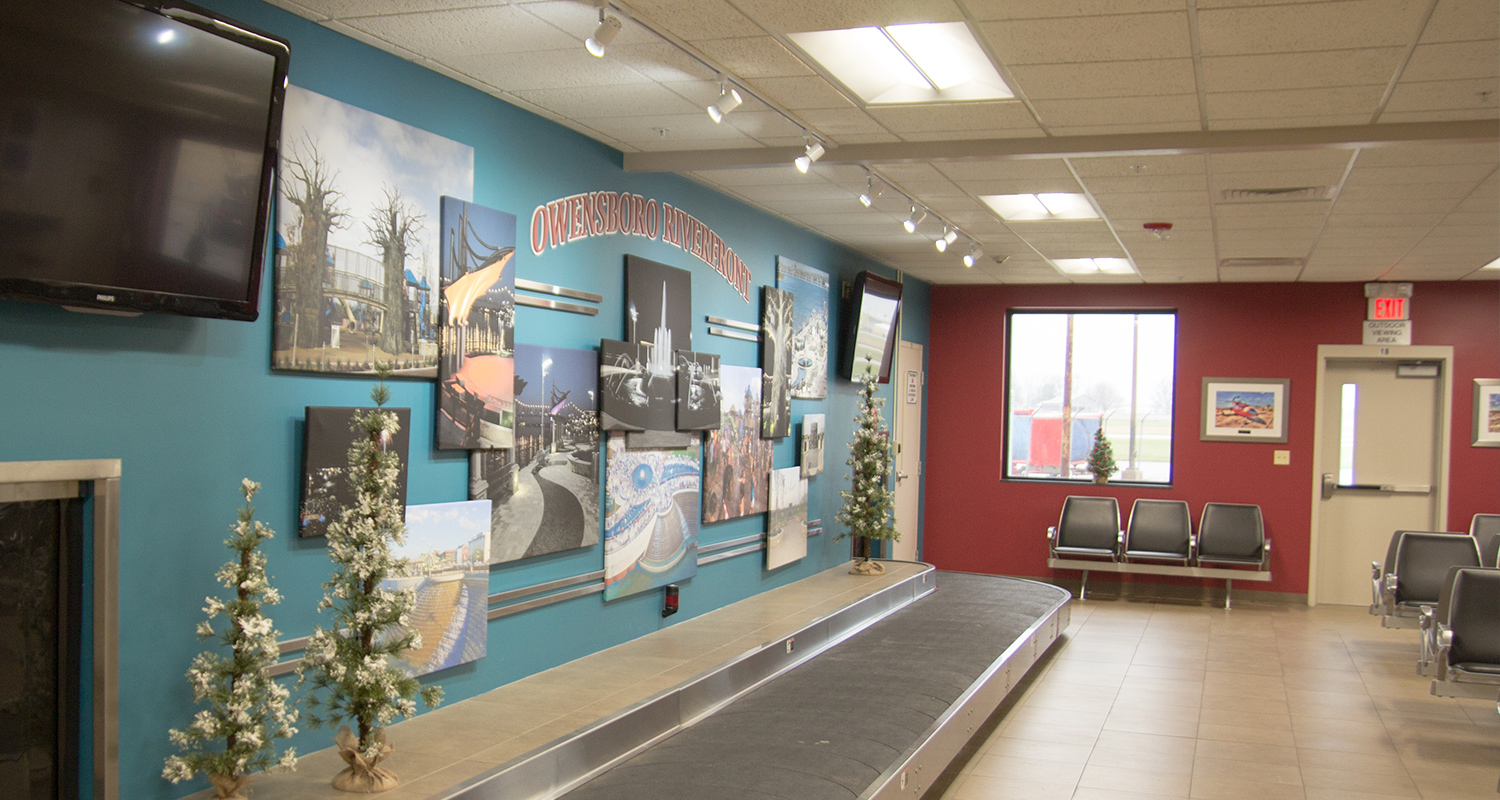 In 2012, OWB spent $2.5 million on renovations to expand the terminal. The grand opening for those renovations was on November 15, 2012, in honor of Wendell Ford.
Those improvements included:
80 new airport chairs in the waiting area, with new bathrooms and installed windows overlooking the runways. The waiting area now has 180 seats in the boarding area and bathrooms in the loading area.
A larger carousel that gets luggage to passengers more conveniently.
An outside waiting area and patio.
The runway was expanded to 8,000 feet.

TSA security screening area.
Another improvement was the covered loading area where crews can now load luggage onto the carousel conveyor out of the elements.  New equipment was also purchased to help unload luggage off the planes.
"We're not big, but we're easy," Whitmer says. "You can park within 30 yards of the front door. You can go through TSA screening in a very short time because of short lines. Then when you get back, you can grab your bags, walk to your car and be on your way in ten minutes."
Did you know:
First thing passengers see when they come into the airport off a plane are a series of signs that say "welcome" in English, Czech, Japanese, Indian, Spanish and Chinese in recognition of visitors from our Sister Cities Program and other cultures represented in our city.