Owensboro may have some little entrepreneurs in our midst.
This past weekend, Deer Park Elementary kindergarten students John Rue and Caden Embry made $115 for Habitat for Humanity by selling $3 magnets they designed all by themselves as part of a school project.
"We made these at our school to help Habitat, could you make a donation?" they asked as people walked past the Habitat booth at the Home and Garden Show at the Convention Center.
So far, the boys have sold 100 magnets and generated around $320 for Habitat.
The magnets are a carry-over from a unit about "shelter." Jennifer Ball, John Rue's teacher, invites Habitat for Humanity Director, Virginia Braswell, to come and talk to the class each year. The kids also take a field trip to walk through a Habitat house. "It's exciting for the kids to see the studs and picture the floorplan," Ms. Ball said. "The volunteers are always excellent at talking with the kids and explaining everything.  And Ms. Braswell is so sweet with our kids."
To conclude the shelter unit, all kindergarten classes challenge the rest of the school to a "change challenge." Whichever grade level brings in the most change earns extra recess time.
"The main thing I want is for our students to realize we can all help and be involved, even though they're kids," Ms. Ball said.
Some of their ideas over the years have been very creative.  When John Rue's older sister, Ellie, was in kindergarten, she sold books in addition to her classroom's challenge, which generated enough money to buy two windows for a Habitat house. Read the full story featured in Owensboro Parent Magazine here.
"Both boys were very supportive of Ellie when she made her book," said Mendy Rue, John and Ellie's mother. "They have read it over and over again many times." So when it was time for John and Caden's kindergarten classes to learn about Habitat for Humanity, both boys decided they wanted to do something a little more, like Ellie did.
"To say Caden and John are close is an understatement," says Melissa Embry, Caden's mother.  The boys were born four months apart and live two doors down from each other, which made it convenient for them to get together to design the artwork. "Since they are so close and do just about EVERYTHING together, it only made sense for them to do this project together, too," Embry explained.
The boys were asked to draw four pictures that represented why having shelter – and therefore, Habitat for Humanity – is important. They each got to pick one of their four drawings to turn into a magnet.
The two designs chosen are "shelter from the rain" and "all kids need a yard to play in."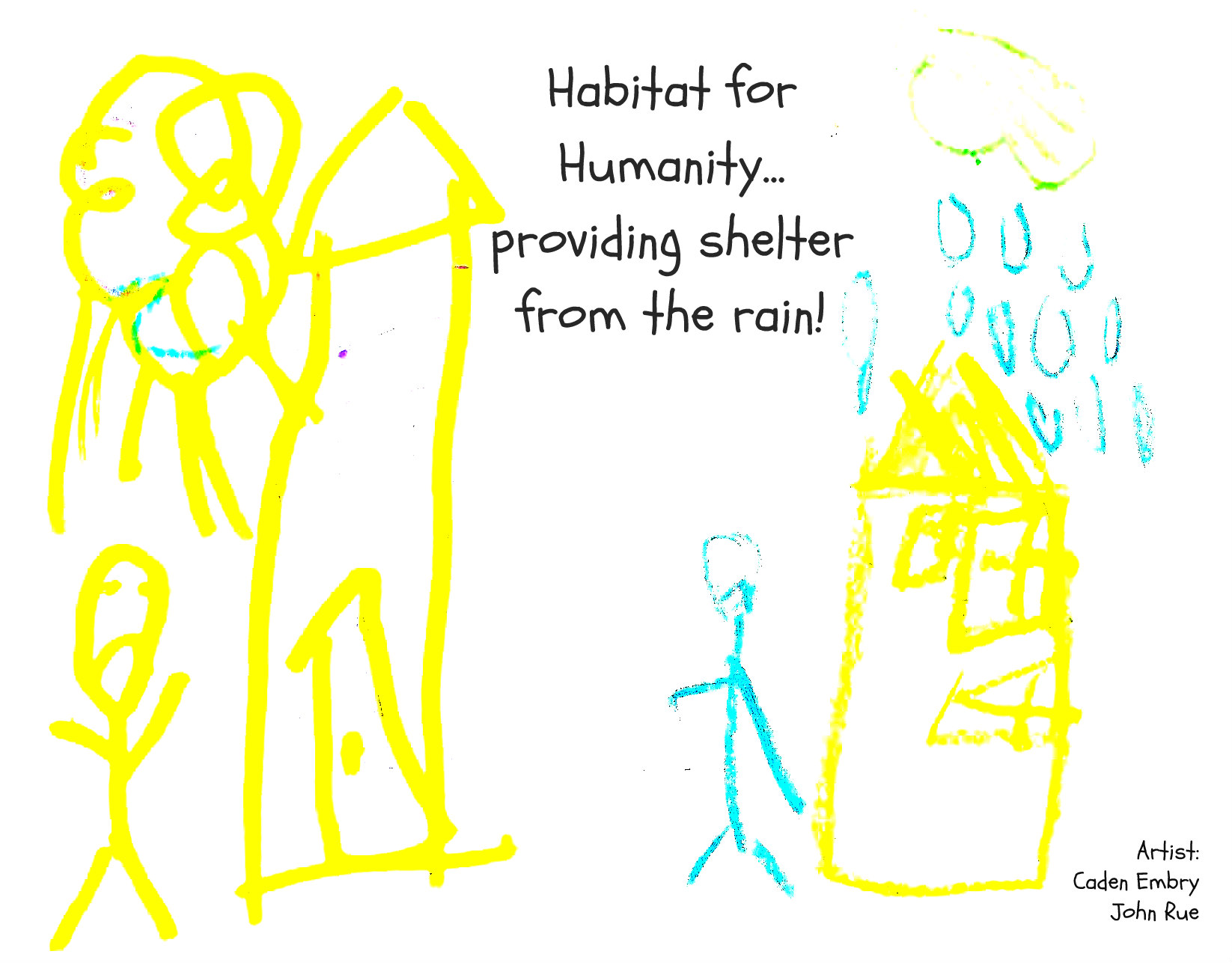 Once the designs were finalized, Melissa scanned the artwork, turned it into a PDF file, and took it to Dan Higdon at AutoVizion. "We have DCMS locker magnets made at Autovizion, so I contacted Dan to see if he would be able to make the magnets for us at a reasonable price," Embry said.  "Once we explained what the boys were doing, AutoVizion was kind enough to donate the first 50 magnets free of charge."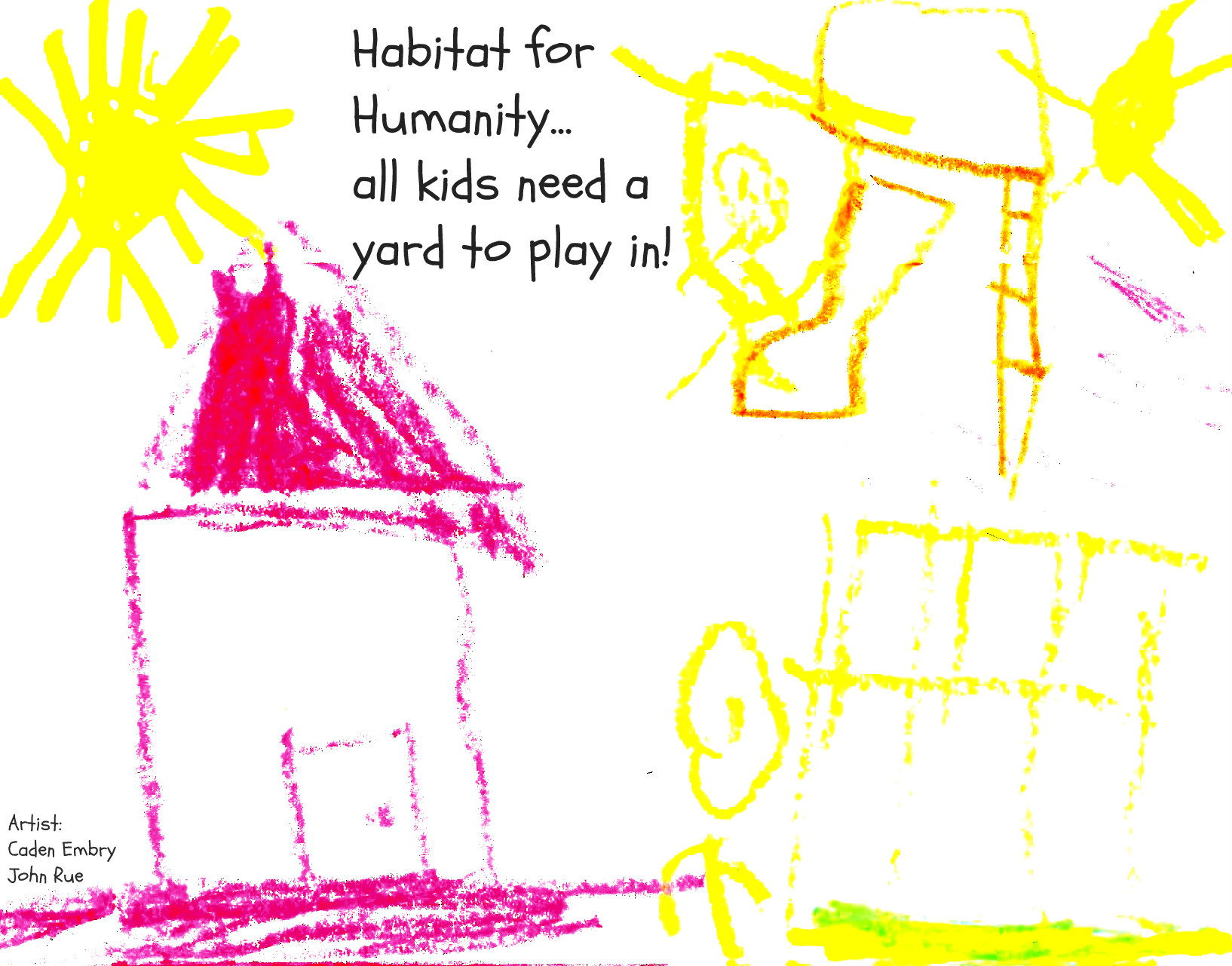 The last of the magnets were sold at the Home and Garden Show, but the boys plan to print some more.  Braswell says the magnets should be available by Habitat's Garage Sale, which is scheduled for Saturday, March 19 at Century Christian Church on Tamarack Road from 7 a.m. till 1 p.m.
Once they come in, the magnets can be purchased for $3 each in the office at Deer Park Elementary. Unless the boys dream up another way to sell out fast again!