Despite the rain, the Kentucky Wesleyan men's basketball team received a warm send-off this afternoon inside the Jones Gymnasium. Purple and white pom-poms waved wildly as coach Happy Osborne lead the team through a long spirit line of students on the way to load the bus for the NCAA Division II Tournament.
As a transfer, this will be the first trip to the NCAA Div-II tournament for center, Marcus Fuggins, a senior. "It's just a blessing to see this kind of support – to see these students come out like this. Other schools wish they had the support we do," he said. "We're going to try and bring it home. We want to win!"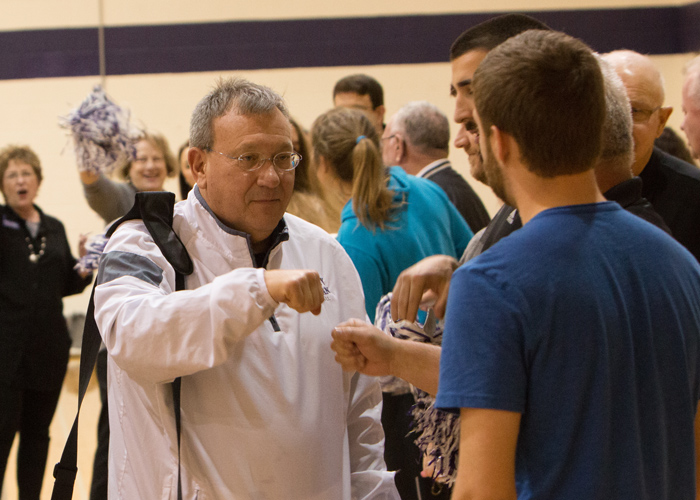 "This is really neat," said Coach Osborne. "Kentucky Wesleyan is a family. This campus has so much momentum right now, especially with President Darrell, and we're proud to be a part of it. But this whole community has been so supportive, and we appreciate it. We're blessed to have this opportunity now to represent Owensboro and Kentucky Wesleyan."
The Panthers (eighth seed) are heading to the Midwest Regionals in Somers, Wisconsin to face the University of Wisconsin-Parkside (first seed) Saturday, March 12 at 6 p.m.
"We're going to be facing some tremendous basketball," Happy said, about the UW-Parkside Rangers.   "They've got great basketball savvy. They're quick, they're athletic, they're well-coached. They're a solid team. We'll have to defend, rebound well, and maintain our composure."
The game will be broadcast on 94.7 WBIO.  An internet video broadcast is also available here. CYO Brewery in downtown Owensboro will also be showing the game.
One of the students who came to show support was sophomore, Dillon Schueler, who says he's seen several games this year. "They worked hard this year, and they deserve it."
"They've earned this," he said.