Three ladies who attended Tamarack Elementary School as children from 1969 to 1975 have donated books to the school library in honor of their former school librarian.
Muriel O'Bryan Gillim was the first librarian at Tamarack Elementary School. She retired in May 1989 after nearly a quarter of a century of nurturing a love for reading among young children.
Former TES students Debbie Zuerner Johnson, Karen Vanover Bell and Vicki Wells Oldham never forgot their former mentor. Earlier this month, these ladies got together and purchased five books to be placed in the Tamarack Elementary School media center in honor of Mrs. Gillim. They took two of the books to Mrs. Gillim at her residence to allow her to sign them. The books selected in tribute to Mrs. Gillim are "Hop on Pop" and "One Fish, Two Fish" by Dr. Seuss; "Not All Princesses Dress In Pink" by Jane Yolen; and two books from the "Exploring the States" series by Emily Rose Oachs: "Alaska: The Last Frontier" and "Florida: The Sunshine State."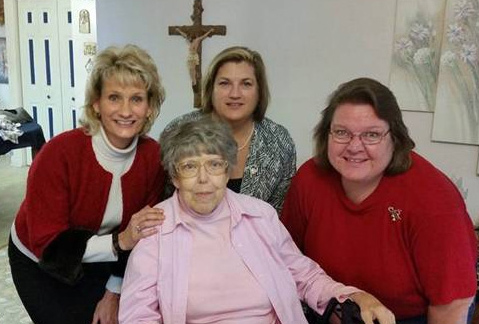 Karen Vanover Bell said she chose "Alaska: The Last Frontier" after visiting her son, who is stationed with the U.S. Air Force in Anchorage. "I want the students to have a book available to explore states about which they may be less aware," she said. "Alaska is a magnificent environment with mountains, glaciers, snow, ice and surprisingly, rain forests. It is massive, our largest state, with more beaches and coasts."
Bell, who now lives in Clarksville, Tenn., said she has fond memories of visiting the library at Tamarack and said Mrs. Gillim's influence has lasted throughout her life. "Mrs. Gillim had an innate way of bringing every book to life for me," she said. "I always looked forward to library day. I'm certain I am an avid reader today because of the positive experiences from Tamarack; Mrs. Gillim read with such passion and enthusiasm! One of my favorite books was 'The Three Billy Goats Gruff'; when Mrs. Gillim read the part of the troll, it was simply magical! The Tamarack library still has several copies of that book."
Vicki Wells Oldham also remembers Mrs. Gillim's reading of "The Three Billy Goats Gruff." "I remember the 'trip trap, trip trap' of the billy goats," she recalls. "What a fantastic time in my life! My very favorite story Mrs. Gillim read was 'Br'er Rabbit.' She absolutely made the story come to life for me. I actually never thought of her as reading the book but more as her telling the story. I am sure that the enthusiasm Mrs. Gillim had for her job instilled in me the love of reading I have today."
Debbie Zuerner Johnson also shared a wealth of warm memories of her former school librarian. "Mrs. (O'Bryan) Gillim's voice alone brings back a flood of memories," Johnson said. "She inspired me to love books; she inspired me to love listening to her storytelling or listening to a book she chose to read to us, and she inspired my love of reading. She made every story and every adventure come alive. I will never, ever forget her voice nor her ability to command attention by sitting around her when she sat in her chair; we all stay glued to our seats listening to her. I carried this through my life and when I had children of my own, I read to them as babies and never stopped."
Johnson said when the three friends and former classmates reunited last summer, "You would have thought we were three schoolgirls again. As we planned our next visit and inquired about our mentors at Tamarack, we set out to find Mrs. Gillim and learned to our delight she lives with her husband and was delighted to see us. We planned a Christmas lunch together. Mrs. Gillim had a table set for us as pretty as a picture when we arrived at her home in early December, with a beautiful cross ornament at each place setting. We shared a meal together but shared so much more. We set out to tell her how much she meant to us, that we loved her and that she impacted our lives greatly. We listened once again at the edge of our seats to her every word about her life. We laughed and we cried – kind of like reading a good book!"
After the luncheon, Johnson said the three friends began to plan a way to honor their former teacher. "No doubt, purchasing books for Tamarack's library seemed perfect," she said.
Karen Vanover Bell said Mrs. Gillim has a special place in the hearts of her entire family. "My dad, John Vanover, didn't finish high school. He had to quit school to support his family. My dad completed his GED at Tamarack with Mrs. Gillim; he remains one of her favorite students and still holds a very fond and special place in her heart, and vice versa. She was and is such a gem! This was back in the day when schools were really built to serve the immediate community needs. Tamarack was a school for learning, teaching, and all about family. I can't think of Tamarack without remembering her or Mr. Glenn Young (who served as the first principal of Tamarack, from 1963-83) or any of the other teachers who were just so instrumental in molding us and developing our desire to learn. I'm thankful for the education but equally important, the friendships and memories."
After Mrs. Gillim's retirement, Ann Johnson served as school librarian from August 1989 until May 1995. Since then, Susan Grayson has served as media specialist at Tamarack Elementary School. "I hope I inspire my students to love reading like Mrs. Gillim obliviously did," Grayson said. "It is such an honor for her and a tribute to what a great teacher she was. She must have made an impression on these students for them to remember her and honor her more than 40 years later."
As for Mrs. Gillim, who is now 84 years old, she is touched and amazed that her former students have remembered her "from third grade on. They were the sweetest things that ever were," she said. In reflecting on her past, she offers these words of guidance to teachers and others who work with children today: "I would like to say this: If you make a child feel good about himself, he will learn to the best of his ability. He's got to think good about himself first of all, and then he will do the best he can."
These ladies have agreed to share this story with Owensboro Living with the hope it may spread to our entire community and beyond, first "as an opportunity to highlight this beautiful woman," Johnson said. "In doing so, may others be inspired to not let a day pass before they tell those who inspired them growing up just what they mean to them and what a difference they made in their lives. We also hope that it inspires educators and others and serves as a reminder of just how powerful and impactful someone working with children can be."