*This is the second part of a basketball feature which first appeared in Feb '17 issue of Owensboro Living Magazine.
It's Basketball season in the Bluegrass! With high school teams preparing for the district tournament, March Madness just around the corner, and the Mavericks chasing their fifth BPL title in April, this is the best time of year for hoops fans in Owensboro.
With that in mind, we decided to share two stories of local basketball legends who added to Owensboro's rich basketball tradition as players and continue their legacies by staying involved in the game after their years on the court.
Randy Embry and Laurie Townsend Idlett were KHSAA Mr. and Miss basketball while playing at Owensboro High School and Apollo (respectively). They both enjoyed successful college careers and forged relationships on and off the court that impact them today as they continue to live their passions for the game.
Randy Embry: A Lifetime of Basketball
As a basketball fan, there are few jobs I would covet more than getting paid to watch the game.  What some of our readers may not realize is that one Owensboro roundball legend has found himself in just that position – but it didn't happen overnight.
Randy Embry suited up for Owensboro High School from 1957 through 1961.  During that time, Embry set the school record for most points scored in a game by scoring 50 of his career total of 1,610 in a single night.  Embry was also named Kentucky Mr. Basketball after his senior season, an honor that puts him in the company of Wes Unseld, Jack Givens, and Rex Chapman, among other notable names.  But with that award, Embry's basketball career was just getting started.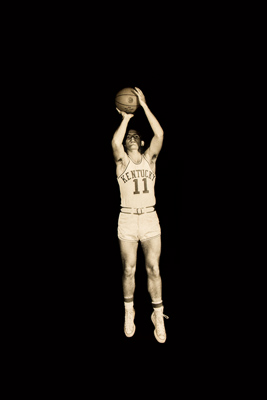 Following graduation from OHS, Embry was recruited by, and went on to play for, one of the most successful coaches in college basketball history, Adolph Rupp.  Known as a hard-nosed leader with a laser focus on winning, Rupp wasn't always the easiest coach to play for.  But Embry puts great value on the lessons he learned under Coach Rupp.  "It was a great experience, something that I wanted to do all my life.  It was tough at times, and he was a perfectionist.  If things weren't done the way he wanted them to be done, it could get pretty rough.  But I enjoyed it, and I always felt like he was the greatest basketball coach ever."
Though the lineup was small (Embry graduated the year before "Rupp's Runts" played in the historic championship game versus Texas Western), it was loaded with talent.  In addition to Embry, the Wildcats roster from 1961-1965 included stars like Cotton Nash, Pat Riley and Louie Dampier. That lineup led Kentucky to 2 SEC titles during that four-year span, and Embry finished his career at UK with 393 points, 66 assists and 115 rebounds over three seasons (freshman didn't play varsity during that time).  And that doesn't even include his baseball statistics!
That's right, Embry was a two-sport varsity athlete at Kentucky.  In fact, following Embry's graduation from UK, Harry Lancaster (an assistant coach under Rupp who was also UK's head baseball coach) asked Embry to come on board as an assistant coach with the baseball team.  That's a role Embry filled for two years while earning his Master's in Education.
With a master's degree and a wealth of basketball knowledge and experience in tow, Embry returned to Owensboro in 1967.  And while many know Embry as the coach of the Red Devils, he began his professional career as a physical education and health teacher at Daviess County High School, where he also coached boys basketball and baseball until the mid-70s.  But before moving on to OHS, he also made a stop as the KWC women's basketball coach for two years, finishing his second year with a 17-1 overall record.
And in 1981, Embry took over as head boys basketball coach at Senior High, a position he would hold for the next 18 years.  Undoubtedly, Embry had a tough act to follow, as he took over for Bobby Watson, who led the Red Devils to the State Championship the previous season.  But Embry didn't miss a beat, picking up right where Watson left off, and leading OHS to 3rd Region titles in six of the next seven years.  He'd finish his basketball coaching career at OHS with a total of 445 wins and eight 3rd Region Championships, winning two more in 1992 and 1996.
Retiring in 1999 after 32 years of coaching, nobody would've blamed Embry for choosing to take some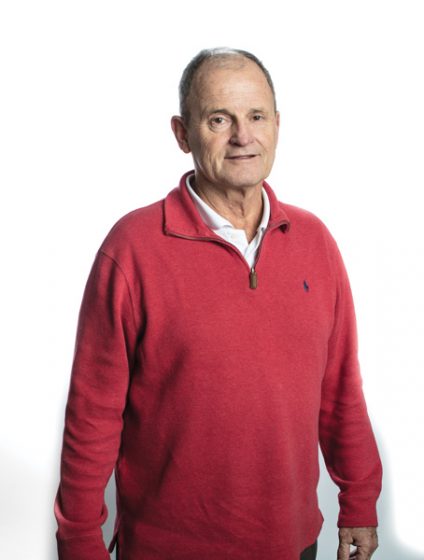 time off.  But that wasn't in the coach's plans.  Instead, with a desire to stay involved in the game of basketball, Embry contacted his friend and former teammate, Pat Riley.  At that time, Riley served as Head Coach and President of the NBA's Miami Heat, and Embry says that within 15 minutes of that phone call, Riley called him back and offered him a job as a scout for the team.
And after two years as a part-time scout, Embry has been full-time with the Heat since 2001.  In that role, Embry travels across the region, evaluating the top players in college basketball.  But despite all of the miles he logs, one of the perks of the job is that Embry still gets to call Owensboro home.  Sometimes traveling as far as Washington, New York and California for various tournaments, he typically stays a little closer to home.  According to Embry, "I think I live in the best part of the country for basketball." He elaborated on that quote by explaining that Owensboro provides the perfect location for his job, allowing him to travel to most locations, watch a game, and still be home the same night.  With the SEC in Lexington, the ACC in Louisville, and the Big Ten in Bloomington, it makes it much easier to scout players in the top conferences without going too far.
Another of the job's perks, according to Embry, has been the occasions to meet basketball royalty.  When asked about some of the people he has come in contact with, Embry was quick to point out his encounters with Hall-of-Famers Jerry West and Elgin Baylor as particularly memorable.  Along the way, Embry also scouted Dwyane Wade, who would go on to be drafted by Embry's Heat, and become the franchise's all-time leader in points, assists, steals and games played.
To this day, Embry continues his role as a scout for the Heat and Pat Riley.  And for someone who has spent a lifetime involved in basketball, Embry appreciates the opportunities that the game has afforded him. "I've been fortunate to see a lot of great basketball games, and I love going to old arenas."  But at the end of the day, Embry also realizes the value of calling Owensboro home. "It's a great place to live and a great place to raise your kids, with great school systems.  I've always liked Owensboro, and I'm glad I'm still here."
Read part one (Laurie Townsend Idlett) here.