Cinderella's Closet of Western Kentucky is gearing up for its 2017 event on March 18.
In preparation, organizers are now accepting donations of new and gently used prom dresses, especially size 16 and above.
But more importantly, they are in need of referrals.
"We have hundreds of dresses ready to be used. What we really want is to serve more young ladies in more high schools in other counties because we have the dresses, we have the volunteers, we have the facility. We're ready to help," said Carrie Kimbrell, Daviess County High School Youth Service Coordinator, who started the program along with her counterpart at Apollo, Sue Krampe. "We're just trying to get the word out to get more referrals."
Ideally, those referrals should come from a school, church, or other social agency. Referrals will be accepted Feb 6 – 17.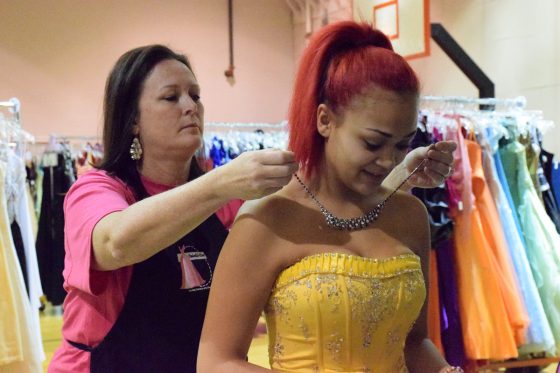 Cinderella's Closet provides formal wear to girls who could not otherwise afford to attend their high school prom, but it's much more than a dress. Each young lady is greeted by a "fairy godmother"  (volunteer) who helps them find a dress and matching shoes. Other volunteers make alterations there on site. While the dresses are being altered, other volunteers offer makeup tips. The result is an unforgettable, amazing experience where the girls are greeted with an environment of grace, love, and respect.
If you know a young lady who is in need of a dress and could benefit from this experience, or if you would like to volunteer, please contact [email protected].
If you have a dress to donate, there are two collection points:
Owensboro Christian Church – Entrance A
2818 New Hartford Rd
Mon – Thur
8am – 5pm
Independence Bank (Main Branch)
2425 Frederica Street
Mon-Thur
8am – 5pm
Sat 8 – noon
Dresses are tax deductible.
Read more about Cinderella's Closet in our previous post. To get a glimpse of the event, watch our video here.