Karen Cavin-Brown begins her mornings reading lots of e-mails.  Serving as the volunteer coordinator for Hospice of Western Kentucky, Karen finds around fifty new e-mails awaiting her each new workday.   She has the task of assigning volunteers to various areas, depending on the current need of the patients of Hospice of Western Kentucky.  "Hospice never closes.  I get e-mails from all aspects of our staff, including our nurses, social workers, and our administrative staff", acknowledged Karen.  Every morning opens a new opportunity for a volunteer to fulfill a need in serving the patients under Hospice care.
Now in her fourth year as volunteer coordinator, Karen currently oversees more than one hundred volunteers.  "Our volunteers come in all ages, from early twenties to ninety years of age," noted Karen.  The main requirement to be a Hospice volunteer is to have a compassionate heart for serving others.
There is a one-year waiting period for a volunteer who has had a family member pass away under Hospice care.  "We feel that family members need time to heal after losing a loved one before they begin their role as a Hospice volunteer," disclosed Karen.  Even though the average age of a Hospice volunteer is around seventy, the list of younger volunteers includes college students entering pre-med studies and/or social work, to young musicians who enjoy entertaining patients.  The vast age range of the volunteers gives Karen a wider window for matching her volunteers with patients.
This past year, Gay Rogers become the new CEO of Hospice of Western Kentucky, which serves patients in Daviess, Hancock, Muhlenberg and Hopkins counties. The completion of the Heartford House in 2013 provided the first freestanding inpatient Hospice facility in Western Kentucky.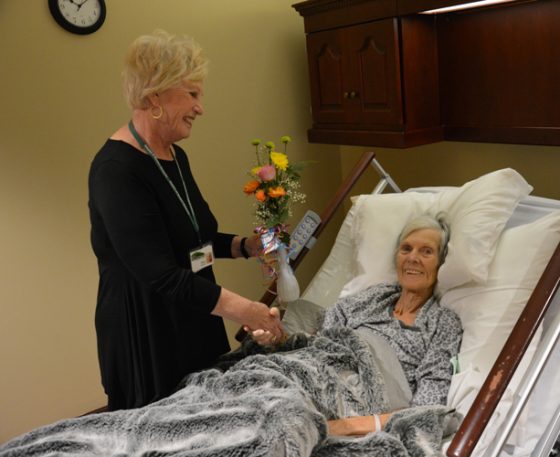 The care and coverage of Hospice of Western Kentucky has also grown over the past several years. Hospice was originally founded by volunteers who wanted a better way to care for those in their final journey.  "Before the Hospice Medicare Benefit was enacted in 1983, most Hospice programs were volunteer programs of nurses, doctors, social workers, and more.  Because of this, the Center for Medicare Services expects 5% of our direct patient care dollars to be given by volunteers," explained Gay.  She added, "This is not the main reason our volunteers are important.  Through their many acts of service, they bring joy and love.  We are grateful to have these special individuals who give of their heart and time to our program."
Glenn Taylor has served as a board member and board chairman of Hospice of Western Kentucky.  "Today, the scope of care provided by Hospice requires professionals whose training is beyond that of most volunteers.  Still, at its core, it is driven by volunteers.  The board of directors of Hospice of Western Kentucky is comprised exclusively of volunteers.  The number of hours volunteers commit to our organization is extraordinary and something our community should be proud of," Glenn said.
Although it's not for everyone, volunteering for Hospice offers many opportunities.  Karen admitted, "Not everyone can do it."  Volunteers sit with patients at the Heartford House and in homes.  Many volunteers log hours at the main office helping with supply calls and patient data entry, as well as other clerical duties.  Several clubs and organizations have volunteered time planting and caring for the landscaping at the Heartford House.  One of the newest volunteer programs, implemented this past year, is comprised of musicians who have performed at the Heartford House. Plans are also underway to offer pet therapy and massage therapy to patients in the future.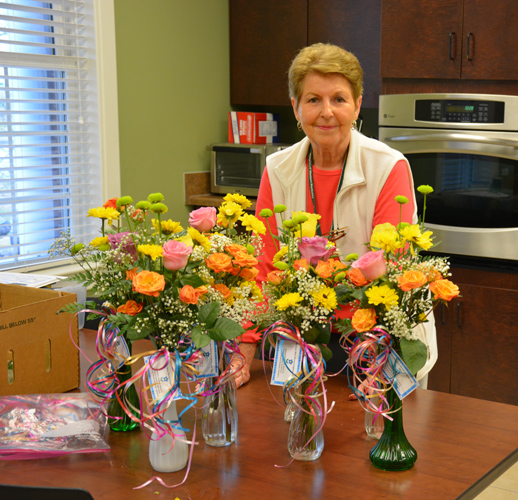 Rose Lee has been a Hospice volunteer since 2008.  Her volunteer hours with Hospice have included sitting with patients and helping with the laundry at the Heartford House, but each Tuesday morning she can be found at the main office of Hospice of Western Kentucky.  There, Rose puts together floral arrangements which are given to the patients under Hospice care.  Welborn Floral Company donates an assortment of flowers each week to Hospice.  "I love working with flowers, but most of all I see the joy that the fresh bouquets brings to the patients," beamed Rose.
Anna Simpson also devotes at least one day a week to volunteering for Hospice, but confesses sometimes it may be two to four days.  After working in the medical field for many years, she knew she wanted to give back to others by making a difference in their day.  "When working with the patients and their families, I have found that I am the one blessed.  If I can put a smile on their face just for a few seconds, that's what counts," she emphasized.
At Hospice of Western Kentucky, they believe that each day can be filled with precious moments.  Hospice care is not about dying, but is about living life as fully as possible.  No matter how small the deed, the volunteers of Hospice help make each moment totally fulfilling for the patients and their families.
A heart of service:  it's what being a Hospice volunteer is all about.
*This article first appeared in the February '17 issue of Owensboro Living Magazine.