It was standing room only inside Popeyes Louisiana Kitchen at noon. The line in the drive-thru stretched around the block. Three employees helped direct traffic in the parking lot. And owner Bill Mann was all smiles.
"We're ready," he said, referring to the newly hired crew of 60 who had prepared for today's 10:30 a.m. grand opening (Monday, October 17, 2016). "We're excited. It's great to be a part of Owensboro, a community that is known so well for food anyway. Now Owensboro has the best chicken, too."
Popeyes is best known for its chicken but also serves seafood, sandwiches, sides, and desserts.  The Louisiana-based chain celebrated its 40th anniversary in 2012.
Mann and his partners, Neil Harding and Rodney Kistner, felt the 54 location was ideal. "This area is booming!  When we saw this spot, we knew this corner was a premier location. There's a large hospital right down the road and an outlet mall across the street."
Mann lives in Louisville but is originally from Campbellsville, so he says he's used to the small town feel. "I really enjoy the people of Owensboro. Our employees here have that southern charm."
Which fits perfectly with Louisiana-themed restaurant known for a little spice in their recipes. The smoky red beans n' rice are the most popular side item. "They're a must," Mann says, "but our biscuits are killer." The gravy is a little too spicy for some, he says, and the fries are spicy too. The tenders are also very popular, especially with the children. There are several choices for dipping sauces, including bayou buffalo, boldbq, sweet heat, ranch, mardi gras mustard, and blackened ranch.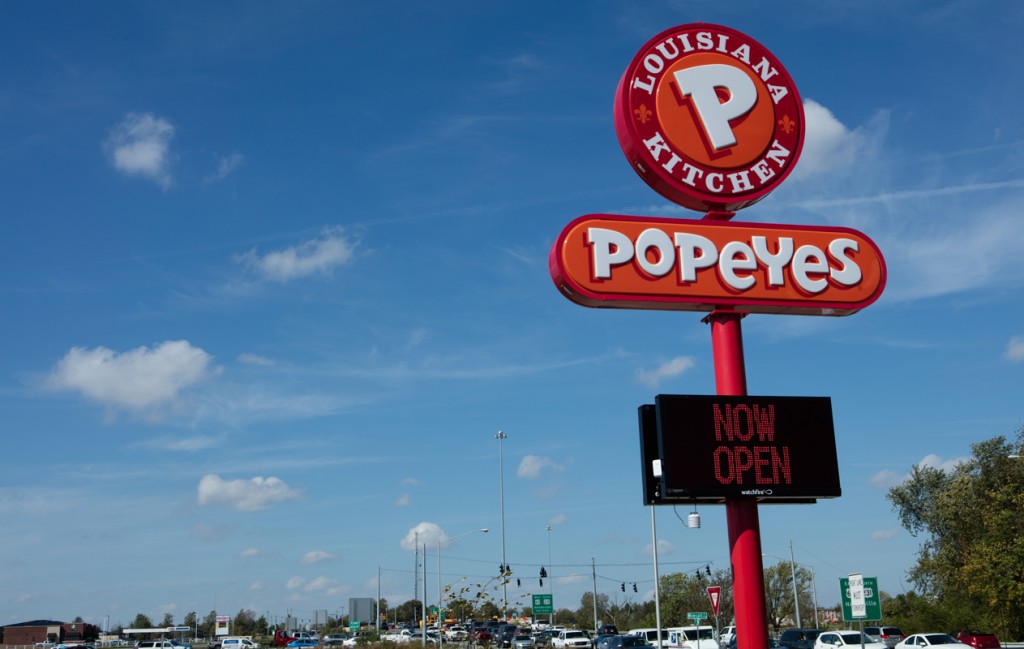 Owensboro native Anthony English is the General Manager for the restaurant and Omar Toure, of Elizabethtown, serves as district manager.
Popeyes is located on 54 at 2915 Wimsatt Ct E, next to Evansville Teachers Credit Union.