One of our readers asked us to thank the Owensboro Fraternal Order of Eagles ARIE #4168, who recently held a Country Wheel Fundraiser in honor of SparKy Rescue (Saving Paws Animal Rescue of KY).
SparKy rescues pets in need of special medical care from area shelters. The Eagles fundraiser raised $1,000.00 for SparKy Rescue's medical fund for adoptable pets.
"The money raised from this fundraiser will allow us to treat and save more pets with special needs," said Tonya Burdette. "SparKy Rescue wants to express our deepest gratitude to Fraternal Order of Eagles ARIE #4168 for holding the fundraiser."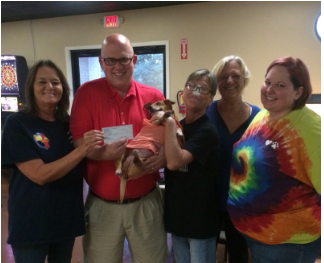 Pictured: Auxiliary member Nancy Shelton presents the check to John Austin, President of SparKy Rescue, along with Susan Boyle (holding puppy), Sharon Sweet (in the back) and Tanya Burdette.
Photo supplied by Tanya Burdette.