The BioZorb™ Tissue Marker, developed by Focal Therapeutics of Aliso Viejo, Calif., was tested at locations in the United States and New Zealand, including at Owensboro Health Surgical Specialists in Owensboro, Ky. The tissue marker is placed in the breast during lumpectomy surgery to remove the cancer. The marker has several permanent titanium clips that are held in a fixed 3D shape by a bioabsorbable material. The clips give a treating physician "landmarks" at the site where a tumor was removed. This allows radiation oncologists to more accurately target radiation, which also lowers the dose of radiation required and protects healthy tissue surrounding the surgical site. The bioabsorbable material is absorbed by the body after a year or more.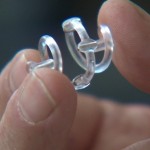 "This device could represent a quantum leap in the ability to mark tissue for radiation treatment after surgery," said Dr. Christopher Glaser, MD, FACS. Dr. Glaser is one of the surgeons at Owensboro Health Surgical Specialists who has been pioneering the use of the BioZorb device. General Surgeon Dr. John Falcone, MD, and Radiation Oncologist Dr. S. Ryan Faught have also been using BioZorb.
Dr. Falcone added that BioZorb is a one-time use device, and that it is convenient for the patient in the long run.
"What makes the BioZorb marker so useful to treating physicians is that it clearly shows the surgical site. Then it is naturally reabsorbed by the body without need for another surgery," Dr. Falcone said.
And Dr. Faught said the device has the potential to improve patient outcomes.
"There's collaboration going on in your community amongst physicians that have an interest in improving breast cancer treatment among patients," Dr. Faught said. "It's going to allow for more accurate radiation treatment planning, which I think will lead to clinical benefits."
Owensboro Health is the first and only health system in Kentucky and Indiana using BioZorb. The next nearest facility offering use of BioZorb is located in Memphis, Tennessee, according to Focal Therapeutics.