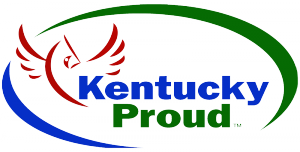 Have you ever noticed the little "Kentucky Proud" logo and wondered what it was?
Owensboro Living spoke with Ben Shaffer from the Kentucky Department of Agriculture to give us a quick overview.  "Kentucky Proud is the official State Department of Agriculture marketing program," Shaffer explained.  "We put the logo or sticker on products that are either grown, produced, or processed by Kentucky farmers, family businesses, or small agri-businesses."
Once you start paying attention, you'll find that little logo lots of places: local farms, restaurants, Nona's Downtown Market, and almost anywhere that sells Kentucky grown or made products.
According to their website, Kentucky Proud is not only a way to provide safe and nutritious foods for your loved ones, but it is also an investment in Kentucky's land, people and its future. Buying Kentucky Proud products does a couple things:  #1) Buying Kentucky Proud from farm stores (like Trunnell's and Reid's) or farmers markets ensures that you're eating fresh and nutritious foods while supporting Kentucky's farm families. #2) Buying other locally made products also strengthens our local economy by keeping dollars at home and building a sense of community during the process.
Statewide, there are 3,500 Kentucky Proud members. Here in Owensboro/Daviess County we have many local farmers and businesses who benefit greatly from the program.  "The whole Kentucky Proud program has been so supportive," says Nona's Downtown Market owner Maria Kelly.  Nona's is pretty unique in that 80% percent of its vendors are Kentucky Proud, a fact that caught the attention of Kentucky Department of Agriculture Commissioner James Comer.  "Commissioner Comer was actually here for our ribbon cutting, and he has since asked me to be an ambassador across the state for other market concepts like this one," Kelly said.
One of Nona's Kentucky Proud vendors is Karen Pruden with Goat Ridge Farm in Utica.  They've been raising cattle for 13 years but just started raising goats 2 years ago and became a Kentucky Proud member in January of 2013.  "Since being in Kentucky Proud, we've been able to expand and bring more products to the market," Pruden said.  Goat Ridge Farm's lotions, soaps, and lip balms made with goat's milk are very popular at Nona's.  Karen says her experience with Kentucky proud has been very positive and she's extremely pleased with the program. "It was easy to apply online and the people were very good to work with.  Kentucky Proud really helps get more fresh, natural products to the public."
Last year, the Owensboro Regional Farmer's Market received funds from the Kentucky Proud Program to use for advertising. "We've seen a significant increase in customers since we began advertising more," says Farmers Market President Suzanne Cecil White.  "Being able to advertise like that really helped raise awareness for our farmer's market."
So if you like to keep your money local and you value providing the freshest food possible for your family, keep your eyes out for that little Kentucky Proud Logo.  For a list of Kentucky Proud producers in Daviess County, visit www.kyproud.com.