Kyle Casey, a senior cadet in the Daviess County High School Navy Junior Reserve Officers Training Corps (NJROTC), will be awarded the Meritorious Achievement Ribbon – NJROTC's highest award – during an awards ceremony at 10 a.m. Tuesday, April 25, in the DCHS auxiliary gymnasium, located behind the school at 4255 New Hartford Road.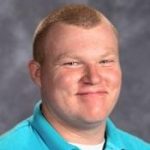 Casey was recommended for the award by JROTC instructor Lt. Commander Stephen M. White, U.S. Navy (retired). The honor was reviewed and approved by Area 9 JROTC manager Commander Merv Dial and Rear Admiral Stephen Evans, who is the commander of the Naval Service Training Command.
Casey heard about the fire at the Royal Arms Apartment complex on U.S. 231 and responded immediately to offer his assistance. His commendation reads in part:
"Cadet Seaman Kyle Casey demonstrated outstanding leadership skills and knowledge of emergency procedures as gained via member's unit affiliation with the Daviess County High School NJROTC Unit on April 9, 2017.
"Cadet Casey without hesitation reported to the Red Cross Command station and offered his assistance in Emergency Procedures and in the evacuation of elderly residents. Repeatedly, Cadet Casey relayed messages between the Red Cross, Owensboro Fire Department EMTs and the Royal Arms staff, thereby maintaining vital flow of information between each group while assisting in the aid and comfort of approximately 20 families affected by the fire. Cadet Casey was later tasked with setting up numerous tables and chairs, passing out water to those in need and the removal of numerous cars that belonged to the affected residents.
"It was Cadet Casey's courage and his abilities to put the well-being of others before his own that averted further potential discomfort to these families, whose lives that had been so drastically impacted. His example of meritorious achievement has set a standard that few cadets will ever to be able to emulate, and are in keeping with the finest traditions of Daviess County High School, the NJROTC Unit and the United States Navy."
In addition to JROTC, Casey is also enrolled in the Emergency Procedures class at DCHS, which trains students in emergency response and first aid. DCHS principal Matt Mason said this experience is an outstanding example of the school's goal in providing lessons in the classroom that students can apply in the real world, making a difference in their own lives and the lives of others. "We are very proud," Mason said. "He helped our students and our community. Kyle's response goes right along with our school's 'Great Expectations' and demonstrates what our students can do in our community."