On March 15, Owensboro lost one of its bravest. David M. McCrady, former Battalion Chief with the Owensboro Fire Department, made a lasting impression on his family, his coworkers, and our community. After being diagnosed with brain cancer, McCrady tirelessly spent his time advocating for other firefighters stricken with the disease. Shortly after his diagnosis, his niece, Addie James, a journalism major at the University of Memphis, penned a story that captures how McCrady and his fellow firefighters bravely battle the challenges that accompany cancer.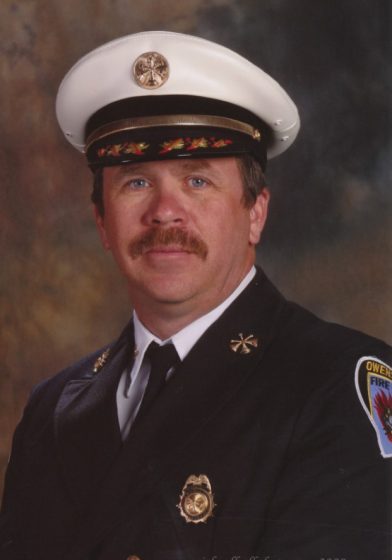 Firefighters battling cancer shed light on financial, emotional difficulties
**Originally published May 4, 2016, by Addie James on addiejames.wordpress.com.
It was a normal day of laughter and chatter for 49-year-old firefighter David McCrady as he sat in his mother-in-law's living room with the rest of his family. Until he got a phone call from his doctor.
"I asked her, 'Can you tell me that again?'" McCrady says.
Glioblastoma multiforme. A mass on the right side of his brain had formed, giving McCrady brain cancer and a three to six month lifespan.
"It's gonna get me at some point," McCrady says. "I'm always looking over my shoulder to see where the reaper's at. But if I can set an example and inspire people, then that's worth it."
McCrady has been a firefighter for over 20 years, beginning as a volunteer in 1991 and following in his father's footsteps.
"I knew what it meant to him, helping people out," McCrady says. "My mom would get so worried about him being gone for however long, but I knew that it's people like him who could save us if something were to happen."
It was that easy. McCrady knew he wanted to have that good feeling of helping someone else, especially where he lived. On Aug. 2, 1993, McCrady was inducted into the Owensboro Fire Department, changing his life forever.
"Best decision of my life," McCrady says. "Besides marrying my wife Christy, of course."
McCrady became a battalion chief and trained his fellow firefighters on safety – preaching the basics of wearing air packs and breathing apparatuses. But this protective gear can get heavy, adding more than 30 pounds on the firefighter.
"There's a lot we don't do because we've never been taught," McCrady says. "We've always been careful because we know there's bad stuff, but we never knew it was things like hydrogen cyanide, which was used in gas chambers years ago."
With the way houses are built now, fires can emit formaldehyde from the plastic in furniture and carbon monoxide from wood and other fabrics. This poses a serious danger to firefighters, even though they go to great lengths to clean their gear.
The financial burden, hospital visits, chemo and radiation treatment have taken a toll on the former firefighter. With limitations such as no stairs or ladders on the line, McCrady stayed active on the administration side of the department, but the radiation made him too tired to continue.
"When I finally had to retire, it was like I had my second family ripped out from under me," McCrady says. "It was killer to see the difference in my arms after the cancer hit. I did lots of teaching and training, but to see the difference in muscle mass was hard."
And that's not the only change McCrady has had to deal with.
"I've never really been like, 'Why me?', but it does get harder and harder every day," McCrady says. "When you've always done stuff for others, you have to take a step back when others start doing things for you. As a firefighter you're used to being active and heroic. It's hard to sort of humble yourself, to try and come to grips with when you need help."
McCrady says that there wasn't a day he wasn't happy to put on his uniform and go to his job. Matt Logsdon, a fellow Kentucky firefighter, agrees with his outlook. Logsdon was diagnosed with a neuroendocrine tumor in January and forced to retire in April.
"Most of the time it doesn't feel like a job," 41-year-old Logsdon says. "It was really hard to walk away from, especially the guys I worked with."
Logsdon says sitting his 8-year-old, 10-year-old and 16-year-old down was difficult for him and his wife.
"I just let them know that daddy's sick, but that everything would be okay," Logsdon says. "I'm used to being the guy that takes care of folks, so that was very hard to do."
Additionally, McCrady has longed to take his children to Paris where he studied French, but his cancer has slowed down that dream. McCrady began to feel the side effects of just how much his body had taken a toll when he broke his leg just a few months ago.
"I was laying down on the ground thinking, 'What else is going to happen?'" McCrady says. "And after I got to the hospital, I got a call from my doctor in Louisville saying they were stopping the study I was a part of. At some point it gets harder to find that silver lining, and that was it for me."
McCrady explained his drive to carry on despite the illness and injuries, especially since he doesn't enjoy sitting around for too long. He says he does what he can even though doctors have fussed at him for pushing it.
"I've missed out on some things," McCrady says. "I didn't get to see my 18-year-old son William shoot his first turkey and things like that, but there's also a lot that I didn't think I'd see. His graduation is coming up, my daughter Georgia is turning 16… It keeps me going knowing that I'm here for those events in spite of the cancer."
What also has kept McCrady going is his ability to teach fire rescue training classes for the state of Kentucky. He knows what he's talking about, considering he's been teaching it since 2000.
McCrady has also been able to use that knowledge to help the passage of SB 195, a legislative plan for Kentucky which gives benefits to firefighters and their families who contract certain cancers while on the job.
Joe Baer, a retired firefighter of Ashland, Kentucky, is the president of the Kentucky Professional Firefighters Association (KPFF). The organization championed SB 195 for years, and Baer says seeing it finally passed is the start to help these people.
"Our next step is to provide a workers' compensation benefit from the time of diagnosis for those of us that contract this horrible disease," Baer says. "I believe that future studies will show an increase in firefighter cancer diagnosis due to all the synthetic materials loaded with carcinogens that are freed into the environment upon combustion."
Ironically, these synthetic materials are also found in the vast majority of flame retardants. Baer says there is a push to reduce these from the manufacturing process, but unfortunately there is an effort by those manufacturers to defeat any such legislation.
Why would someone not want bills like this to pass? Well, some are still unaware of the correlation between firefighters and cancer.
According to a National Institute for Occupational Safety and Health study completed in 2015, lung cancer and leukemia mortality risks were modestly increasing with firefighter exposures. Among 19,309 male firefighters eligible for the study, 2,609 cancer incidence cases appeared, as well as 1,333 cancer-related deaths.
"Cancer in the fire service is an epidemic," says Columbus, Ohio firefighter Mark Rine. "It's really happening. It's not a coincidence."
34-year-old Rine received his stage four melanoma diagnosis about four years ago. His wife and five children have done their best to stay positive throughout the monthly chemo treatments and "umpteenth" scars.
"You go through stages of wondering whether or not you should make videos for them," Rine says. "I've never been a depressed person, but the sadness is never ending when it comes to this illness."
Rine says he and his family are big on their faith, relying on God and the prayers of others to get through the difficult times. Portraying positivity is crucial for his 4-year-old, 10-year-old, two 13-year-olds, and 16-year-old.
"Would I change it if I could? Absolutely," Rine says. "But that's not an option. It's not fair and you're mad and you're angry about it, but you have to keep pushing for your family and the people that rely on you."
Rine explains that firefighters are a determined and independent group of people. They are taught from day one how to self rescue through temperatures as high as 1,300-1,600 degrees Fahrenheit.
"The gear is not a filtration unit," Rine says. "You get cancer from leaving the fire scene and not taking action. Firemen take their time for protocol. Then clean the truck, sure, but then they tell half-true stories and have a six pack. It's what they do."
Rine travels all over Ohio to teach about the dangers firemen face. But he explains that it's not always easy to get firemen to take it seriously.
"We're creatures of habit, and we don't like to change the way we do things," Rine says. "You have to explain what's occurring to them with facts and numbers. For example, in a standard car fire, there are a minimum of 99 known carcinogens."
Rine explains that he also speaks out to try to prevent this from happening to others. After all, being a firefighter is all about putting others before yourself.
"You lose your purpose and your identity," Rine says. "For years you're the man and the hero and then all of a sudden it's taken away from you. People then try to use the excuse of, 'Well now you can go do something you love,' but that's what I loved. That was my goal. What do you do when you've already reached your goal?"
Rine made the decision to come back to work while on chemo after two surgeries, and others even offered to take his shift for a year and a half just so he could still get paid.
"My kids have more uncles than anyone in the world," Rine says. "It's a brotherhood and a bond that'll never go away. It's forever."
Just ask 62-year-old Lorenzo Abundiz of the Santa Ana Fire Department in California.
"When I had to go away for treatment of my prostate cancer in 2009, I met some great guys," Abundiz says. "As a firefighter you learn to adapt."
Abundiz is the founder of the Code 3 For A Cure Foundation, which was established in 2006 as a non-profit public charity. Abundiz has battled three different cancers, with no regrets for helping save those that he did.
"It's not a million dollar space suit," Abundiz says. "They do their best to protect us, but cities can't afford that. The equipment is getting better, but fire is fire. Despite that gear, we're still coming down with cancer."
Abundiz officially retired in 2001, leaving behind a crew that he missed deeply and a job that didn't feel like work.
"I was so used to the world of heroic acts, of rescuing people," Abundiz says. "My world was flipped upside down. Now I'm used to doctor's appointments and uncertainty."
Abundiz explains that there's no right or wrong answer when making decisions concerning cancer, but it does affect those around you.
"You are the general in the battle against cancer," Abundiz says. "It's hell going through the different treatments and diagnoses. When you can't see it, it's hard to take, but you're just battling a different enemy now instead of fires."
Close to death multiple times, Abundiz has put his energy into his faith, family and foundation.
"You have to take the initiative," Abundiz says. "To this day I tell people if I can beat it, they can beat it. I never believe in those time frames that doctors give. It's all up to God."
Abundiz argues that the key is early detection, but to remain patient when dealing with lawmakers who question their safety efforts.
"Why should I be questioned like this? Yes, we took on a dangerous job, but we need help," Abundiz says. "Firefighters take on this task willingly, but we should be compensated when something happens to us after we put our lives on the line. We just want to be taken care of."
Rine agrees, saying that firemen deserve to be protected just like everyone else.
"Your family doesn't ask you to be a firefighter," Rine says. "Your family doesn't ask you to get cancer. They suffer too, and that's not fair."
Another advocate for giving support to firefighters battling cancer is Donna MacDonald, vice president of the eastern region of the Firefighter Cancer Support Network.
In college, MacDonald was a dance major and later took an anatomy class, sparking an interest in the medical field. She took her talents to EMT work, later becoming a full duty firefighter in Providence, Rhode Island, in 2001.
"You see a lot of bad things, but you deal with those together," MacDonald says. "You work so many hours together and you get really close to those people. It really is a family."
Ten years ago, MacDonald contracted chondrosarcoma, a bone cancer located in her sternum, after being exposed to a chemical fire. She underwent surgery for a prosthetic, but her body rejected it for some time.
MacDonald's doctors urged her to not continue her work until they could fix it, but that didn't stop her. She stayed a full duty firefighter for seven years without a sternum and her heart exposed.
"It's not just your job," MacDonald says. "It's who you are."
MacDonald was forced to retire in February, which has caused her to find a regular job to pay the bills.
"I haven't really dealt with it," MacDonald says. "I think I can get through the day without crying now, but it's only been two months. I went through a denial phase and later a depressed phase once the reality of it hits you. It's all so unpredictable."
Abundiz's wife Peggy says that there's a reason things happen the way they do. For firefighters who contract cancer after years of exposure, it becomes the new normal.
"When you're one step closer to being on the other side, you realize that persistence and faith is a big part of why you're here," McCrady says. "My son wants to go into the fire service, and I've taught him all along that all we're doing is trying to help people. I'm proud that he wants to do that knowing what I've done and what I've been through. The benefits given to my family after I'm gone is what gives me peace of mind."