When it comes to leading ladies from Owensboro, most people automatically think of Florence Henderson – and rightfully so. But it's actually one of Florence's former voice teachers, Christine Johnson Smith, who is this week's "Hometown Hero of the Week."
Christine was born in Hopkinsville, but she moved to Owensboro following her freshman year. After graduating from OHS in 1929, she studied voice at the Nashville Conservatory and then moved to New York City with her sights set on Broadway. She quickly found success singing at NBC's Radio City Music Hall, CBS's Columbia Symphony Orchestra, the Metropolitan Opera, and several other opera houses.
Smith's biggest role came in 1945 when she was cast as the original Nettie Fowler in Rodgers and Hammerstein's classic "Carousel." Rodgers actually wrote the song "You'll Never Walk Alone" specifically for Christine, and she played the part so well that she was nominated for a Tony for her performance. She starred in that show for hundreds of performances, sang on the original cast album, starred in the national tour, and continued the role in the 1949 Broadway revival of the musical.
After Carousel closed, Christine moved back to Owensboro and married her high school sweetheart, Dr. Robert Smith. Together they raised two daughters here, Robin and Nancy. Smith gave voice lessons for many years and later retired from Texas Gas. Christine died in 2010 at the age of 98.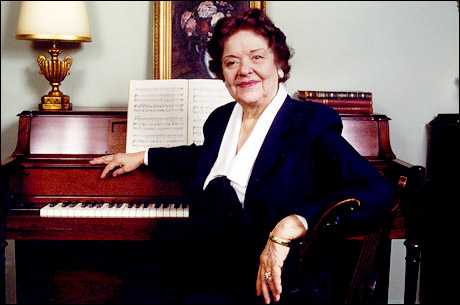 *To read other interesting life stories of successful Owensboroans like Christine Johnson Smith, visit the "Hall of Fame" at the Visitors Bureau on Second Street.