Empty Bowls is a grassroots movement to help end hunger. One hundred percent of the proceeds stay in the community and go to local food pantries. The goal of the movement is to raise money to help organizations fight hunger, raise awareness about the issues of hunger and food security, and to help bring about an attitude that will not allow hunger to exist.
You start with an empty bowl, and you leave with an empty bowl.
But in the meantime, your stomach will be filled with your choice of delicious soups, and your heart will be filled with the satisfaction of knowing every penny you spent on that delicious meal will be donated to a local food pantry, non-profit or church dedicated to feeding the hungry in our community.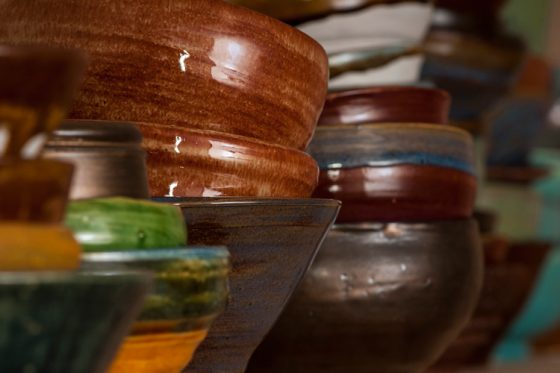 The evening starts with a decision that requires careful consideration: choosing your bowl. But the decision is not as simple as it sounds.  Because these aren't just ordinary bowls – these are handcrafted, one-of-a-kind, ceramic bowls made specifically for this event by local artisans and pottery students at Brescia University.
One you've chosen a bowl of your liking, the next step is deciding which soup to fill your bowl with. Local chefs and area churches prepare a variety of savory soups for the event. And while the offerings differ from year to year, there is always a vegetarian option.
While guests are eating, the Empty Bowls grant recipient from the previous year explains how the donation from last year's proceeds has impacted their organization.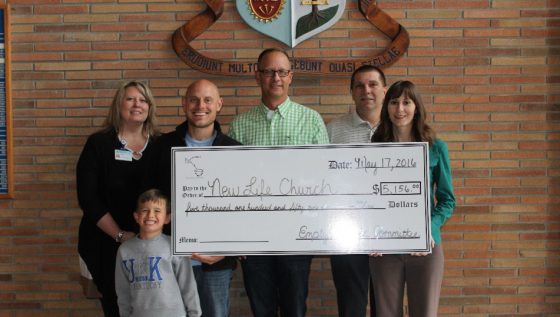 This year, for example, representatives from New Life Church will explain how the $5,100 Empty Bowls grant they received in 2016 was used to purchase a new convection oven and support the church's food pantry. New Life Associate Pastor, Jon Bailes, says the grant came at the perfect time. "We were in desperate need of a new oven. Our kitchen is sometimes used five times a week to support our different ministries," he said. New Life provides numerous service programs, including a food cooperative and community meals twice a week that feed those in need in the community.
Another example of those programs using the oven is A Simple Path, a donation-only lunch on Fridays where shelter residents prepare gourmet food for the public. Residents from Adrienne's House, a women's shelter next to New Life Church, are some of the chefs-in-training at A Simple Path, where they learn culinary skills and hands-on experience that, in many cases, transform their lives.
Empty Bowls is a national movement to raise funds for those in need of food. Steve Driver, an art and clay professor at Brescia, heard of the program in other cities, and was the driving force behind starting it here in Owensboro. Over $2,000 was raised at the first event in 2005, which was donated to 10th Street Baptist Church.
Each year since, the event has grown in popularity, raising in the neighborhood of $5,000 annually. That amount also varies each year depending on the success of the silent auction.
Tickets for the event are limited to 300, and usually sell out. If any are left, they will be available at the door.  But if you're interested in supporting the cause, you should consider purchasing tickets early.
This year's event will be held on Thursday, April 20 at 5 p.m. in the Saints Joseph and Paul Catholic Church Community Center, located at 609 East 4th Street.
The Empty Bowls Committee is currently accepting applications from area soup kitchens and food pantries to be considered as a recipient of this year's event funds. The deadline to submit an application is March 15, 2017.
Tickets for the event will go on sale March 13, and can be purchased in advance by cash or check for $15 at the following locations:
Allstate Insurance Company – Dave Lindow
1210 Burlew Blvd., Ste. A
Owensboro, KY
Monday-Thursday, 8:30 AM-5:00 PM
Contact: Tina Taylor
Rushing Winds Church of God
2613 Cravens Avenue
Owensboro, KY
Contact Amanda Graham at [email protected] for hours
Saints Joseph and Paul Catholic Church
609 East 4th Street
Owensboro, KY
Monday-Friday, 8:00 AM-4:00 PM
*This article first appeared in the February '17 issue of Owensboro Living Magazine.