New Life Church (NLC) might look like your average church, sitting on a beautiful corner lot of 4th Street and Crabtree Avenue. But when you find out what NLC is all about, you know they are anything but average.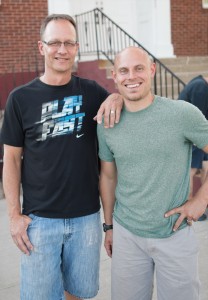 If you look at NLC's website (http://owensboronewlife.com/mission-statement/), you will find the following scripture and church mission:
"And the King will reply, 'I tell you the truth, when you did it to one of the least of these my brothers and sisters, you did it to me!'" Matthew 25:40 (NLT)
"At New Life Church we believe that God has called us not only to meet the physical needs of the community, but also the spiritual. New Life Church exists to lead each person we come into contact with into a deeper understanding of and relationship with Jesus Christ."
New Life began as Crabtree Avenue Baptist in 1942 as a church plant by First Baptist Church. Pastor Todd Camp came to NLC in 2005, and began serving in the lead role. Upon Camp's arrival, New Life adopted the mission of becoming a "Church for the Community." Associate Pastor Jon Bailes arrived in January of 2014. Jon admits while his service in the position has only been a few months, the church has embraced him.
Like many churches, New Life has small-group Bible studies and worship service opportunities, but that's not necessarily what differentiates them from other congregations. It's their desire to reach out through community programs that drives their endeavors. Those endeavors are going a long way toward helping people on the West Side of Owensboro and Daviess County.
The outreach efforts of New Life Church include: A Simple Path; Adrienne's House; New Life Thrift Store; Soup Kitchen; Food Cooperative; and Clothes Closet.
A Simple Path is a non-profit entity that partners with NLC. The goal of Simple Path is to educate and equip the community's homeless to be healthy and self-sufficient through food and nutrition training, as well as physical and spiritual nourishment. Each Friday, after two days of training and food prep, they serve the public a delicious lunch on a donation basis. All funds are put back into the program, and enables A Simple Path to grow their number of students.
Adrienne's House is operated by A Simple Path and housed on New Life's property. It is Owensboro's only walk-in emergency shelter for homeless women and their children in the community. The program accepts any woman who needs a place to sleep. The goal of the mission isn't just to provide a bed, but to meet them with love and hope, not judgment, while providing them them a safe place to stay.
The service doesn't end with providing shelter. For those women requiring longer than an evening stay, Adrienne's House utilizes their talents to find work at A Simple Path's kitchen, New Life Thrift, or one of the other unique ministries within New Life Church.
The vision is to build this community and eliminate homelessness one person at a time. In the near future, the program is looking to provide resource classes that will teach each lady how to get back on their feet. Adrienne's House exists on the donations of our community, and there are many needs. For more information on this ministry, go to their website: www.asimplepath.wix.com
New Life Thrift is a non-profit store that generates revenue that is funneled back into the community. Through this mission, people are helped and are invested in. One person at a time, lives are changed and can be improved through such ministries.
New Life Thrift continues to grow while offering high-quality basic necessities to the community at a minimal cost. New Life Thrift boasts a large inventory, due to generous community donors, that includes clothing, housewares, small appliances, and furniture. Your donations allow New Life to keep prices low and to invest in the lives of those in need or using this ministry.
Pastor Todd Camp is not only the pastor of New Life, but he is also the founder of the thrift store. He says, "My heart belongs to the west-end residents of Owensboro. My life purpose & mission is to help those in poverty, whether it is physical, emotional, or spiritual in nature!"
Camp says, "Over the past 9 years we have fed and clothed thousands of people. We strive to be a conduit for grace, hope, and purpose. We have helped many with their faith journey. We believe that we are to be salt, light, and leaven to our community. The thrift store helps us achieve these goals by providing much needed financial support for our ministries. You can help by donating your gently used items, and volunteering your time."
New Life also offers a Soup Kitchen, serving approximately 1,200 meals per month. Every Tuesday and Thursday evening at 6:00 p.m., they invite anyone in need of a hot meal to come. Volunteer opportunities are always available.
New Life Church has also begun a Food Cooperative in partnership with Owensboro Christian Church. The program promotes food security, educational opportunities, individual dignity, participation, and accountability in obtaining foods. Members of the cooperative meet every other week, unload the truck, sort the food, and engage in a time of fellowship and education. Each member pays a one-time fee of $5 to join the cooperative, and pay $3 every other week, when they receive between 40-50 pounds of food, depending on family size. According to the NLC website, applicants must receive an income within the Emergency Food Assistance Program and USDA Limits.
The Clothes Closet, located inside the church, is open to those in need of clothing, each Thursday from 5-7pm.
New Life is more than brick and mortar on Owensboro's west side, it has hands and feet that are reaching into our community to provide for the spiritual, emotional and physical needs of the people of our city.
Associate Pastor, Jon Bailes, describes he and Pastor Todd's roles as utility pastors. Much like a Swiss Army knife, "Sometimes you're a file, other days you're the knife." They work to fulfill the needs of the people by being flexible in the ministry to which God calls them.
If you are looking for a church to become involved, look at New Life. Not only do they provide a place to worship and grow in your faith, but also to put those principles into action through service with their many ministry opportunities. Pastor Bailes, says, "We will find you something to do!"
New Life lives by 2 Corinthians 5:17:
"Therefore, if anyone is in Christ, the new creation has come: The old has gone, the new is here!"
There is proof that they indeed hold to this scripture, because at New Life they are in the business of providing people the opportunity to be enriched through faith, hope and love. They embrace the idea that Christ can use your past to make a future. You are invited to help create new lives or become a new creation in Christ at New Life Church.
New Life Church would like to thank the many volunteers from the community and other churches that make all of the ministries at NLC happen. Without them, there is no way we could serve as effectively as we do. It is a blessing and we are so thankful for them!
For more information or to visit: New Life Church, 400 Crabtree Ave., Owensboro, KY 42301, 270-683-5626, www.owensboronewlife.com