CrossFit Rugrats provides something fun and healthy for kids. As they say on their website, it's where fitness is fun and lives are changed.
Owensboro Living was invited to tour the CrossFit Rugrats gym located inside Towne Square Mall (5000 Frederica Street) in the space across from Bedland and next to Amy's Fitness Island Studio.
Owner Tim Davis started Rugrats in his garage on February 1, 2016, but relocated to the mall location October 1. "We went from 500 sq ft to 7,500 sq ft," Davis said. "Eventually we'll put more mats down and add some push sleds."
As I walked into the gym to meet Davis, trainer Karina Delgadillo was finishing up the 4:00 class, coaching a group of boys and girls on their final reps while recording their results on the white board.  Coach Karina is Tim's daughter and is also a partner in the business. "She's the inspiration behind Rugrats," Tim said.
CrossFit Rugrats currently has about 25 members ranging from ages 6-17.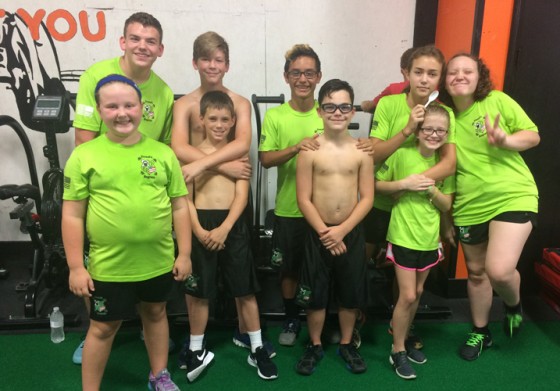 Kids as young as six start with PVC pipes to learn proper form and how to handle the bars safely. As they progress in age and strength, the youngsters work up to five-pound bars and eventually 15-pound bars and 35-pound bars.
"We have six-year-olds that can do pushups and pullups. It's very impressive. But all of them start at different levels and everyone has different goals. The first month, the most they get is five pounds until they get the technique down," Davis explained.
Intro classes teach how to lift, squat, and perform other movements properly.
It's about more than working out though. Two Saturday's ago they held an in-house competition that raised $1,800. Davis says that money will be used to buy Christmas presents for less fortunate children.
CrossFit Rugrats is also hosting two of the world's most fit teenagers for an event called "A day with the champs" on December 10. Angelo DeCicco (14/15-year-old Fittest Teen on Earth in 2014) and Nick Paladino (16/17-year-old Fittest Teen on Earth 2016) will share their CrossFit stories. "Our kids will be able to train with them, see how they train, learn how they eat, and ask questions," Davis said.
For more information, call (270) 231-0797, email [email protected], follow them on Facebook, or visit the website.