After weeks and months of planning, and many sleepless hours, the WBKR St. Jude Radiothon came to a joyful (and tearful) conclusion at 7pm on Friday, February 17th. For 48 hours, hand-selected songs played as patient and family testimonies were shared on-air. In the last hours, the laptop headsets at the WBKR call center continued to light up as the final pledges rolled in. Around 6:30pm, as predicted, the Angels for Ashley cooking team walked through the doors, with their smoky aroma, carrying a bucket of blessings. By 7 o'clock, every square inch of the radio station's glass booth was filled with anxious people awaiting the grand total.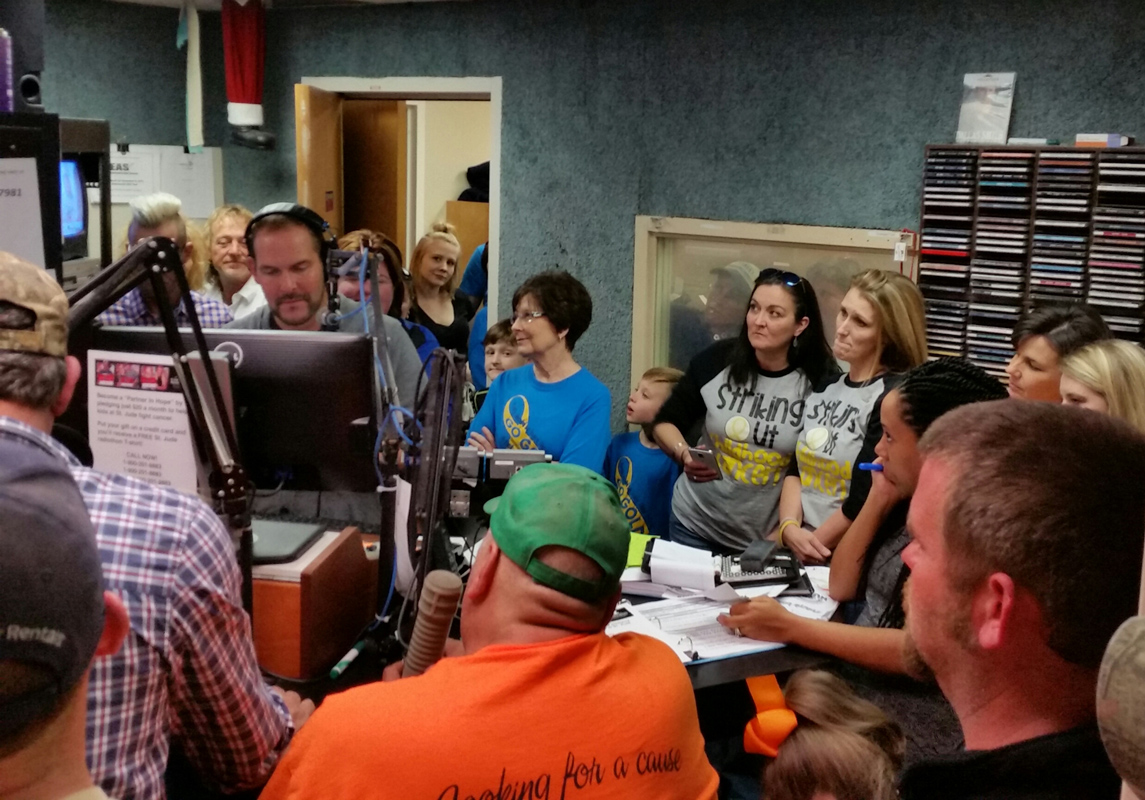 After much anticipation, Jerry Morris finally revealed that, despite selling out of barbecue at 1pm that day, the Angels for Ashley team had raised $69, 637.71, just shy of their $75,000 goal. Chad Benefield choked back tears as he attempted to thank the team for all of their dedicated effort, but not before Jerry Morris removed his ball cap to reveal his freshly shaved head, courtesy of Easton Pedley.
Nine-year-old Easton, made a wager with Morris that if he raised $2,500, $100 each from 25 friends, then Easton would be able to shave Jerry's head. Young Easton far exceeded his goal with $5,380, and then took to the clippers to give Morris a very special haircut in the Shoe Stop parking lot.
Although Jerry says that the cookout portion of the event "gets bigger every year," this year there seemed to see a constant flow of volunteers providing relief, and the welcome reprieve of warm weather. The community stepped up as well, with surrounding schools and businesses showing their support for St. Jude by purchasing boxed lunches in volume. Twelve-year-old Gavin Howard raised $3, 759 with his creative t-shirt designs and school-sponsored "Jumping for St. Jude" event, and even inspired his two little brothers, who joined in the fun by selling hugs for $1 a piece.
The Angels for Ashley cooking team and volunteers raised $69,637.71, which helped bring WBKR's total contribution to St. Jude to over $200,000.
When you combine these totals with the $4,006 raised from the Cuties for a Cure pageant, the money brought in from the Denim and Diamonds event, and the monies donated by individuals and committed local community sponsors, such as Kohl's, WBKR raised a grand total of $210,243 for St. Jude. This is over $6, 000 more than last year's total of $203,332.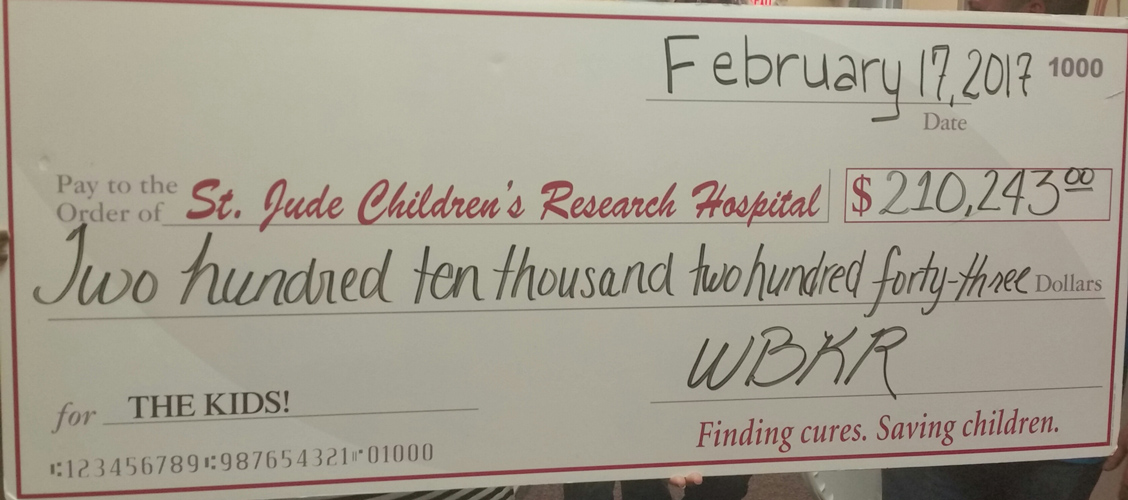 When asked about their future efforts, all of those involved were in complete agreement. St. Jude Children's Research Hospital currently has an 80% survival rate, and WBKR and the Angels for Ashley cooking team will continue their efforts until that last 20% is obsolete.
Read Part One of this article here.