Brescia University will celebrate the grand opening of the newly renovated Moore Center on September 8, 2017. The day will kick off with a Greater Owensboro Chamber of Commerce ribbon cutting and a dedication by Bishop William Medley at 11:30 am. Guests will then be invited to partake in lunch in O'Bryan's Dining Hall. Tours will also be available throughout the afternoon. The day of celebration will conclude with a picnic style dinner at 6:00 pm. The evening festivities will include live bluegrass music, a performance by local artist and speed painter Aaron Kizer, and other commemorative activities.
The renovation of The Moore Center completes the first of a two phase building project. Brescia University launched a $10 million capital campaign in October 2014; The Campaign for Brescia University: Gateway to Our Second Century. The campaign and building projects are part of a vision to meet the evolving needs of students in a growing competitive landscape of higher education.
The Moore Center, previously known as the Campus Center, was originally constructed in 1988. Brescia University broke ground on the renovations project in March 2016. The building was completed in July 2017. The Moore Center boasts an open concept living and dining area, including the remodeled O'Bryan's Dining Hall, named in memory of William M. O'Bryan, one of the founding members of the then Brescia College Board of Trustees. The main floor's open air atrium also features Barney's Café, a new downtown coffee shop destination, open to the public from 7:30 am to 9:00 pm Monday through Friday and 5:00 pm to 9:00 pm Sunday evenings. Bearcat Corner, the University's spirit shop, and the Office of Admissions, sponsored by Old National Bank, are also located inside the atrium.
The most notable addition is an expanded gymnasium that will accommodate 750 fans and features two full-size practice courts in conjunction with the primary playing court. The second floor now features the expanded Owensboro Health Walking Track, open to the public from 11:00 am to 1:00 pm Monday through Friday, a new health and wellness center for students, faculty, and staff, and updated Student Development office space that includes a new Counseling and Campus Ministry Center.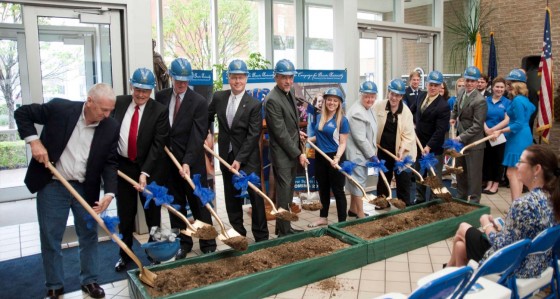 The Moore Center is named in recognition of the Parvin and Mildred Moore Family. The Moore's son, Joe, graduated cum laude from then Brescia College in 1974 with a Bachelor of Science in accounting. He is a CPA with more than 30 years of experience in hospital management and operations and recently retired from his position as the Executive Vice President and Chief Financial Officer of Vanguard Health Systems.  He now spends his time as a semi-retiree lending his expertise with Martin Ventures, a Nashville based venture capital firm. Joe is currently serving his third term as a member of the Brescia University Board of Trustees and also serves as the chair of the Campaign Cabinet for the Gateway to Our Second Century Capital Campaign.  He was named a Distinguished Alumnus in 2005.
In 2014, Joe and his wife Jeanne pledged a $1 million dollar gift to the campaign, and in November 2015 was responsible for securing an additional $1 million gift from The Martin foundation, a gift given in Joe's honor. Joe and Jeanne chose to give tribute to his parents with a scripture from Proverbs 16:30, "Entrust your works to the Lord, and your plans will succeed," a life lesson among many they taught him through their upbringing.
The second phase of the building projects will be the construction of a new academic building located on the corner of 9th and Frederica Street.  Ground breaking will take place in the spring of 2018 with completion slated for late 2019.  The "Signature Building," as it is being called at this time, will house Brescia University's School of Education, the Marilyn Younger Conley School of Social Work, and the Charles A. Reid School of Business.  Total construction costs for both projects will likely surpass $14million.  The University has raised over $12million.  Naming opportunities are still available for interested donors.