A Brescia University Men's Basketball player has been recognized for the week of January 16th -22nd for outstanding play in the River State Conference.
Kayode Daboiku, a 6-5 freshman from Cincinnati, Ohio, earned the title of the River States Conference Men's Basketball Player of the Week for January 16th-22nd for his double-double in three victories.
Daboiku posted 20.3 points per game and 11.7 rebounds per game while shooting 59 percent from the floor. Because of his and all of the Bearcat's efforts, Brescia University went 3-0 during this week.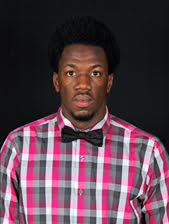 He had a pair of 20-point games in wins over Point Park and Carlow. His 27 points versus Carlow were a career-high, as were his 16 rebounds versus Point Park. He had 22 total points versus the Pioneers and 25 in the first half versus Carlow. Dakoibu registered the first of his two double-doubles on the week with 12 points and 14 rebounds in a win over Morthland.
Brescia has won five in a row and four straight in conference play to put its record at 7-13 overall, 4-6 in the River States Conference.
Dakoibu is averaging 9.6 points per game and 5.2 rebounds per game for the year.
For more information on the Brescia University Bearcat Athletics, visit bresciabearcats.com.