Owensboro Riverport Authority and O.Z. Tyler Distillery took part in a historic moment this morning.
Whiskey and Bourbon barrels floating down the Ohio River to market used to be a very common occurrence. Cane Land Distilling Company, based in Baton Rouge, Louisiana, revived that old tradition by loading barrels of whiskey onto a barge bound for new Orleans from the Owensboro Riverport.
According to Cane Land Founder and President, Walter Tharp, the journey down the Ohio and Mississippi, "pays tribute to the historic path in which spirits were transported as far back as the 1800s."
The truckloads of barrels loaded this morning had been stored at the O.Z. Tyler Distillery in Owensboro. The barrels contain an aged whiskey that will be available to consumers in late spring under the name Original Mississippi Floated Whisky (OMFW).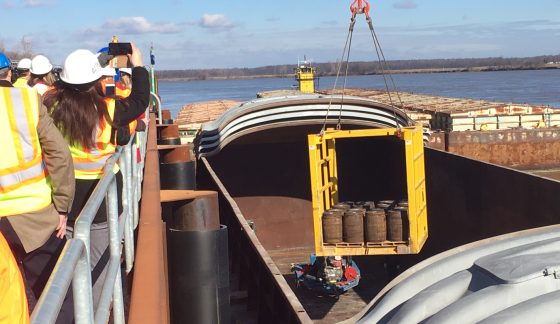 "Many distilleries outsource their spirits and create wild tales of their origins. We wanted to be completely transparent while paying tribute to the historic path in which spirits were once transported," Tharp explained in a release this week.
Standing next to a crane at the Owensboro Riverport Authority as the barrels were loaded, O.Z. Tyler Master Distiller and Operations Manager, Jacob Call, told Owensboro Living the distillery currently houses 40,000 barrels for around 30 other distilleries like Cane Land. "We load barrels every day, but this is the first time to my knowledge we've shipped on the river."
Call says the Ohio River was a major reason nearly 20 distilleries used to call Owensboro/Daviess County home. In addition to providing a great method of transportation for those distilleries, the fertile farmland along the river raises great crops of corn, which is important for making Bourbon.
As for O.Z. Tyler's own barreled Bourbon, it is still aging and is expected to hit the market in September. In the meantime, the distillery is plenty busy. The gift shop hosts tours of the facility Monday through Friday, which have become so popular they plan to begin hosting tours on Saturdays as well, according to event coordinator, Haley Hamilton. Look for those to start in a couple months.