A contractor for the Kentucky Transportation Cabinet plans initial prep work for a concrete rehabilitation and diamond grinding project along the Natcher Parkway in Ohio County starting on Monday, January 30, 2017.
The project runs along the Natcher Parkway from the Ohio-Butler County line at mile point 37.134 extending northward through the Natcher/Western Kentucky Parkway Interchange to mile point 49.795 just southwest of the KY 69 Exit 50 Hartford Interchange, a distance of 12.66 miles.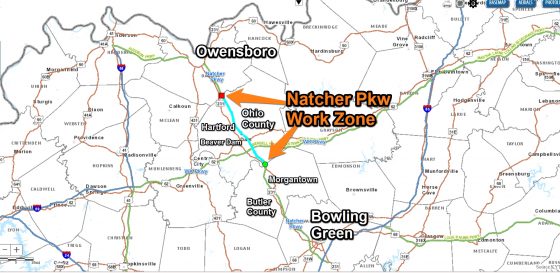 Starting Monday, the contractor will utilize short-term temporary daytime lane restrictions at various locations along the work zone to place equipment, erect signage, and start initial ditching and erosion control work along the right-of-way. The contractor will gradually ramp up to start construction of median crossovers and slip ramps in early-February to prepare for traffic diversions starting sometime in March.
The project will be completed in about 4 phases of about 6 miles each. As work ramps up going into March, this work zone will include traffic shifts, a work zone speed limit, double fines for citations, and an enhanced enforcement presence.
Appropriate caution is required where equipment, flaggers, and construction personnel are along the roadway in close proximity to traffic flow.
The contractor will work with the Transportation Cabinet to provide more detailed traffic advisories as the work progresses and dates for traffic shifts are scheduled in coming months.
The W.L. Harper Company is the prime contractor on this $14,324,220 highway improvement project. The target completion date is November 1, 2017. The Natcher Parkway is designated as a Future I-65 Spur Corridor.
Timely traffic advisories for the 11 counties of KYTC Highway District 2 are available by going to facebook.com/kytcdistrict2. You do not have to be a Facebook member to access this page.
Navigate traffic with KYTC, 511.ky.gov, and Waze,waze.com!