There was a lot going on at the Greater Owensboro Realtor Association quarterly luncheon at the Owensboro Country Club this afternoon.
Glenn Ashby and Brandi Rone greeted everyone in full-on prom attire to promote the upcoming "Aid the Homeless" prom-themed event, which will be held in August. Gail Niehaus invited everyone in attendance to support the 6th annual Aid the Homeless event, which has raised a quarter of a million dollars in the first five years.
Then there were the regular committee reports about educational opportunities for realtors, issues regarding the Multiple Listing Service, and the committee on governmental affairs.
Owensboro's "Toastmaster General" (as president, Gordon Barnett called him) Kirk Kirkpatrick inducted new members into the Greater Owensboro Realtor Association. Before which he praised the Association as a whole for their community involvement. "I don't know another organization that gives back to the community more than this organization. As a resident of the city, I want to personally thank you for all you do to benefit those that really need the help."
He then introduced the guest speaker, Assistant City Manager and City Attorney Ed Ray, who had several bits of good news to share with the Association.
But clearly everyone was there to hear who would be named the 2017 Realtor of the Year. This year's recipient was Angela Clark. Angela was recognized for a list of many accomplishments, including:
outstanding customer service
19 years of selling, yet she continually learns and shares her knowledge with other realtors
serving on nearly every Realtor Association Committee as well as 2016 President
2004 graduate of Leadership Owensboro
2015 graduate of Leadership Kentucky Association of Realtors
2016 designated a Kentucky Real Estate Broker
receiving the designation of Certified Residential Specialist
among many other positions in KAR
and involvement in many service organizations in Owensboro.
During Ed Ray's comments, he explained several items in the planning stages that may be of interest to realtors, and anyone looking for housing in the near future.
A third downtown hotel is part of the downtown Tax Increment Financing district. Plans for the hotel call for 145-165 residential units. When complete, it will be the biggest downtown residential facility.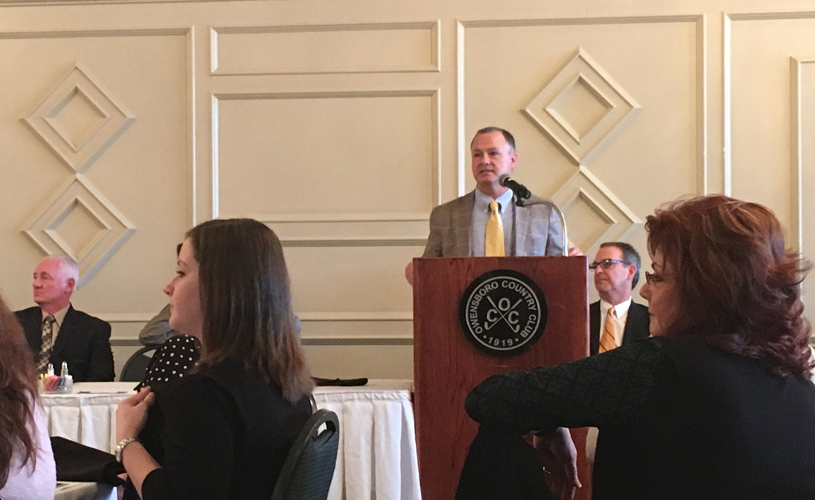 As part of the Triplett Twist redevelopment district, the City has available some 50/50 match grants for commercial facade upgrades up to $10,000. Neighborhood entry upgrade projects are also being planned in four areas within Triplett Twist: Colonial Heights, Fairgrounds, Mercy Heights, and Victoria Court. There is also a $5,000 downpayment assistance program available for purchasing homes in Triplett Twist, as well as sliding scale grants for home renovations.
Ray said any realtor or citizen who has questions about any of these programs should contact Abby Shelton, Director of Community Development, at 270-687-8658 or shelt[email protected].