There's a lot happening at the new Alorica building as the project nears completion.
Two hundred employees are already at work on the third floor. There was a job fair going on today which continues tomorrow. And Alorica executives gave government officials, media, and other invited guests a tour of the newly renovated facility.
All the while, construction crews continued finishing touches on the facade of the building.
A year ago, Alorica projected to hire over 800 positions in the next three years including 500 by 2018. Today, spokesperson Ken Muche proudly announced during the tour that the company is expected to hit 500 by December 31st of this year.
With a line of job-seekers conducting interviews on the second floor, Muche said Alorica is the largest customer service provider in the US but remains a people-focused company that promotes from within. 70% of upper management began their career on the front lines. 90% of the jobs filled today and tomorrow during the job fair will be full-time positions.
"We're looking for people who are outgoing, engaging, and like to help people," Muche said, inviting anyone interested in applying to show up in person, "dressed to impress" with their resume in hand and ready to show their personality.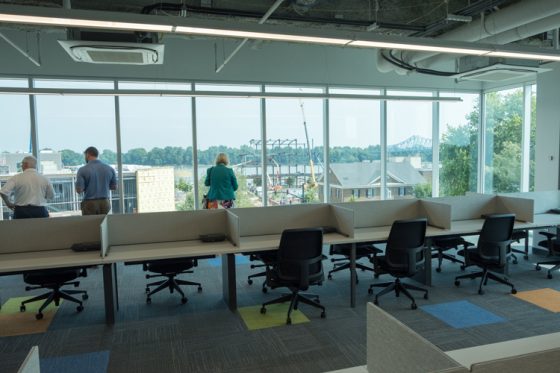 The building has undergone a massive transformation inside and out. The former bank now has a modern, open concept for the call center on the third and fourth floors with an industrial, "tech" feel. When complete, the fifth floor will be the employee break area and "hang out" space complete with foosball table, pool table, gaming systems, and a roof top deck that will offer a view of the riverfront and downtown Owensboro.
Daviess County Judge Executive Al Mattingly thanked Alorica for bringing a "world class company to our world class community that has a world class workforce," noting that Owensboro-Daviess County was the first in Kentucky to be named "workforce ready community."
"We're all here to work for a common goal; to make OBKY the best we can," said Mayor Tom Watson.  Alorica, Watson said,  is the perfect example of a public-private-partnership. "We're looking for partnerships like this so we can continue to create revenue.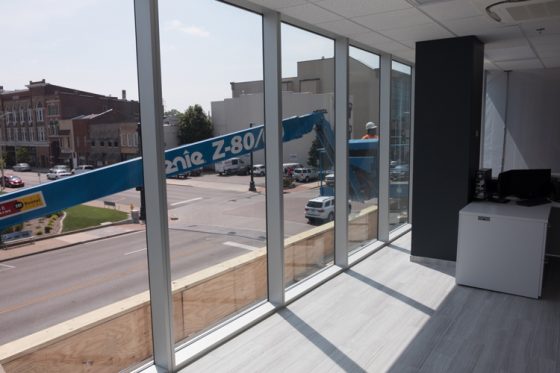 There is no time frame on the opening of Bar Louie restaurant, which will be leasing space on the bottom floor, but Muche says the next announcement from Alorica will be about a partnership with a nonprofit that will help local veterans. Muche told Owensboro Living in September of 2016 part of the culture at Alorica is for employees to give back to the local community. Read more here.
The job fair continues tomorrow (July 21, 2017) from 10am-4pm at Alorica, 230 Frederica Street.