Sometimes you just can't beat a good spring floral print, and this flowy and flirty ruffle dress from Peacocks and Pearls is no exception. When I saw it hanging in the store, I knew it was the ideal spring look, and exactly the vibe we were going for! The cut and fit remind me of a 90s style slip dress, which is completely back in style (not sure it ever really left), and looks flattering on so many different body types. The straps are adjustable, which always makes things much more comfortable. The length of this dress is great on short girls like me, or tall girls, too, since it isn't a true maxi. The dress almost gives an illusion with the high-low waterfall ruffles, and the best part is, I wouldn't have to get it hemmed! I wanted to be barefoot for the shoot, but it would be fabulous with a pair of springy wedges or cute summery sandals. This look can even be worn in early spring. Just throw on a white denim or regular denim jacket and some white booties and you've got a full outfit!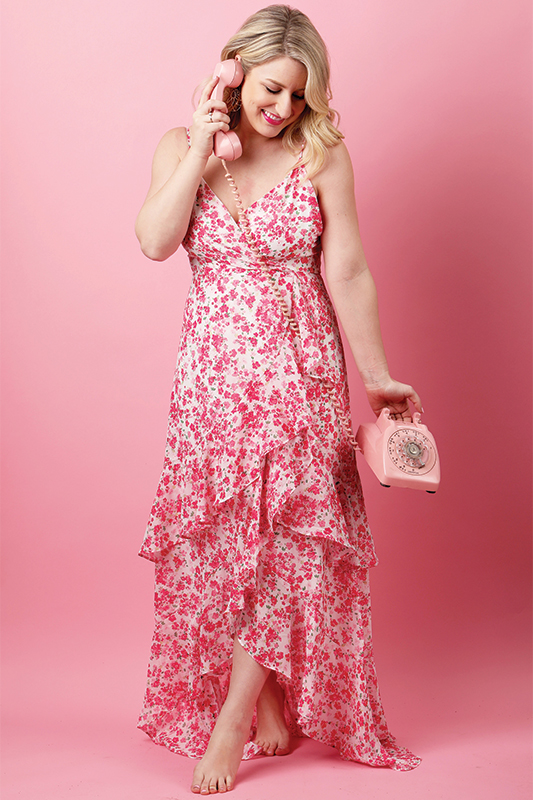 I'm sporting earrings from the new Kendra Scott collection, and I love how lightweight and airy they are. The gold goes with everything, and the flower design is versatile for spring and summer. Peacocks and Pearls is the best place to buy Kendra Scott—they have such a great selection and always have the newest thing on the market. A new piece of Kendra is also a great graduation gift—they even make jewelry sets to make gifting a breeze. Follow Peacocks & Pearls on Instagram with the handle @peacocksandpearlsobky.
Are you guys noticing a pink theme here? Not only is it my favorite color (obviously), but it adds such a bright and lively pop to any outfit. This look is from Rayelle Collection, which opened recently downtown, in the previous Bella Ragazza location. We all know I don't believe in any white pant rules; I think you should wear them all year round! The fringe on these is so fashion forward, and adds a special flair to the look. Fringe is still a yes in my book this season, and these are a nod to the seventies in the best way. 
Spring can be a tough season to dress for, because it can be late March or April but still freezing outside. Wearing white pants early is an easy spring look to throw on when it's too cold to wear a skirt or dress, but when you want to look appropriate for the current season.
If you haven't visited Rayelle Collection downtown yet, go check it out! They also have a website, rayellecollection.com if you're more of an online shopper. Follow Rayelle Collection on Instagram @rayellecollection. For more looks from me, and even behind the scenes of our Owensboro Living shoots, follow me on Instagram @hartzjl. Have fun spring shopping!