A natural-born athlete, Connie Pounds-Taylor grew up playing sports, with a special place in her heart for softball. Connie said her dad coached her from the time she was 9 until she was 18, encouraging her to play different positions that would strengthen her ability to throw and bat left-handed.
"He made me pitch some, and I played first some, but I mostly played outfield," Connie said. "When I was playing, there was no high school softball, there was no fastpitch — all of the County schools had softball leagues. The County leagues were huge."
After graduating from Apollo High School in 1980, Connie played basketball at Kentucky Wesleyan College, but continued to play in slowpitch softball leagues and co-ed tournaments until she was almost 30 years old.
At age 27, Connie was working for Girls, Inc. when she learned that the movie A League of Their Own would be filming at historic Bosse Field in Evansville, Indiana. The film, which was based on the All American Girls Professional Baseball League that flourished during the World War II era, finished second at the box office during its inaugural weekend due in large part to a star-studded cast and several women from the tri-state area.
"My whole thing was going to be, 'Well, I tried out for that movie'— and then I got lucky," Connie said. "They had us all lined up in the field and they threw three balls to you. You quickly figured out that if you got to see a certain person you got to go further. I knew at that point that I made it."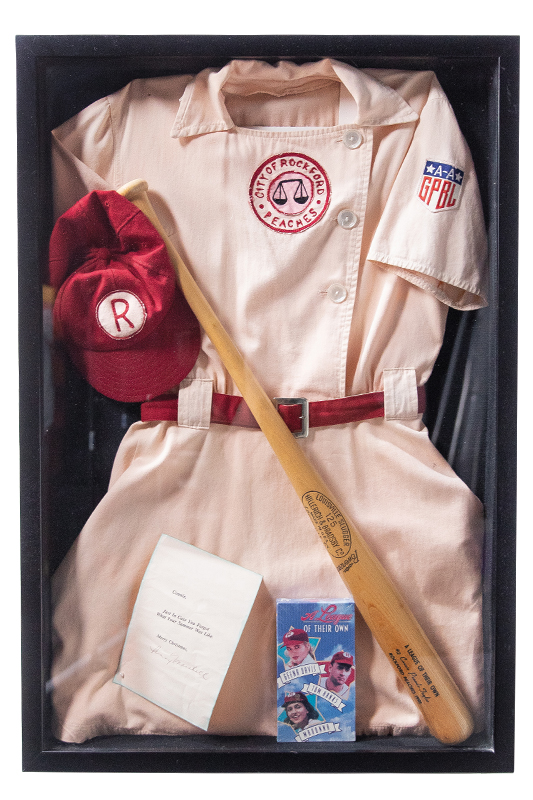 Connie was excited when she was originally selected to play outfield for the Racine Belles in the film. She and several other girls were transported by Greyhound bus to Chicago where they were able to meet director Penny Marshall, and share the field with stars Madonna, Geena Davis, and Tom Hanks.
According to Connie, after she and the other girls participated in workouts and batting practice, Penny Marshall pulled the director of photography aside for a discussion. Before long, Connie, who stands at 5 feet 10 inches tall, was measured and recast to be a bench player for the Rockford Peaches.
"I had a baseball mentality," Connie said. "My first response was, 'I don't sit the bench.' I was on the bench most of the time — it hurt my soul because I couldn't play ball."
Connie soon discovered that, even though she was a bench player, the entire movie was based on the Rockford Peaches, so her chances were much greater of being on screen. Her height also proved to be an advantage. With actress Geena Davis standing at 6 feet tall, Connie was often placed near or behind the actress for visual effect on camera.
"If you look behind Geena, I'm there," Connie said. "They would try to put me around her."
Connie said she can be seen behind Davis in several scenes, including at boarding school, in the locker room, during the prayer scene, on the bus while Davis is speaking to Hanks, and running out onto the field behind her during the infamous, "There's no crying in baseball" scene.
Even after 28 years, Connie still has gifts and signed items from the cast, and can recall several behind-the-scenes stories.
"Every once in a while, I will get a photo in the mail with people asking me to sign it," Connie said, adding that every three to four months, she receives a small residual check from the Screen Actors Guild, for a spoken line that was eventually cut from the film.
As for her memories of the cast, Connie said they are all positive ones.
"When you are with them every day, they end up calling you by first name, and you call them by theirs," Connie said. "They were all very kind and professional. I got a whole new respect for how hard they work."