George Skiadas
Owner, Famous Bistro
You need only visit Famous Bistro one time to learn that they are "famous" for their delectable Greek-inspired dishes. However, you might also notice another characteristic for which they are famous—their hospitable, welcoming atmosphere. This is all due to George Skiadas, owner, and his staff.
George, who has been a restaurateur for over 45 years, says that his businesses are "So much more than trying to make a living. It's a way of life." I took some time to talk to George about all the memorabilia that hangs on the wall in Famous Bistro. As a customer, the photos, paintings, and other artifacts have always fascinated me, and I have longed to learn the stories behind them.
George got his first taste of Owensboro after beginning his degree at Kentucky Wesleyan College at the suggestion of his high school guidance counselor. However, life would temporarily take him in a different direction.
In 1974, after opening a pizza parlor in Rhode Island, along with his two cousins, George was officially bitten by the restaurateur "bug." He settled in Pennsylvania, where he continued in the pizza business for 20 years before transitioning to a high-end full-service restaurant.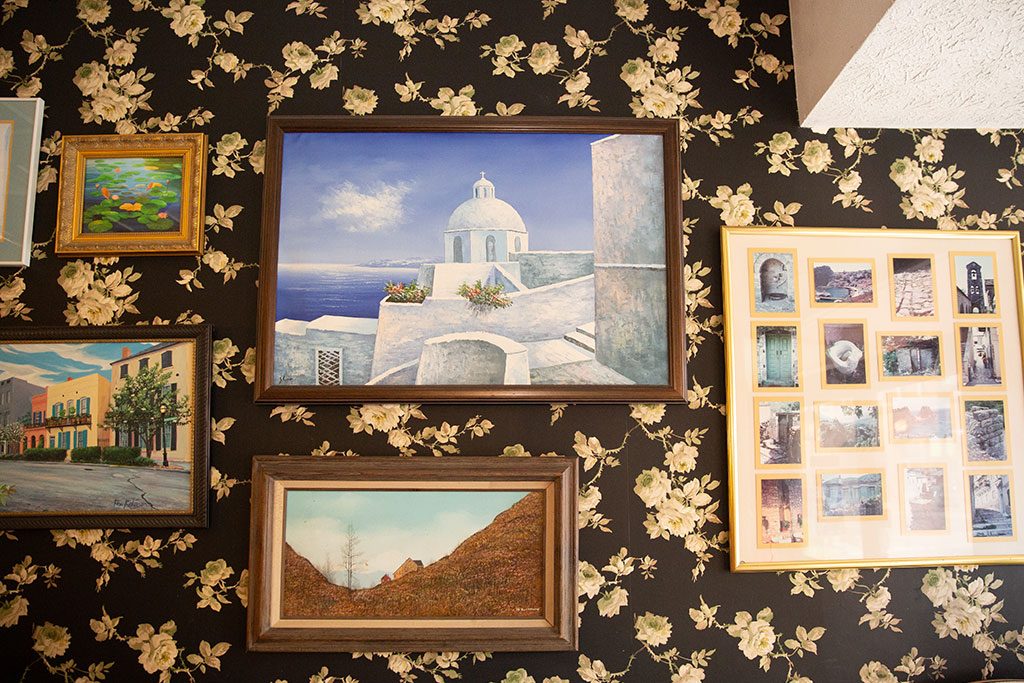 In the mid to late 80's, George continued his ownership of the restaurant, but took time to travel and compete in skydiving. Above the bar in Famous Bistro, patrons can see photographs from this time in George's life. Finally, Labor Day weekend, 1989, George returned to Owensboro to finish his degree at Kentucky Wesleyan, where he met his future wife, Nancy. Even after earning his degree, George continued taking classes. "I enjoyed the experience of reliving my college years," George told me with a smile on his face.
Nancy and George married in 1992, and George considered teaching as a career, but he gravitated back to the food business because he missed it. June 1, 1993, Famous Bistro opened. George says this is his favorite restaurant so far because of his "Long history with great customers." According to George, who also owns Lure Restaurant in the Downtown Hampton Inn, "I can't retire. I have to stay involved." George is quick to point out that his business skills are lacking, but his focus is on building relationships with his loyal customers and their families.
Though he wasn't born in Greece, George has visited his extended family there many times, and he remains true to his Greek heritage, which is well-reflected in his bistro. George cordially showed me around his business, while explaining some of the items adorning the walls.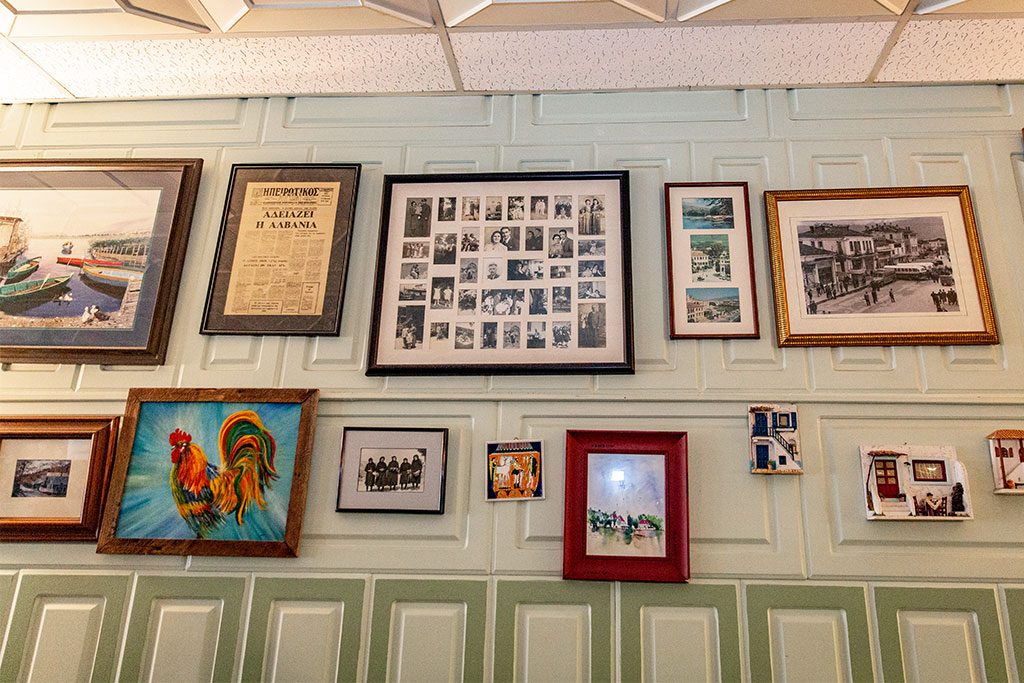 One of George's favorite pieces is a black and white photo of the Central Plaza of Yannina, Greece, his family's hometown. A flea market find, the photo illustrates much about life in the early 50's. No women are shown in the photo, and the men are dressed in their Sunday best. George explained that in the evening the men would walk up and down the promenade for hours to entertain themselves before going to meet up with their families.
Opposite this photo is a painting done by George's mother-in-law, which shows the adjacent side of the same Yannina plaza at a time when Greece was under military control after a coup by three Greek colonels. This is evident by the two winged statues located in the lower left part of the painting.
Many renderings of Famous Bistro decorate its walls, including a watercolor of the establishment gifted to George by Bill Gutsche, a Daviess County High School teacher. A colorful canvas painting of the Bistro shows a livelier version of the outside and brightens the wall near the kitchen.
Sepia toned photos of George's family show his maternal grandmother and grandfather along with his mother, aunt and uncle. The photo was taken in the 1930's. Flanking a portrait of George photographed by Wendall Thompson, are his parents' engagement and wedding photos. His parents watch over George and his thriving business from just above the opening to the kitchen.
At the top of the back left wall hang portraits of people George considers his heroes. Among the collection are photos of the Dalai Lama, Mahatma Gandhi, Dr. Martin Luther King, Jr., and Mother Theresa. At the end of this line of photos is a sweet picture of George and his son, Ben, at a young age. George tells me that his son, Ben insisted that picture be hung in this place of honor. George insists, "That one doesn't really belong there." Ben has followed in his father's footsteps, and runs Lure. "It is his baby," George explains, "And he is doing a fabulous job!"
Famous Bistro thrives on quality customer service. George Skiadas is truly a man who cherishes the relationships he builds with his patrons when he sits down to have a conversation over lunch or personally serves them crème brulee for dessert. He considers many of those he has met through the Bistro to be lifelong friends, even allowing the front window table to be dedicated to a loyal, frequent customer and friend who passed away last year. Of all his years in the restaurant business, George says, "It has been a wonderful journey."
If you know of someone whose office we could feature in an upcoming issue, tell us about it at [email protected]