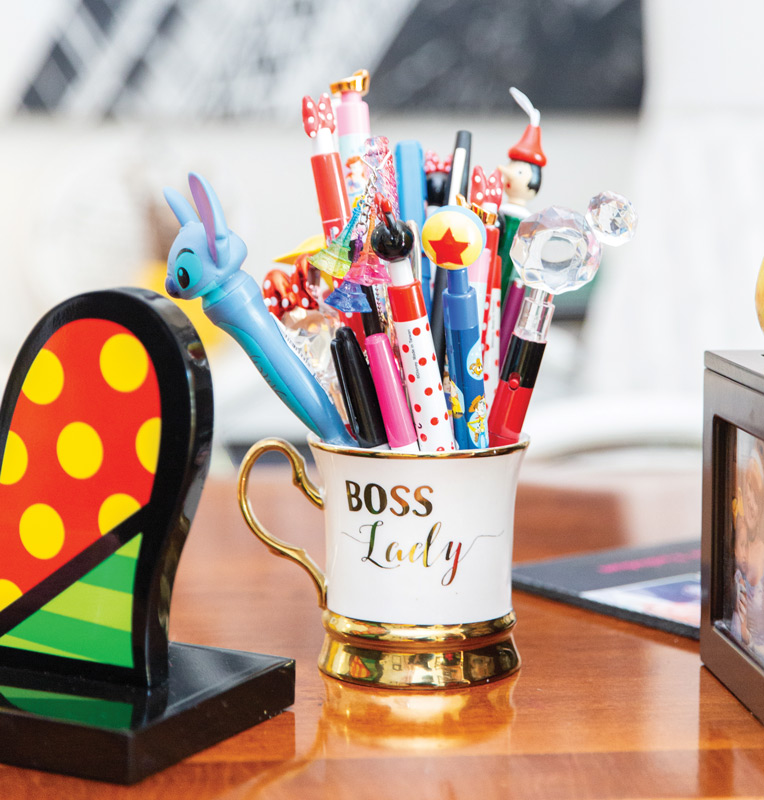 As a board-certified obstetrician and gynecologist, wife and mom, Dr. Suzanne Rashidian is always busy. So having an office where she can work and recharge is important. Her office at Summit Obstetrics & Gynecology, PSC on Leitchfield Road is a perfect mixture of work and play to give her the ideal space for talking with clients or unwinding at the end of a long shift.
Rashidian has practiced in Owensboro since 2012, and enjoys spending time with her family, Dr. Ramin Rashidian, and three children, Jack, Max and Piper.
Tucked in the back corner of the Summit, her office is a party from the moment you walk in. Bright colors are everywhere, finger paintings from her kids and degrees from her years of education line the walls, while trinkets from her world travels are on every shelf.
For the Love of Disney
As a big Disney fan, Rashidian has trinkets and collectibles all over her office from her family trips to Disney World.
As a pen collector, the Disney-themed pens on her desk remind her of the "magic of Disney."
"I can't pick a favorite pen," she said. "They all bring their own unique memory. You just look at it, and you know everything is going to be alright. It's a simple reminder, but it's true."
She has Disney-themed personal development books such as Be Our Guest, Disney's approach to exceeding expectations rather than simply satisfying them when it comes to customer service.
Rashidian said everything in the room speaks to her and her family's interests—including a large Cinderella's Castle made entirely from Legos.
"I made that with one of my sons," she said. "We love Disney and Legos, so this is what we do in our free 
This and That
While Disney and Paris are the major themes in Rashidian's office, some items just found their way to her office on their own.
"It's all the things I've collected over time from places we have traveled," she said.
One of those items is a Jamaican lady figurine who is pregnant. "It's something that every time I look at it, it makes me happy."
Alongside the artwork drawn by her kids, Rashidian has other pieces that hold memories, as well.
She has a funky print of a man chasing a woman. She said the art holds a special place in her heart because her husband said he always felt like he was chasing her.
A character drawing from when Rashidian and her husband were residents reminds her of how far they have come together. "This was done 15 years ago, it's crazy how fast time flies."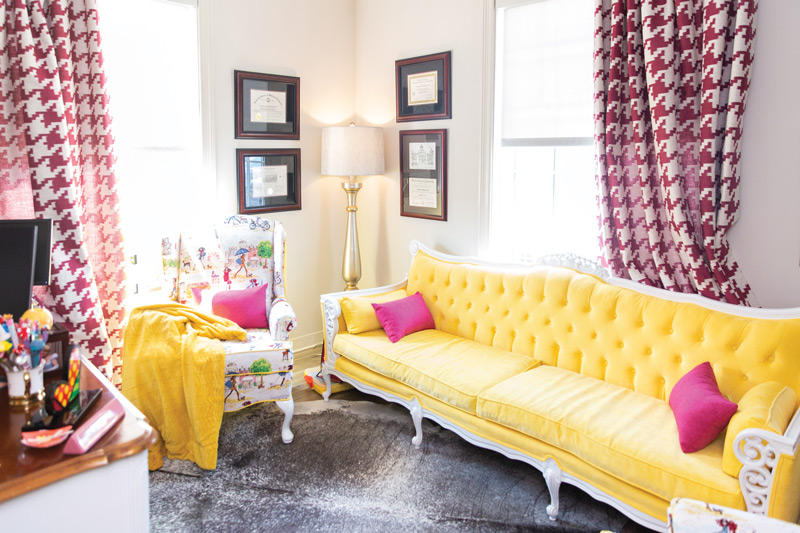 Paris
Reminders of Paris are located throughout Rashidian's office. A large black and white photograph of the Eiffel tower hangs above her desk, while her eclectic furniture was recovered in a Paris-inspired print.
Her husband proposed on the Eiffel tower, and her family travels there often. The family, including the three youngsters, just visited Paris this past summer, and she likes having reminders of the city around her.
"The furniture is kind of eclectic—we do the same thing at home," she said. "We rescued the chairs and the coach from junk stores here in town, recovered them and brought them back to life."
"When you surround yourself with happiness and things that inspire you, like having pictures of your children and husband, it just all comes together."
Home Away from Home
When Rashidian needs a break from the busy workday, she likes to recharge in her office on her lunch break.
"I can take my shoes off, shut my door and recharge before getting back to work," she said.
Even her Steve Madden slippers were a present from her son.