Photos by Jamie Plain
Eating healthy isn't always the easiest thing to do. If you are a person that loves snacking, there are a lot of times that you just crave something crunchy or sweet.  With very little prep work, these snack recipes are a great way to help you satisfy the cravings with healthier options. You don't have to feel like you are neglecting yourself from anything to make small changes that will lead towards a healthier lifestyle!
Spicy Roasted Chickpeas
INGREDIENTS
2 15oz. cans chickpeas
3 Tbsp olive oil
1 tsp salt
1/2 tsp cayenne pepper
2 tsp paprika
1 tsp chili powder
1 tsp cumin
INSTRUCTIONS
Note: this recipe uses a spicy mixture, but chickpeas can be seasoned in many different ways. Use your own combination when tossing in olive oil! Make sure to try ranch seasoning, BBQ seasoning, or cinnamon sugar versions!
1. Preheat an oven to 400 degrees. Drain the cans of chickpeas, rinse them, and roll them between two kitchen towels to dry them out as much as possible. The more dry you get them, the crispier they will be.
2. Toss the chickpeas in a bowl with the olive oil and all of the seasoning until they are all evenly coated. Then spread them out in a single-layer on a baking sheet.
3. Roast the chickpeas in the oven for 30-40 minutes. Make sure to keep an eye on them towards the end, as they'll start to burn quickly! Once they are cooked, Enjoy! Let them cool completely before storing.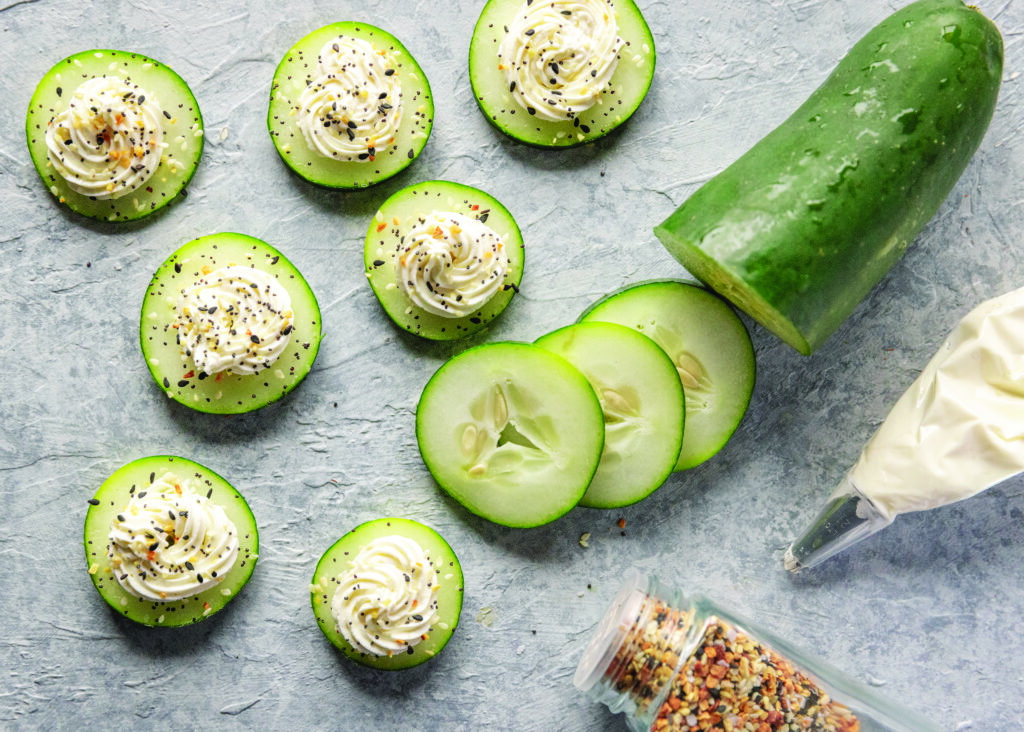 Cucumber "Bagel" Bites
INGREDIENTS
2 cucumbers
1/2 cup whipped cream cheese
2 Tbsp plain greek yogurt
Everything Bagel seasoning (to taste)
INSTRUCTIONS
1. Cut your cucumbers into thin and uniform slices.
2. In a small bowl, mix together your cream cheese and greek yogurt until smooth. Put in a piping bag and add a dollop to each cucumber slice (or just spread on with a knife).
3. Top with Everything Seasoning and enjoy!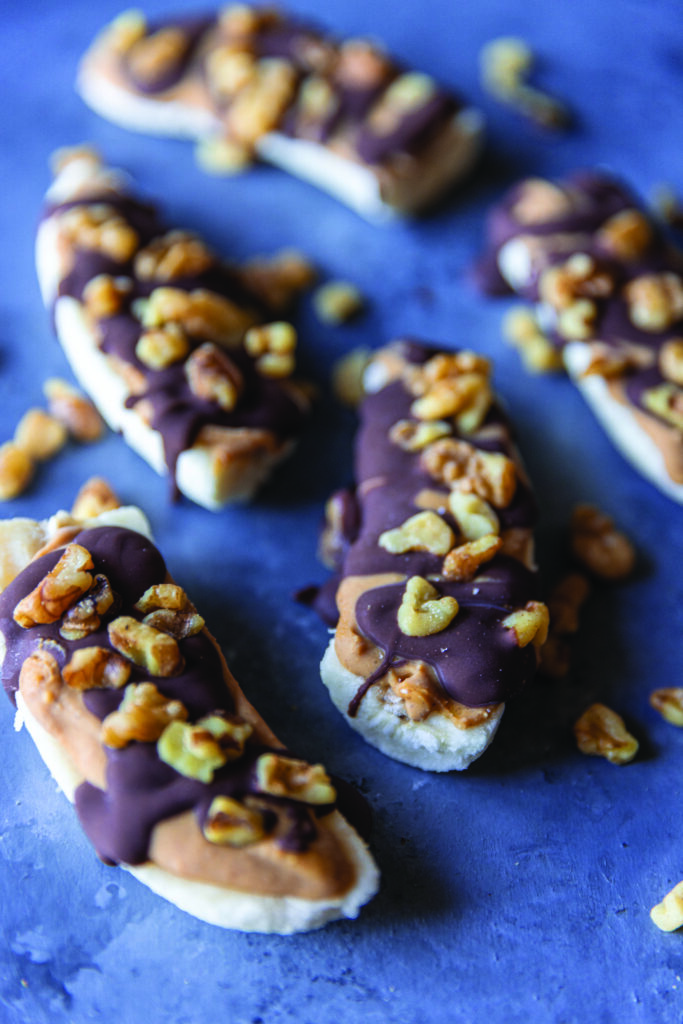 Banana Bars
INGREDIENTS
3 ripe bananas
1/3 cup natural peanut butter
4 oz. melted chocolate
Crushed peanuts to taste
Instructions
1. Cut a banana into two (or three, depending on size) pieces, then slice them lengthwise down the middle.
2. Spread peanut butter over the flat side of each banana piece. Melt chocolate in the microwave and drizzle it over the peanut butter.
3. Chop or crush peanuts and sprinkle them on top of the chocolate. Place the banana slices on a pan to freeze.
4. In 2+ hours, take the bananas you plan on eating out and let them sit for a few minutes (to make them a bit easier to eat). Enjoy! OL