Photos by Jamie Alexander
Wesleyan Park Plaza has stood in the middle of town for decades, but recently, there has been a resurgence in the variety of shopping opportunities offered. Combined with the Greater Owensboro Chamber of Commerce's Shop Local events, the plaza really can be a one-stop experience to take care of all your shopping needs.
The Earle
The Earle is a full-service men's store that offers fine clothing, accessories, alterations and rentals. Owner David Epling relocated to the Plaza from the Executive Inn in 2000, and while his lines are on-trend, the customer service aspect of the alterations line is just as important to achieve the perfect fit.
Bella Ragazza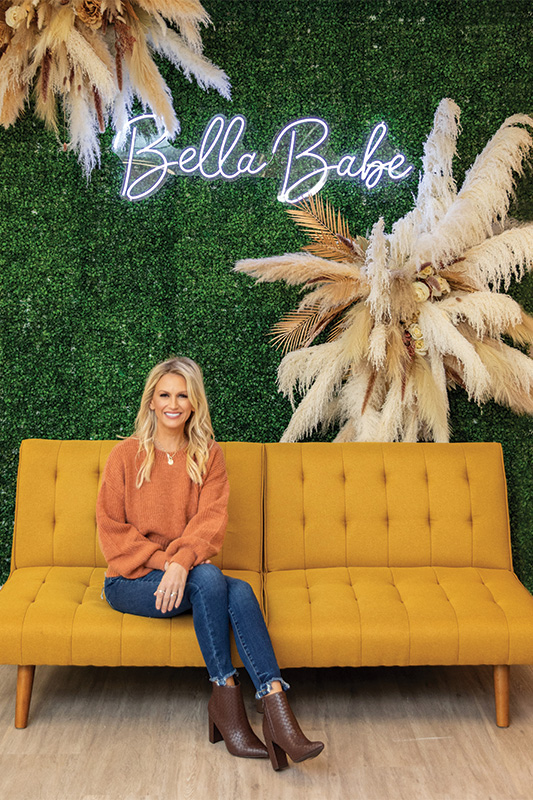 Bella Ragazza, a local women's boutique, relocated in 2019 to Wesleyan Park Plaza because they outgrew their previous location downtown.
"I wanted to revive our branding in a new way, and we knew the move would be better to accommodate our customers," Bella owner Natasha Stanley said.
The move allowed more visibility to her store as many who came in said they had been shopping at other stores in the plaza and just thought they would stop in.
"Most of my now top-frequent customers either never shopped with me downtown or rarely," Stanley said.
The pandemic has allowed Stanley to focus on her online store and social media streaming where she often models new arrivals for customers.
"We do Live videos [on Facebook] so customers at home can see how it fits without having to set foot in the store," she said. "Whether COVID or just busy, our website helps customers still shop with us even by chatting directly with us while shopping BellaBabe.com," Stanley said.
Bella Ragazza is relocating to a larger space at the plaza, and it will offer several perks for customers besides the size, like layout changes and a wider variety of merchandise, all of which Stanley believes will help customers shop with more ease.
"We are adding more gifts, shoes and accessories," Stanley said. "We plan on everything running more efficiently so we can be better for our current customers, as well as future ones."
Pure Barre
While Pure Barre, a full-body barre workout boutique, may not seem like a total shopping experience, owner Annie McCrary offers a fitness boutique store at the front of the studio.
"We love the high-end experience the plaza has to offer," she said.
Pure Barre is currently doing a "reboot," something McCrary said is "perfect timing" for the holiday season.
"We will be open all day with a full stock of high-end fitness clothing with brands such as Lululemon, Beyond Yoga, Alo Yoga, Bala Bangles and more," she said.
McCrary also adds that she would love to help shoppers create the perfect outfit to make working out or leisurewear more enjoyable—for themselves or their significant other.
"Client of Pure Barre or not, all are welcome to shop with us," she said.
Julep Home and Gift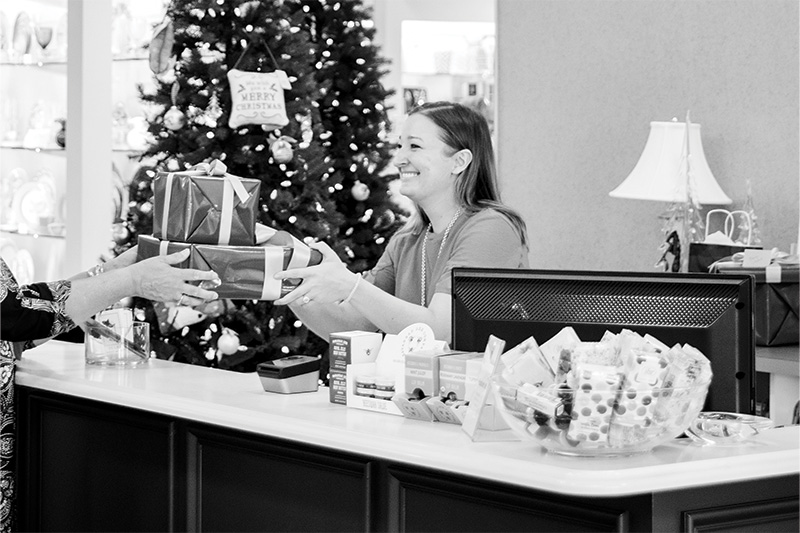 The newest store to join the plaza is Julep Home and Gift, which offers curated home decor and entertaining items. Julep opened in spring of 2021, and Elizabeth Wilson, who owns the store with her mother Sharon, couldn't be happier with their location.
"We chose the plaza because it is easily accessible and has plenty of parking," she said, adding that the presence of neighboring stores—and those coming in such as Wheatgrass Juice Bar—was also part of the decision.
In Julep, Wilson said customers can expect exceptional customer service.
"Beyond free gift wrapping and local delivery, we want to inform our customers how to use and care for their purchase," Wilson said. "We also want to share why we have intentionally chosen our products."
Items in their inventory often have stories behind them, such as hand-needlepointed Christmas stocking ornaments, hand-painted porcelain or hand-blown glass.
"We especially enjoy partnering with companies that support workers and their local communities," she said. "We want each item to be an heirloom that you are proud to give, and that the recipient will enjoy for many years to come."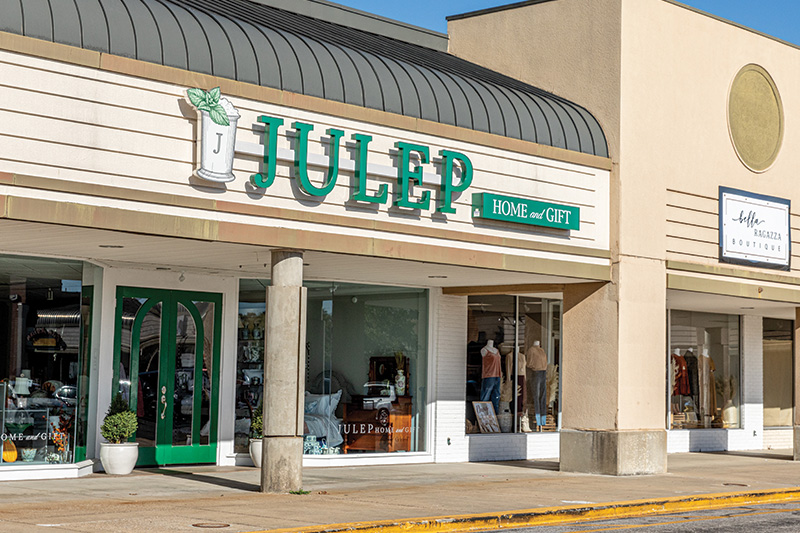 Wilson and her mother are looking forward to the holiday season, and have been displaying pieces for customers to peruse on social media and in the store. The two have been researching what they wanted to share with Owensboro shoppers for a year and are looking forward to their Christmas Open House at the beginning of November.
With The Glass Factory, a home-specialty store, Lance and Co., a fine jewelry store, and Shoe Stop, which has been in the community for over 20 years, also located in the plaza, the opportunities for customers wanting to help their community by shopping local are literally just around the corner.
"I love the energy of Pure Barre—they are the best neighbors, both their employees and clients. I love the guys at Headquarters Barber Shop. We all look out for each other, and we are super excited about Wheatgrass moving in for healthy food options." Clark said.
Wilson is also pleased with the like-minded owners, who she believes offer shoppers great value and wonderful customer service.
Kidstop Children's Boutique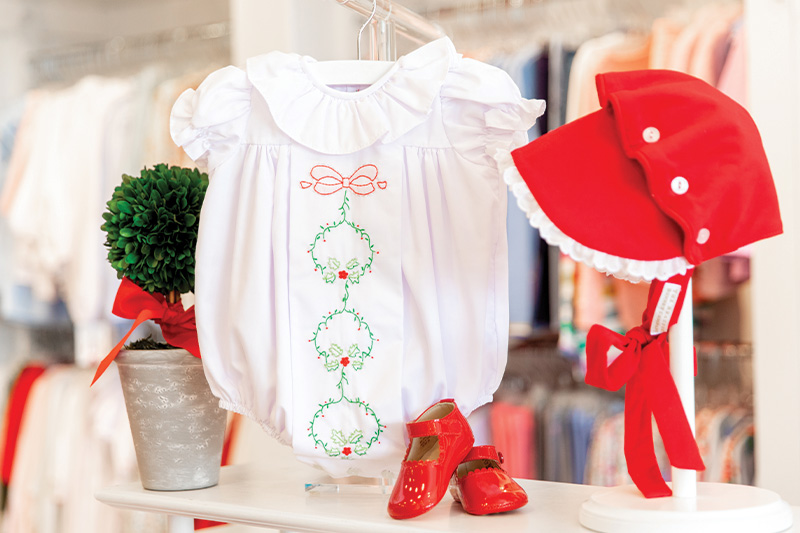 Kidstop Children's Boutique and Stride Rite Bootery relocated to the plaza almost five years ago, and co-owner Jeanne Clark said that she was able to move into the "exact" location she and her daughters and co-owners Elizabeth Johnson and Cecilia Strawn had wanted.
"There is no doubt in my mind that God had His hand in this," she said. "Honestly, Wesleyan Park Plaza feels like home to me."
Clark and her husband grew up near the plaza, shopped at the plaza with their parents, raised their four children near the plaza, and have shopped there with their children.
"I love the other shop owners in our little community. We have loads of fun and encourage and support each other," she said. "You can shop for children, women, men, jewelry and home-specialty. We all collaborate several times a year to support each other and offer great giveaways in appreciation of our local customers."
While many are loyal customers at Kidstop, the owners love to see new shoppers come to browse their lines of infant and children's clothing, custom-fitted shoes, dolls, books and toys. Clark said she finds joy in her customers' shopping experience when they find something unique in her store.
"Our e-commerce business has grown tremendously over the last two years, and we ship all over the country," she said. "In addition, we have a growing customer base of local shoppers buying from our website for local pickup, free delivery or shipping."
Kidstop recently celebrated 35 years, and Clark said there is no way they could have reached this without the support of the local community.
"We are looking forward to the Chamber and Independence Bank-sponsored Shop Small the Saturday after Thanksgiving," she said. "The event is full of energy from all local retailers with lots of specials for the customer. Santa and Mrs. Claus will be [at Kidstop] on four different days to visit with children and take free photos in the store between Thanksgiving and Christmas."