Photos by Jamie Alexander
Ben Fleury's Journey from Playing Basketball in France to Patrolling the Streets of Owensboro
As a 6-foot-7-inch teenager growing up in Paris, France, Ben Fleury was highly regarded for his ability to play basketball. At age 17, he was selected to come to the U.S. to play Nike summer league ball and complete his senior year of high school. Years later, he has used that same dedication and team mentality to distinguish himself as a top narcotics detective with the Owensboro Police Department (OPD) and task force officer with the Drug Enforcement Administration (DEA).
"I love my job; I really do," Fleury said. "I love my job as much as you can love a job. It's trying at times, but it's rewarding."
In September, Fleury was recognized as the 2021 Narcotic Officer of the Year for the Western District of Kentucky at the Kentucky Narcotics Officers' Association Conference. When he was notified he was going to receive the award, Fleury's first response was to ask if it could be presented to his entire team, rather than to him as an individual.
"People who work narcotics know as well as I do—a case is not built by yourself," he said, referring to a particular case he worked with his supervisor and two other individuals for the better part of eight months—requiring them all to work through the holidays.
"Yes, I was here day and night, and my name is on the paperwork, (but) it takes so many people to be successful," he said, adding that some larger drug trafficking cases often involve multiple agents, agencies, and personnel in various cities and states.
To hear of Fleury's accomplishments now, one might think he was always meant to go into law enforcement. Yet, after graduating high school in Cleveland, Ohio and serving in the military, it seemed natural he would pursue the field of medicine like the rest of his family.
"Originally, all I knew was medicine, but then I realized I was okay doing something different," Fleury said.
He eventually navigated his way from Ohio to Kentucky, where his college majors transitioned from microbiology to computer and behavioral sciences. Until one day, while attending Owensboro Community and Technical College (OCTC), he met the man that would change the trajectory of his life.
"I finished school here and met a few people here, including a retired narcotic detective from OPD," Fleury said. "Once I talked to Bob Purdy and learned a little about what he did, I knew I wanted to go into law enforcement."
According to Fleury, military service was common where he grew up in France, but the perception of law enforcement was quite different.
"Being an officer was revered in America—in France—not so much," he said. "I remember when I first came here, people looked up to officers in general, it was a form of respect."
Fleury began working at the Daviess County Detention Center, where he said he was able to establish a level of respect and credibility with the inmates by following the philosophy of treating them all the same, regardless of their crime. In 2013, he was hired on with OPD where he worked as a patrolman on third shift until 2017, when he applied for a position in narcotics. He was then sworn-in to the DEA as a task force officer in 2019 and currently works out of the Evansville, Indiana office, while still working as a narcotics detective with OPD. Fleury also serves as a firearms instructor and sniper for the SWAT (Special Weapons and Tactics) team.
While he might appear to have an unbelievable drive to accomplish everything he has, the husband and father of three said he wouldn't be anywhere without the opportunities presented to him and the support of those around him.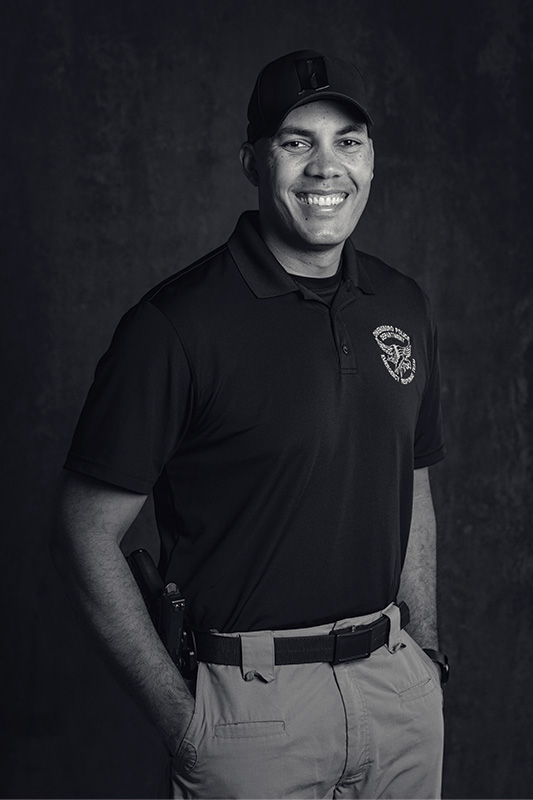 "A lot of the things I've acquired are thanks to my department and my chief and because of the agency giving me the opportunity for it…the support of my wife and family, and my co-workers that work tirelessly with me," Fleury said. "It's kind of like a trifecta of things that help me be successful."
Even though many of Fleury's daily tasks could seemingly be written into the script of an action movie, his day-to-day life is far from glamorous. Since being sworn-in to the DEA, Fleury said he works anywhere between 60 to 80 hours a week, is on call 24/7, carries three phones at all times, and sometimes travels to multiple states to follow up on various leads.
"If you want something to be successful, you just have to put the work in," Fleury said. "It's a lot at times, but when we get to the end of that case, and we make an impact, it makes it all worth it. It's a once in a lifetime chance to make a difference."
According to Fleury, they are currently seeing a huge rise in drug use among youth and individuals under the age of 20, often due to lack of parental supervision or a positive adult role model.
"I wish we had a solution to fix the problem, but the problem is a community problem," Fleury said. "Until the community gets together and says, 'Enough is enough,' we are going to continue to see a rise in drug trafficking. I don't see anything changing until the community takes responsibility for it."
In light of the recent death and critical injury of two DEA agents, Fleury responded as to whether or not he ever fears the dangers of the job.
"I fully understand the danger—it's part of it," Fleury said. "We all know it's there—you know it could happen. We train as much as we can; we try our best to mitigate the dangers and the downfalls. I never think about it when we take doors down—but I do think about it when it's time to train. We were trained so nobody got hurt. If we don't do it, who's going to do the job? If not us, then whom?"