Photo by Jamie Alexander
Owensboro Banker by Day—Voice of the Wildcats and Bengals by Night
The 2021 NFL season sounds a little different inside Paul Brown Stadium, home of the Cincinnati Bengals. That's because local banker Patrick Whitmer is energizing the crowd as the Bengals new game-day host.
With two regular-season games under his belt, Whitmer said that the most recent at the time of our interview, a primetime NFL game on a Thursday night, had a "pretty electric atmosphere."
"It's been all that I thought it would be," he said of getting the crowd charged. "It's hard for the opposing team when there is an amped-up crowd."
Whitmer should know. He has been announcing games and been involved in the arena atmosphere since his college days at Transylvania University, where he announced the school's basketball games. This led to his ongoing, 15-year career as the full-time, public-address announcer of the University of Kentucky Wildcats since 2007 at Rupp Arena.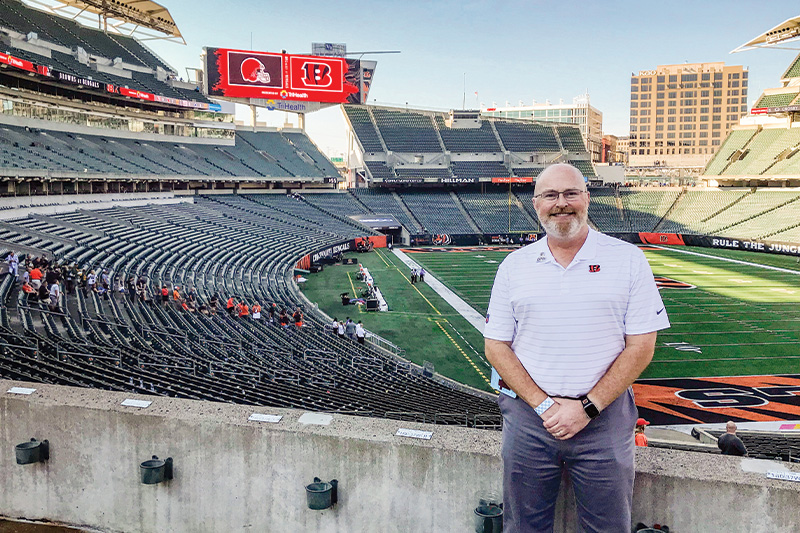 Whitmer said he has been a basketball fan since he knew what a basketball was, and he was often calling games before he even knew what that meant. In fact, he said that when watching games from home, he is so focused that he often tunes out what is going on around him.
It was during high school that Whitmer began working at a local radio station, where he said he became "hooked." He continued working at a local station while attending college at Transylvania University because he said it was fun and easy for him.
During his time at the station, Whitmer covered on-air sports and news, and he also interviewed many of the athletes. Don Lane was the head basketball coach at Transy, and he is the one who gave Whitmer his first chance at being the team announcer. Whitmer went on to call Transy basketball games for "12-to-15 years" while also filling in as a University of Kentucky announcer.
"I was around so often, and they knew I'd done it before," he said. "I was destined to do it."
While attending graduate school at UK, Whitmer worked at WVLK radio with play-by-play announcer and general manager Ralph Hacker, who covered both football and basketball for UK. Later, he began working with Tom Leach, the play-by-play voice of Wildcat football and basketball for 25 years.
"He has been one of my best friends," Whitmer said.
Whitmer earned his MBA from UK, and said that even with his announcing gigs, he knew he would go into some type of business—accounting then banks.
"It's [Radio has] always just been a hobby," he added.
In 2014, Whitmer relocated to Owensboro and now travels to Rupp during the basketball season for home games. He arrives two hours before each game, and during this time, he learns the pronunciation of the opposing players' names, so he is ready when the buzzer sounds.
"There is nothing like a game and seeing the fans. I feed off them and they feed off me," he said. "It's a labor of love."
At UK, Whitmer is the one who calls the game, provides statistics and announces player substitutions and fouls at Rupp. He sits on the floor at the table between the two teams and can be seen on televised games when the coaches shake hands.
"There is so much going on in a basketball game, we now have a host and hostess," he said. "The experience is getting richer and richer involving the fans. It is more than just a game."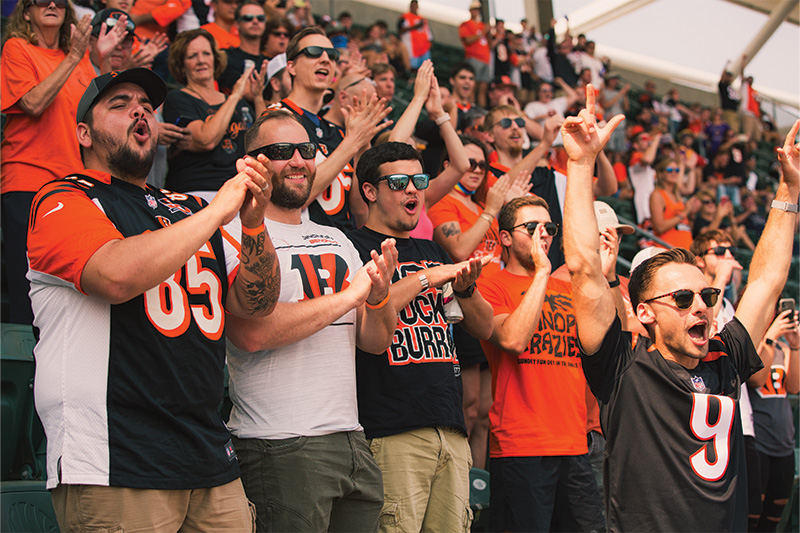 In the early summer of 2021, Whitmer said the Cincinnati Bengals' game-day staff began discussing changing the fan experience.
"It's so easy for fans to stay home, watch the game in HD…they are trying to bring the excitement back to live games," Whitmer said.
To inject this energy and provide the ultimate in fan experience, a few of those involved with the Bengals mentioned Whitmer's name—they had heard him at Rupp.
"They wanted the same enthusiasm," he said of being hired to be the entertainment announcer at home football games, not the one giving the information and statistics as he does for the Wildcats.
To prepare, Whitmer arrives several hours before the game to attend a production meeting with a pre-read script consisting of the various promotions and events he will mention and the times they will occur during the game. During the game, Whitmer is in an enclosed studio, which is different than at UK games.
"I am the guy with the voice that people don't see," he said.
Whitmer has been "very busy" learning the job, but said it is a win-win for him.
"It's a nice trifecta—getting to do all of it," he said.